Lynk & Co: Business Analysis and Process Optimization Consulting
The primary task of any IT system is to support and facilitate the smooth operation of business processes within a company. Yet sometimes, the system falls short of this goal, and it can be quite challenging to identify and fix the flaws. Find out how the Sigma Software team helped Lynk & Co successfully overcome this challenge.
Lynk & Co is a global automotive brand formed as a joint venture between Geely and Volvo Groups. The company offers exclusive mobility services based on a flexible subscription-based model. In simple words, they provide car-as-a-service subscriptions to their customers.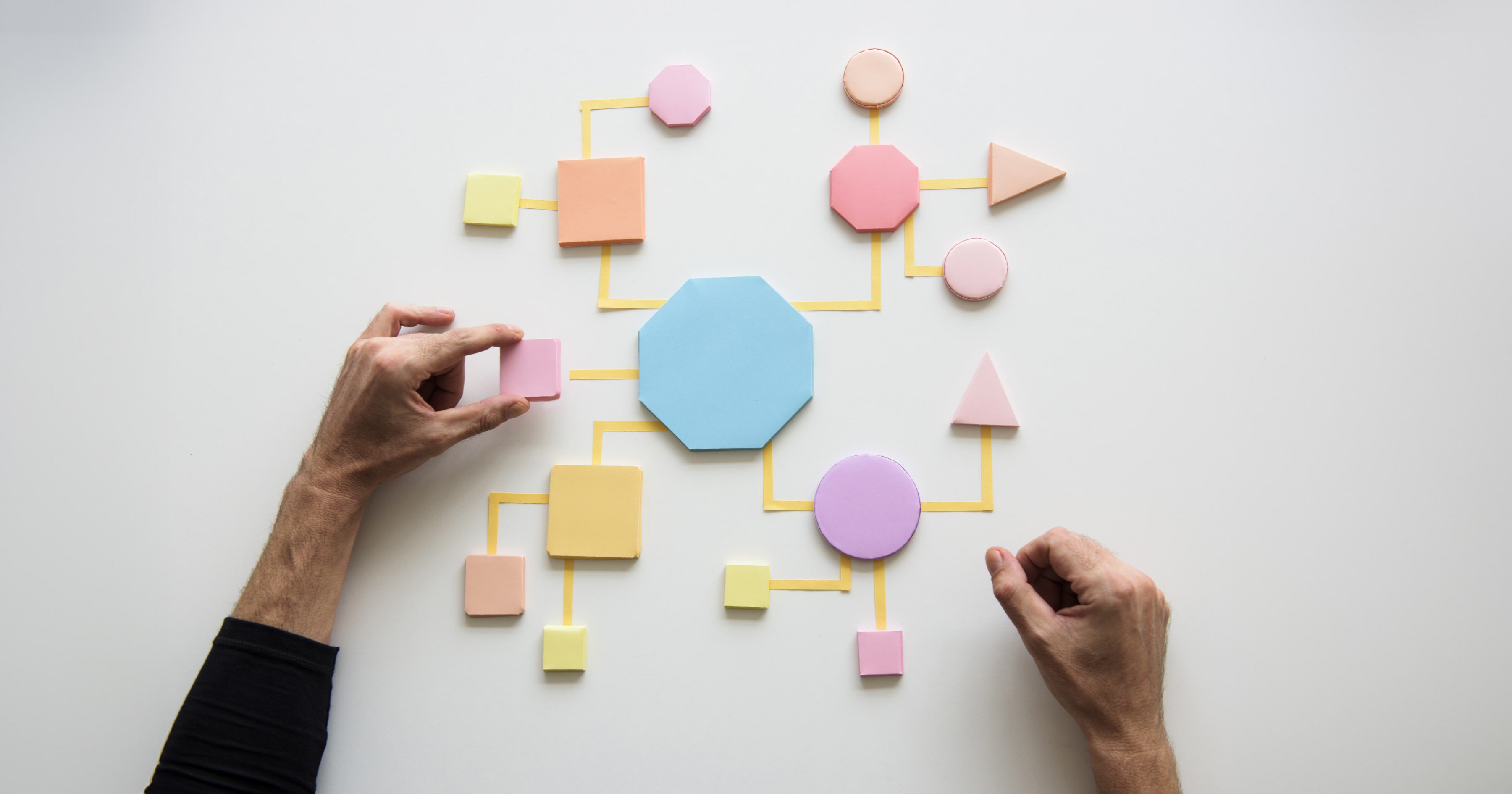 The parental warranty software Lynk & Co inherited for guarantee cases processing did not perform as expected. It caused additional spending, lack of information, data loss, and complex warranty procedures for users. The reason was a tangible difference between the Geely and Lynk & Co business models, hence the difference between warranty processes. The key question was: how to make the warranty tracking software compatible with the current Lynk & Co organizational structure and business needs.
As Sigma Software had a lasting partnership with Lynk & Co on several successful projects, the Client decided to engage our team to assess their warranty tool and related processes. Our BA experts performed an in-depth audit of the Client's system and came up with a list of actionable improvements. As a result, we introduced a new solution that fully matched Lynk & Co's specific processes.
Warranty Process Analysis and Improvement
The Sigma Software team started with two parallel streams: existing system investigation and warranty workflow analysis. The architectural audit showed there were no technical issues with the system. Thus, low effectiveness wasn't caused by technical issues. We put more focus on business process analysis to find the origin of the issue.
Our business analysis experts worked across multiple levels within the organization. They communicated with stakeholders from different business units and introduced a set of BA best practices to get a 360-degree overview of the warranty process. As a result, we outlined key roles, units, connections, and dependencies within the operation of the warranty procedure.  
Business Analysis Techniques Applied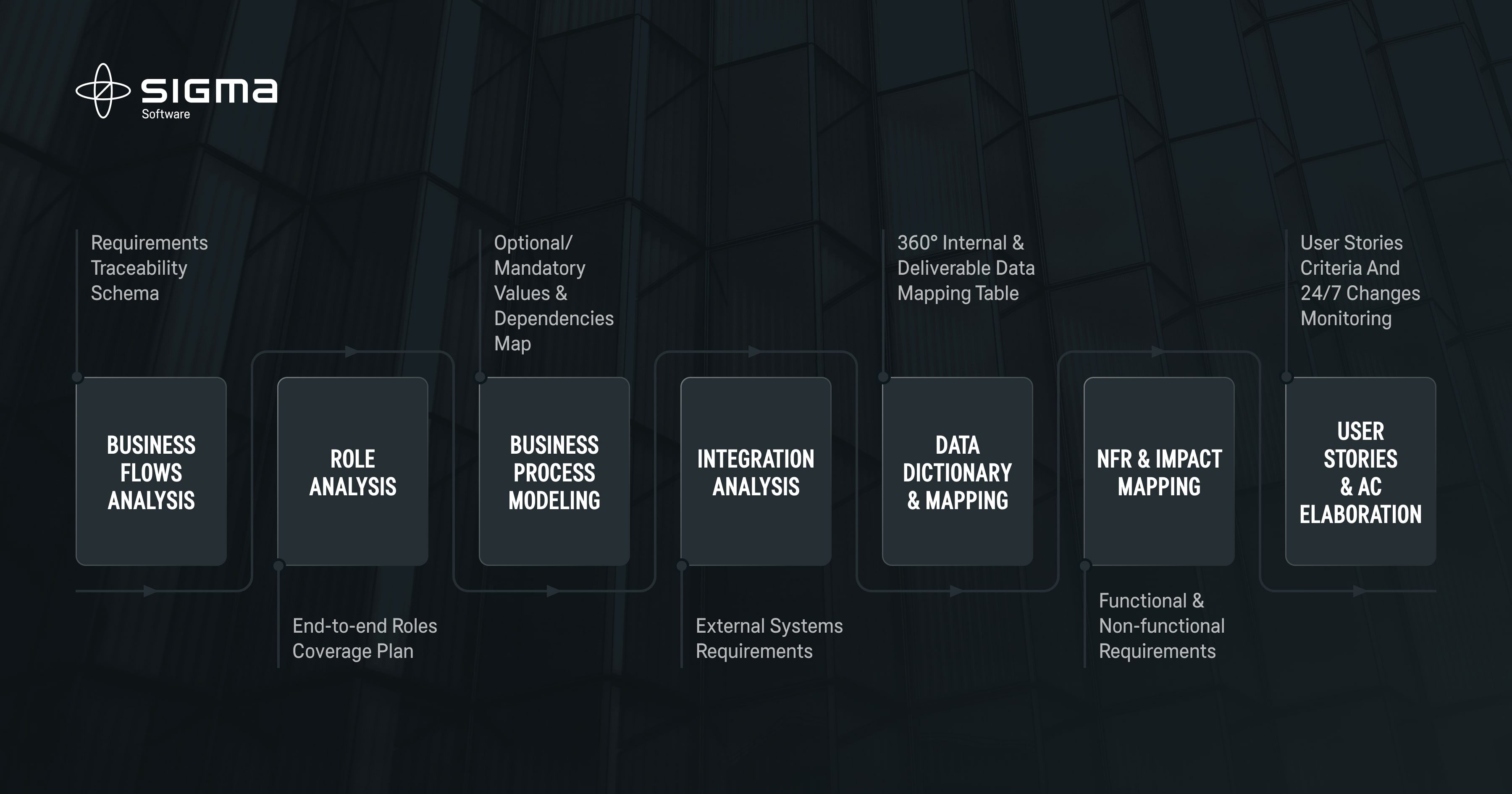 It was important to make sure that the information reached different units without delays and losses. So, we outlined the dataflows, identified blockers, and formed a consistent data structure. It helped us establish a unified database to store claims and historical data. This artifact became the foundation for further automating the processing of claims.
Such extensive analysis allowed us to look at the business ecosystem from different angles. We found that the tool covered only a small percentage of the Client's business needs for warranty processing and was not able to fully match Lynk & Co operations.
Optimal Solution Definition & Implementation
Because the existing system provided little coverage of the current processes, our experts came up with two options: reengineer the existing warranty tool to fit Lynk & Co's needs or create a new tailored solution from scratch. The Client considered both options and opted for the second variant after assessing all the pros & cons. It was the most optimal and reasonable solution regarding the effort, time-to-value, and future Lynk & Co product ecosystem development plans.
In addition, our analysis revealed previously unknown use cases and scenarios that highlighted areas for improvement within the whole Client's IT ecosystem. We developed and shared a detailed optimization strategy breaking down each process redesign step.
As a result, the Client improved their warranty procedure and cut the time spent on guarantee claims processing shortly after the first solution was released. We helped Lynk & Co increase the overall effectiveness of the warranty system (eliminated issues with additional spending, data loss, intricate warranty procedures, poor user experiences, etc.) and made sure it integrates smoothly with external & internal systems.
Business Analysis Continuous Support
Lynk & Co is an innovative and ambitious brand, so they need their system to be scalable and adaptable. The Sigma Software team not only successfully delivered the custom warranty tool but also continues to monitor ongoing system performance. Our specialists swiftly react to issues that appear and monitor new trends to implement enhancements. This allows to keep the warranty system up with the pace of the growing business needs.
How the Sigma Software BA Team Can Help Your Business
Sigma Software BA experts help businesses worldwide enhance their business systems, optimize costs, set up data & risk management, consult on process improvements, and much more. We have successfully solved diverse business cases, from facilitating changes in a company structure to conducting organizational process redesign and reengineering.
Our experience shows that BA brings value when your business undergoes any type of substantial change, from launching a new project to introducing a new business role or process. Business analysts can help you run impact analysis to assess how changes may affect your existing ecosystem and find optimal ways to smooth them out. Also, it's a good idea to engage a BA expert when:
Your business processes are not clearly defined, analyzed, and mapped<
Your organization experiences any decrease in efficiency, and you cannot identify the root cause of the loss
You see some gaps or areas for improvement within your business processes and need help finding the optimal solution or need support with the implementation of a new business process<
Your data organization is poor, so it's difficult for you to define dataflows and sources within the organizational structure
You need a helicopter view of your business to make sure the current processes are in line with your vision and expectations.
Engaging BA experts could help you tangibly improve your company's performance if at least one of the points above resonates with your business case. For instance, Sigma Software business analysis specialists can help you to: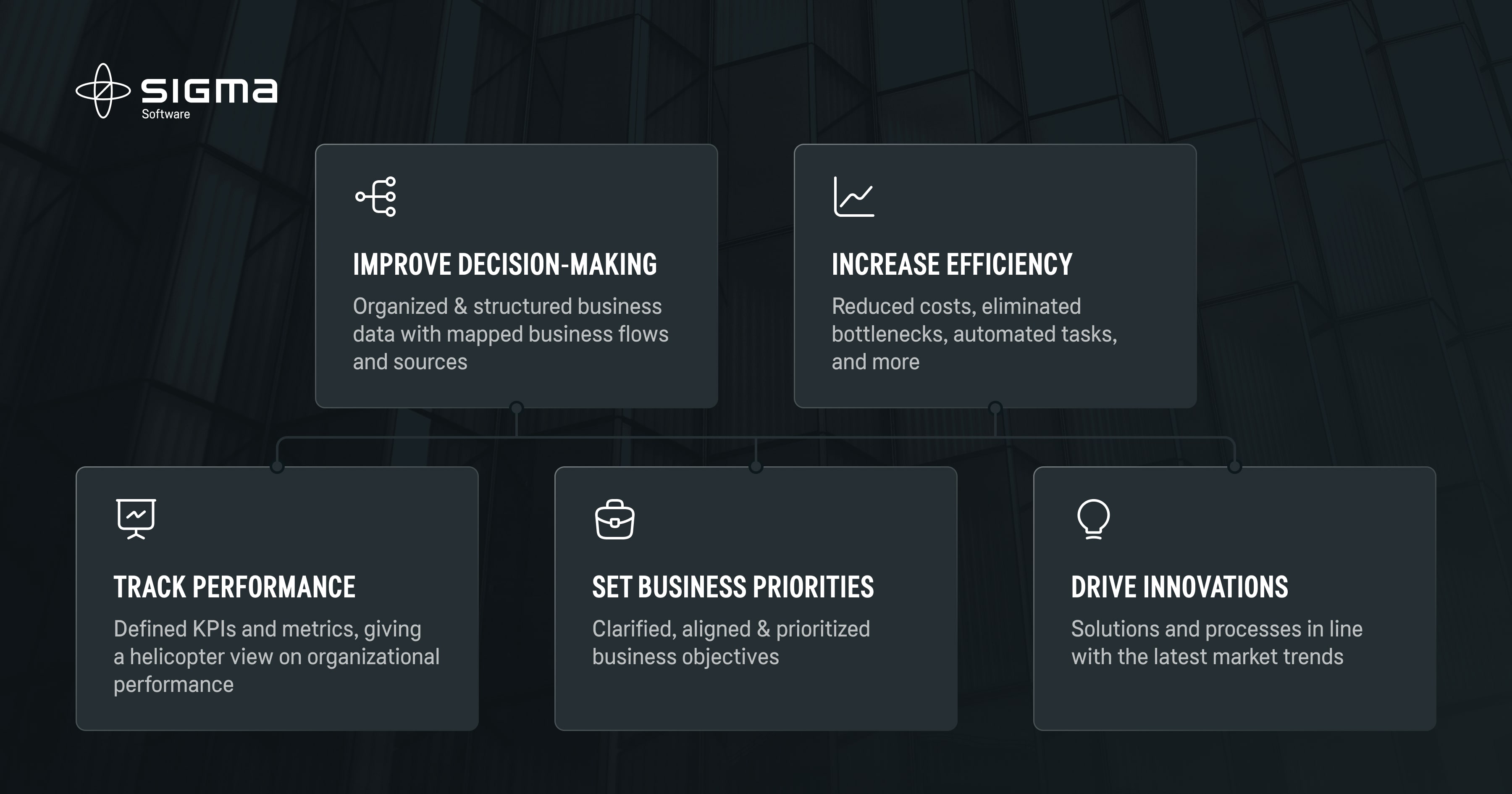 Don't hesitate to contact us if you have concerns regarding the performance of your business systems. We would be happy to assist you with an extensive analysis and optimization.
about the author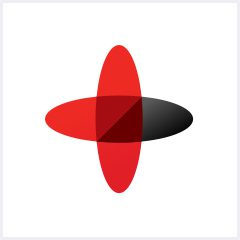 Software Engineering Company
Sigma Software provides IT services to enterprises, software product houses, and startups. Working since 2002, we have build deep domain knowledge in AdTech, automotive, aviation, gaming industry, telecom, e-learning, FinTech, PropTech.We constantly work to enrich our expertise with machine learning, cybersecurity, AR/VR, IoT, and other technologies. Here we share insights into tech news, software engineering tips, business methods, and company life.
Linkedin profile
Related services & solutions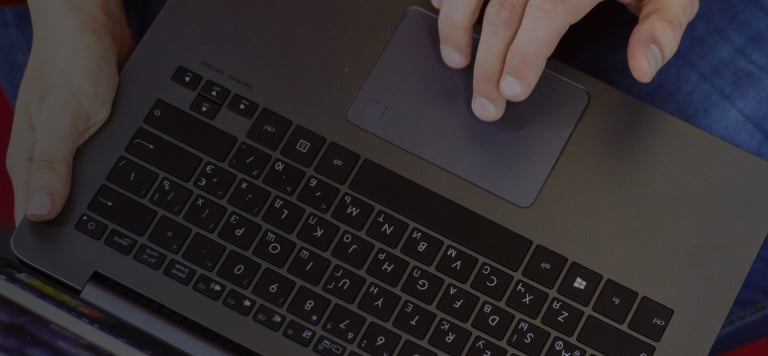 NEED AN INNOVATIVE AND RELIABLE TECH PARTNER?