Expanding our International Presence: We Held First-Ever UK-Ukraine FinTech Summit
On July 15, Sigma Software together with our partners held the very first UK-Ukraine FinTech Summit. The event was conducted in a hybrid format in London and in Kyiv. The Summit was a part of the famous FinTech Week London 2021 alongside Klarna, Barclays, Microsoft, Huawei, and other legendary companies.
The UK-Ukraine FinTech Summit was organized by The Embassy of Ukraine in the United Kingdom of Great Britain and Northern Ireland, and Sigma Software Group. TheCityUK and London Stock Exchange Group were engaged as co-organizers and participants.
By organizing this event we've set the goal of connecting the governments, key FinTech visionaries, startups, and leading technology companies of the two countries. We wanted to explore current challenges and opportunities in the FinTech industry, uncover game-changing technologies behind some of the most effective financial solutions, and unleash new business opportunities for participants. Thus, we invited officials of the UK and Ukraine, leading FinTech companies, and industry leaders to attend the event.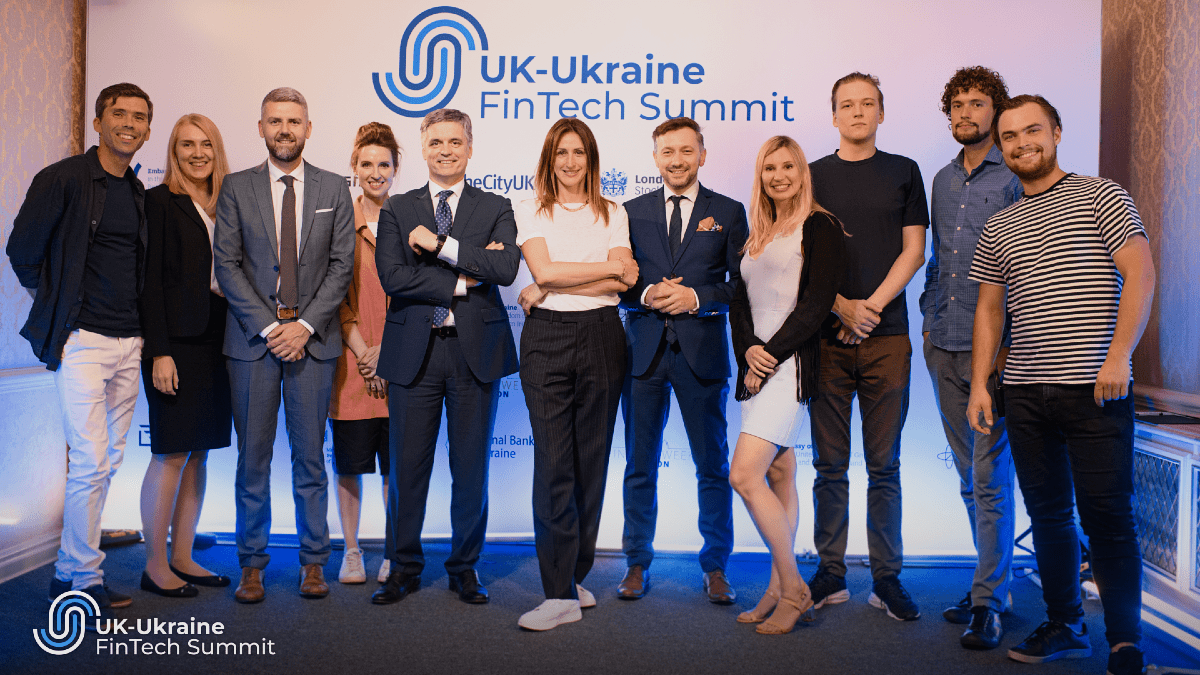 Here is a summary of the first UK-Ukraine FinTech Summit.
To start with, here are some striking numbers:
More than 700 participants joined the 4-hour live stream
30+ speakers took the stage
25+ publications in the UK and European media
200+ posts across the social media
200,000 people were outreached
Opening Ceremony
The event started with opening remarks from Baroness Meyer, UK Prime Minister's Trade Envoy to Ukraine, Mykhailo Fedorov, Deputy Prime Minister of Ukraine, Minister of Digital Transformation of Ukraine, Kyrylo Shevchenko, Governor at the National Bank of Ukraine (NBU), and Valery Krasovsky, CEO & Co-Founder of Sigma Software Group, Co-Founder of Inspirium Laboratories fund, and Board Member of Sigma Software Labs Incubator.
Here's a short summary of their speeches.
"The UK is a great example of the successful implementation of digitization and innovation in public services; and we have thoroughly studied its in-depth experience. Nevertheless, Ukraine already has something to be proud of: the launch of a special tax and law system for IT businesses — Diia.City, an e-Residency project which will soon open the market of virtual assets. We are certainly on our way to doubling the share of the IT sector's GDP in Ukraine", said Mykhailo Fedorov, Deputy Prime Minister of Ukraine, Minister of Digital Transformation of Ukraine.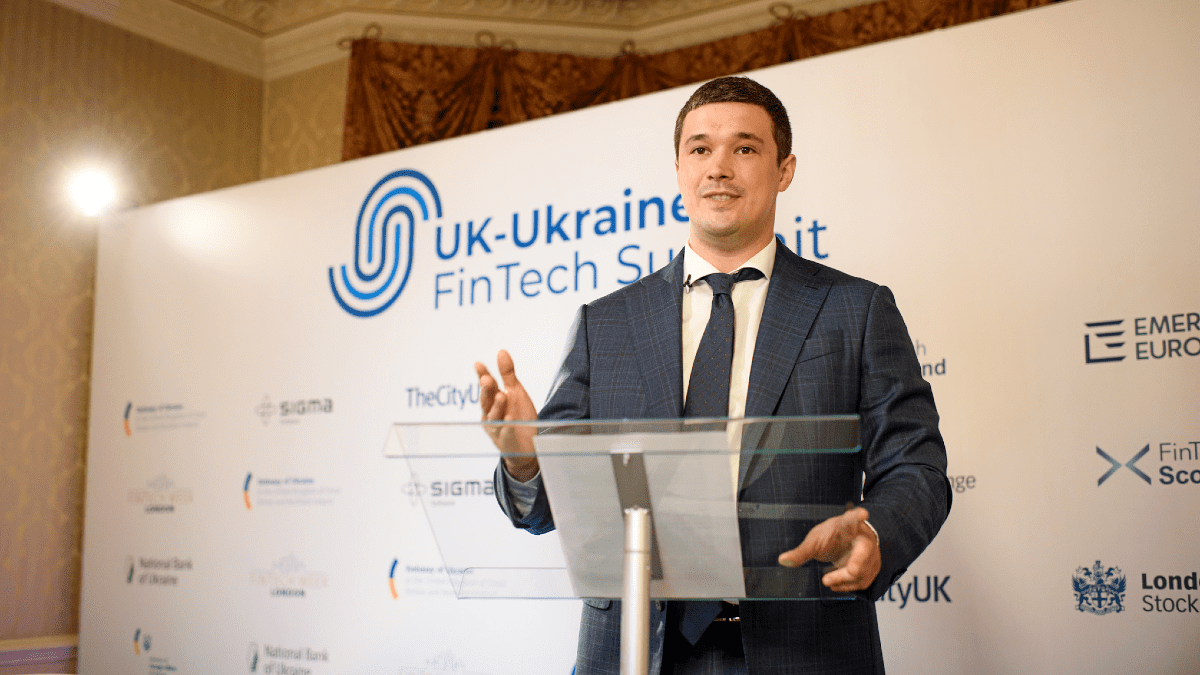 Baroness Meyer thinks that this is a moment of high hopes and ambitions in the UK's relations with Ukraine: "I strongly believe that this Summit will lead to practical results that mutually benefit the two countries."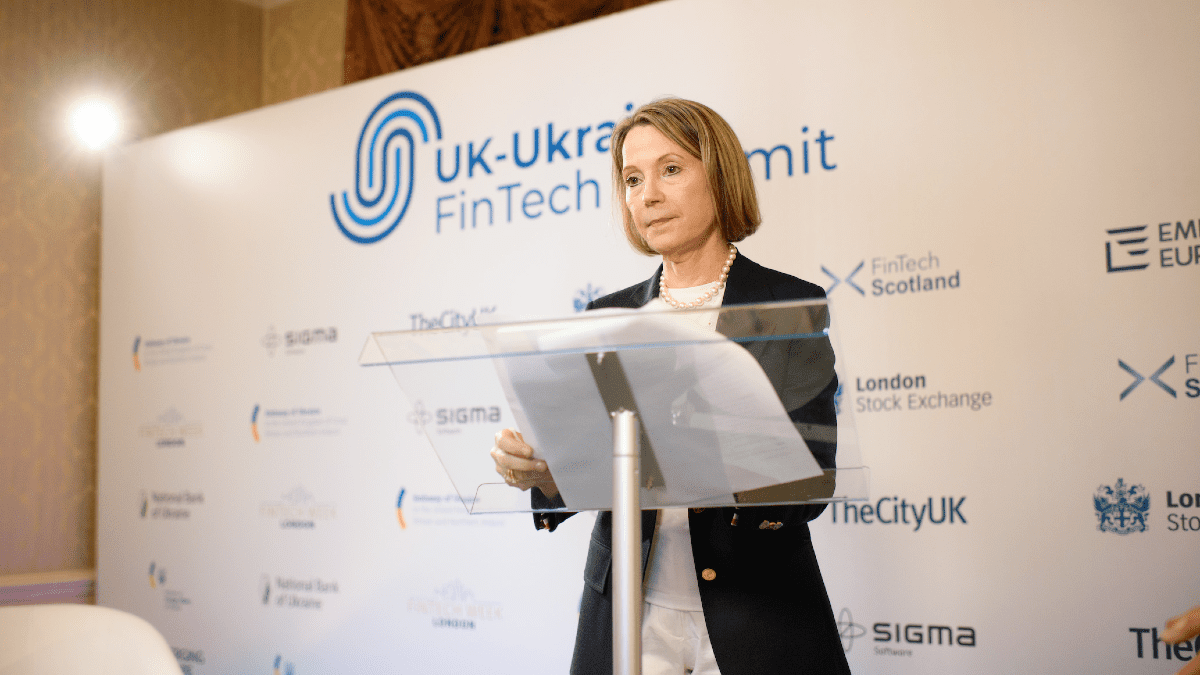 According to Mr. Shevchenko, FinTech development is one of the key priorities of the National Bank of Ukraine: "Development of innovation in the financial sector is among the twelve strategic goals that are included in the NBU strategy for 2025."
As the Governor also told the audience, together with the Ministry of Digital Transformation, the NBU is looking for use cases for the central bank's digital currency e-hryvnia. And in June 2021, the Ukrainian parliament adopted a new law on payment services: "The law implements provisions of the PSD2 European directive, which gives a powerful impetus to the FinTech market. This will lay the groundwork for further development of innovative payment products and services."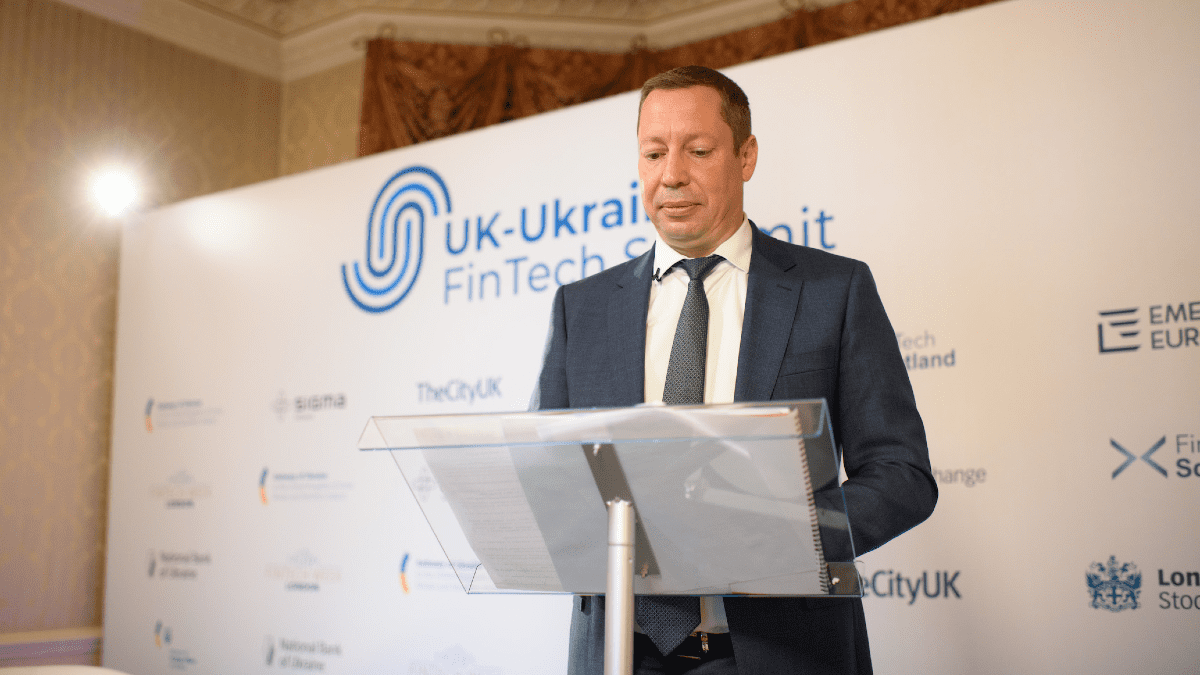 "Our expertise in FinTech, cooperation with Open Banking Exchange, and active development of our business in Great Britain together with the mission of building new bridges between Ukraine and other global tech ecosystems led our team to organize the first UK-Ukraine FinTech Summit. It was a great honour to work on the project with the Embassy of Ukraine in the UK, TheCityUK, The London Stock Exchange, National Bank of Ukraine, Ministry of Digital Transformation of Ukraine, and many other great partners," says Valery Krasovsky, CEO and Co-Founder of Sigma Software Group. "We are always creating new business synergies and are ready to provide our top-notch services and to provide access to our wide network to UK startups and product companies to help them grow and develop faster and better."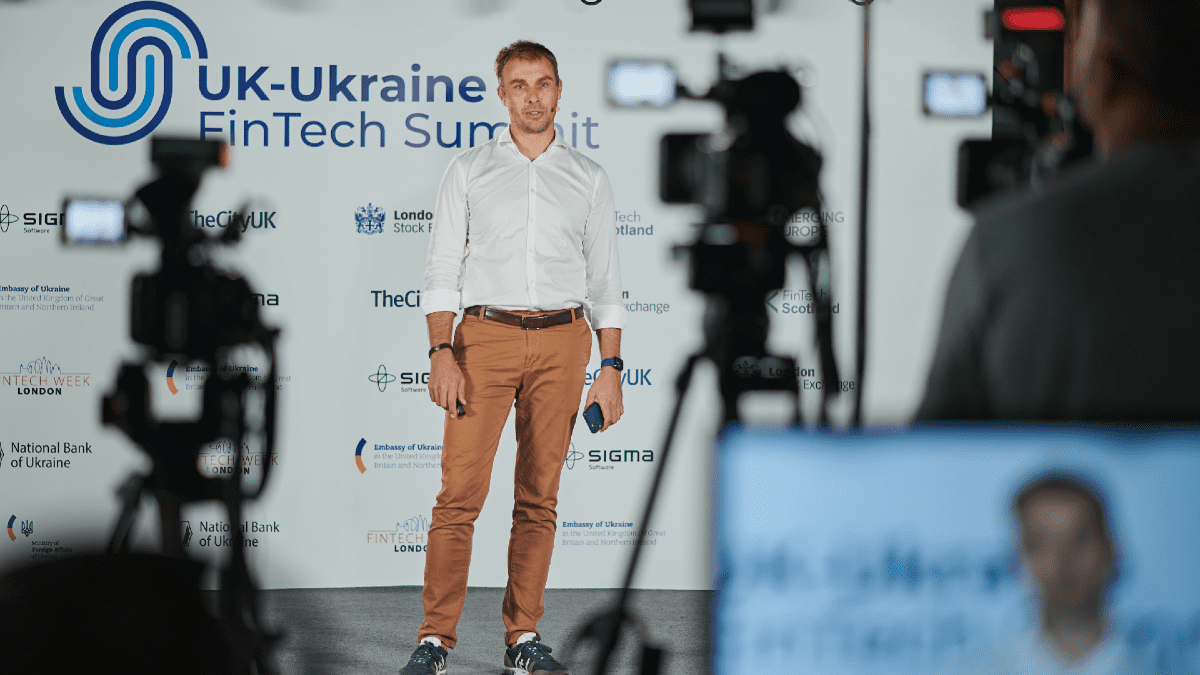 The UK FinTech Ecosystem Brief Overview
The event proceeded with the presentation of the UK FinTech ecosystem by Nicola Watkinson, Managing Director, International Trade & Investment at TheCityUK, and Julia Hoggett CEO, London Stock Exchange Plc.
Some facts worth mentioning:
Today, there are over 3,000 FinTech companies headquartered in London. More than in New York and San Francisco;
London is home to FinTech unicorns such as Wise, Sterling Bank, Monzo, Checkout.com, and Revolut and represents more than 10% of the global market share in FinTech;
There are more than 140 accelerators and incubators in London, many of which specialize in FinTech;
Last year London led Europe and VC FinTech investment with $4,5 bln invested. That represented almost half of all European FinTech investment;
With $5,3 bln worth of FinTech VC transactions completed in London so far in 2021, few cities in the world can match London's deep pools of capital and committed investors.
The Maturing Ukrainian FinTech Ecosystem
Ukraine's FinTech ecosystem was presented by Kate Shcheglova-Goldfinch, Senior PM on FinTech market, digital technologies and regulatory platforms development at the National Bank of Ukraine | EBRD.
Here are some interesting facts that come from the Ukrainian FinTech catalog 2020 by UAFIC and the NBU statistics from the first quarter of 2021:
The Ukrainian FinTech market now has up to 150 companies, neobanks and innovative incumbents;
9 out of 10 transactions in Q1 2021 were cashless;
Two-thirds of POS terminal transactions in Q1 2021 were contactless;
89% of payment terminals support contactless payments;
Diversity-focused community growth – 28% of Ukrainian FinTechs have female founders or executives;
The First Ukrainian FinTech Market Strategy 2025, verified last year by the NBU, is based on the FinTech esosystem's development vision and the regulatory sandbox launch scheduled for the second half of 2022.
Panel Discussions
Next was the visionary panel where speakers discussed and uncovered the latest trends, challenges, and opportunities from the pandemic. The panel was moderated by Andrew Wrobel, Founding Partner at Emerging Europe. Thomas Bull, Head of FinTech, UK Financial Services at EY, Oleksii Shaban, Deputy Governor at the National Bank of Ukraine, and John Broxis, Managing Director at Open Banking Europe, discussed how FinTech can support sustainable economic recovery and how the pandemic has influenced the processes of digitalization in the banking sector.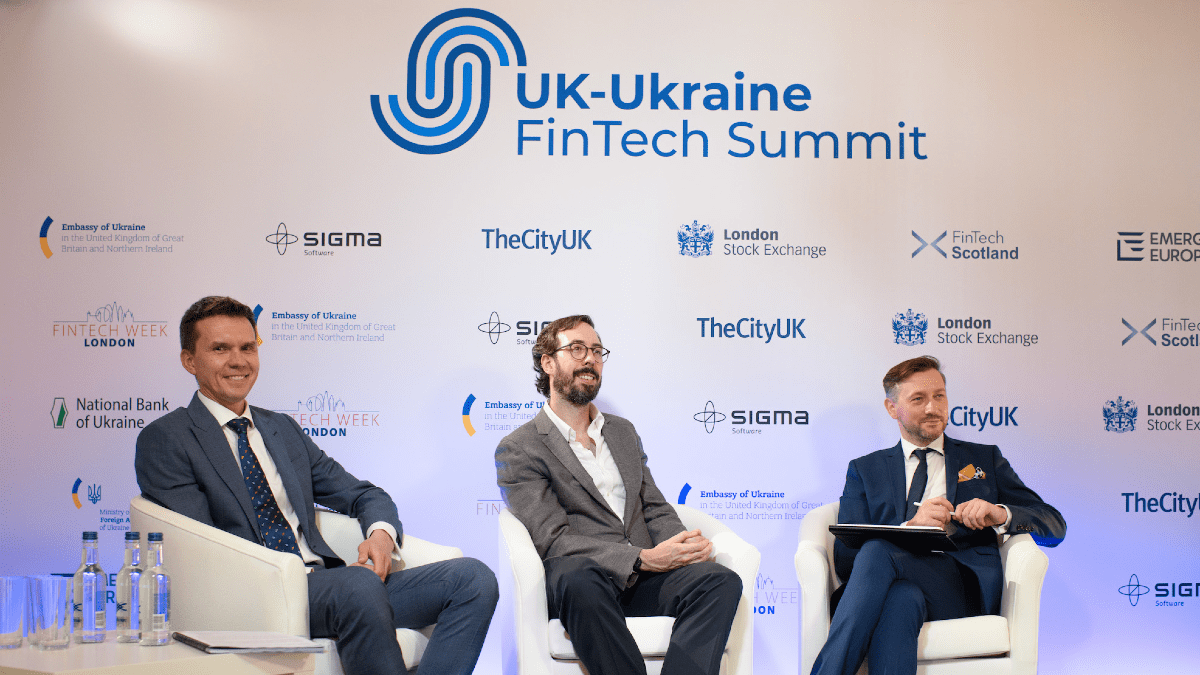 The visionary talk was followed by a more practical business discussion moderated by Payal Raina, Founder at FinTech B2B Marketing. Misha Rogalskiy, Co-Founder at Monobank & Koto, Valeria Vahorovska, CEO & Co-Founder at Fondy, Mariano Diaz Director, Head of Banking and Infrastructure at TransferGo, Former Barclays & Revolut, and Ersoy Erkazanci, Economic & Financial Correspondent at Bloomberg HT, talked about the FinTech solutions that drive the digitalization of banks and businesses. They also touched on the topics of emerging new products, cybersecurity, and cryptocurrencies.
The Startups Showcase
The final chapter of the Summit was the pitch session of Ukraine's top 10 innovative FinTech startups, which was moderated by Veronica Korzh, the General Manager at a business incubator Sigma Software Labs.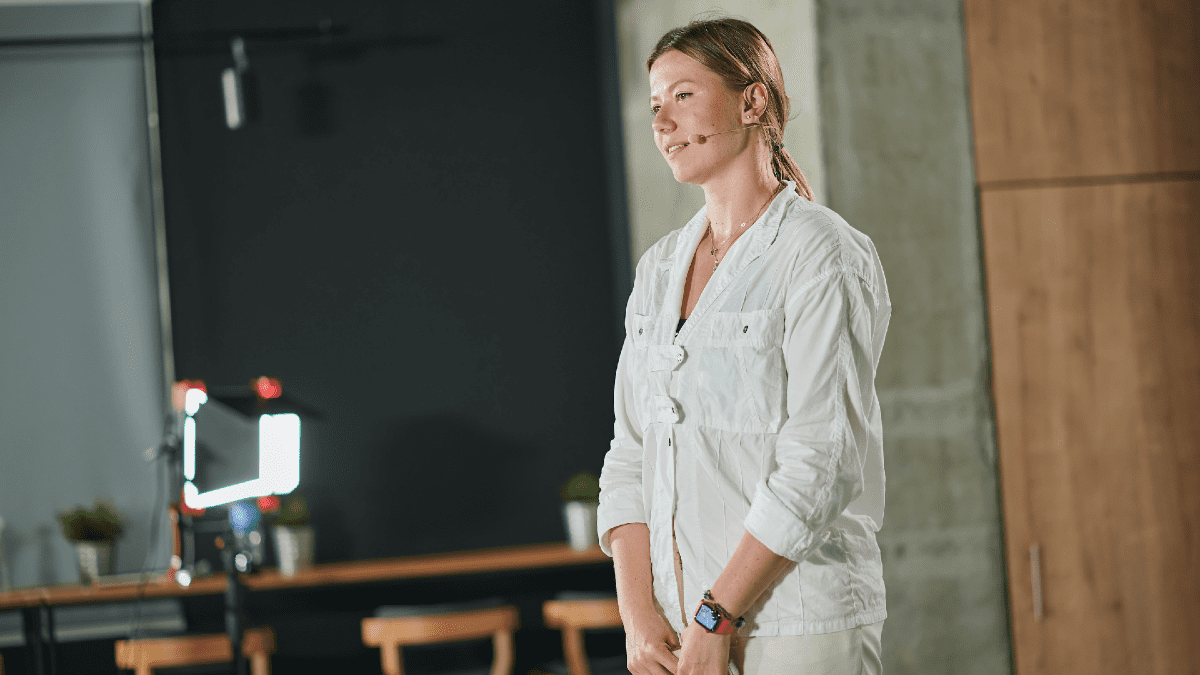 With the support of global startup platform TiE London, The Ministry of Foreign Affairs of Ukraine, the UTEW Tech Tribe community, Ukrainian Startup Fund, and IT Ukraine Association, Veronica invited to the stage 10 specially selected Ukrainian startups to unveil their products to a British audience. Needless to say, it was a great opportunity for young Ukrainian businesses to present themselves in the UK market and get on the radar of investors and journalists.
At the end of the pitch session, TiE London selected two best teams — Upswot and GoSolo — and granted them special memberships to their organization. This will enable the startups to participate in mentorship programs, attend exclusive events, and meet partners among successful entrepreneurs in London.
Conclusion
The Ukrainian FinTech industry is maturing and already has a lot to offer to its international partners. The first UK-Ukraine FinTech Summit, inspired by remarkable post-Brexit business opportunities and amplified by the UK-Ukraine free trade agreement, will surely be a great way for both countries to reveal new strong business opportunities and to find long-term partners and customers. With such great activities, the Sigma Software team keeps building new bridges with its key markets and strengthening the country's image.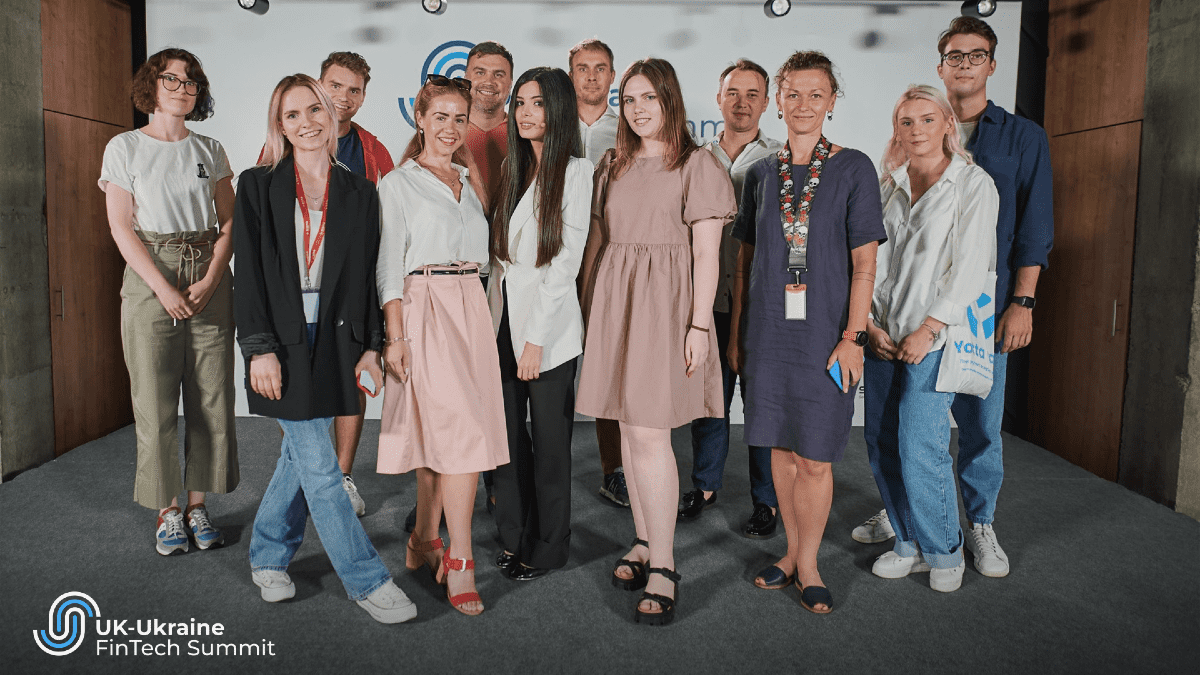 Special thank you goes to the Summit' media and information partners: FinTech Scotland, Emerging Europe, UK Investor Magazine, FinTech Finance, FinTech Magazine, Payments, Cards & Mobile, FinTech Marketing, Financial IT, FinTech Review, Always Friday, and Tech Ukraine.
about the author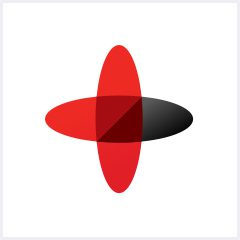 Software Engineering Company
Sigma Software provides IT services to enterprises, software product houses, and startups. Working since 2002, we have build deep domain knowledge in AdTech, automotive, aviation, gaming industry, telecom, e-learning, FinTech, PropTech.We constantly work to enrich our expertise with machine learning, cybersecurity, AR/VR, IoT, and other technologies. Here we share insights into tech news, software engineering tips, business methods, and company life.
Linkedin profile
Related services & solutions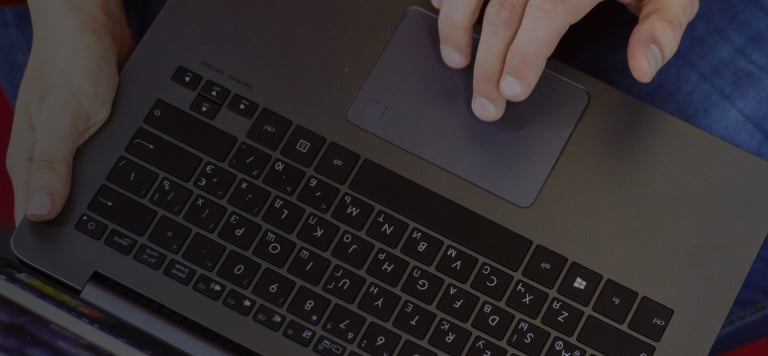 NEED AN INNOVATIVE AND RELIABLE TECH PARTNER?