Femmegineering Meetup by Sigma Software
Sigma Software Group continues to contribute to equality and highlight female role models in today's booming tech industry. In 2022, Sigma Software decided to boost the Femmegineering project, created by Danir Group, and scale it to the emerging European tech markets like Poland, Romania, Bulgaria, and Portugal.
The goal is to support women refugees and local women to join the tech sector and build successful careers. The first event will take place during the Perspektywy Women in Tech Summit 2022, one of the biggest events for women in IT in Europe. The project includes educational technical meetups, IT courses by Sigma Software University and career stories of female engineers on a Femmengineering platform.
On June 8, tech speakers from Sigma Software will share their inspirational stories and tech experience in software testing.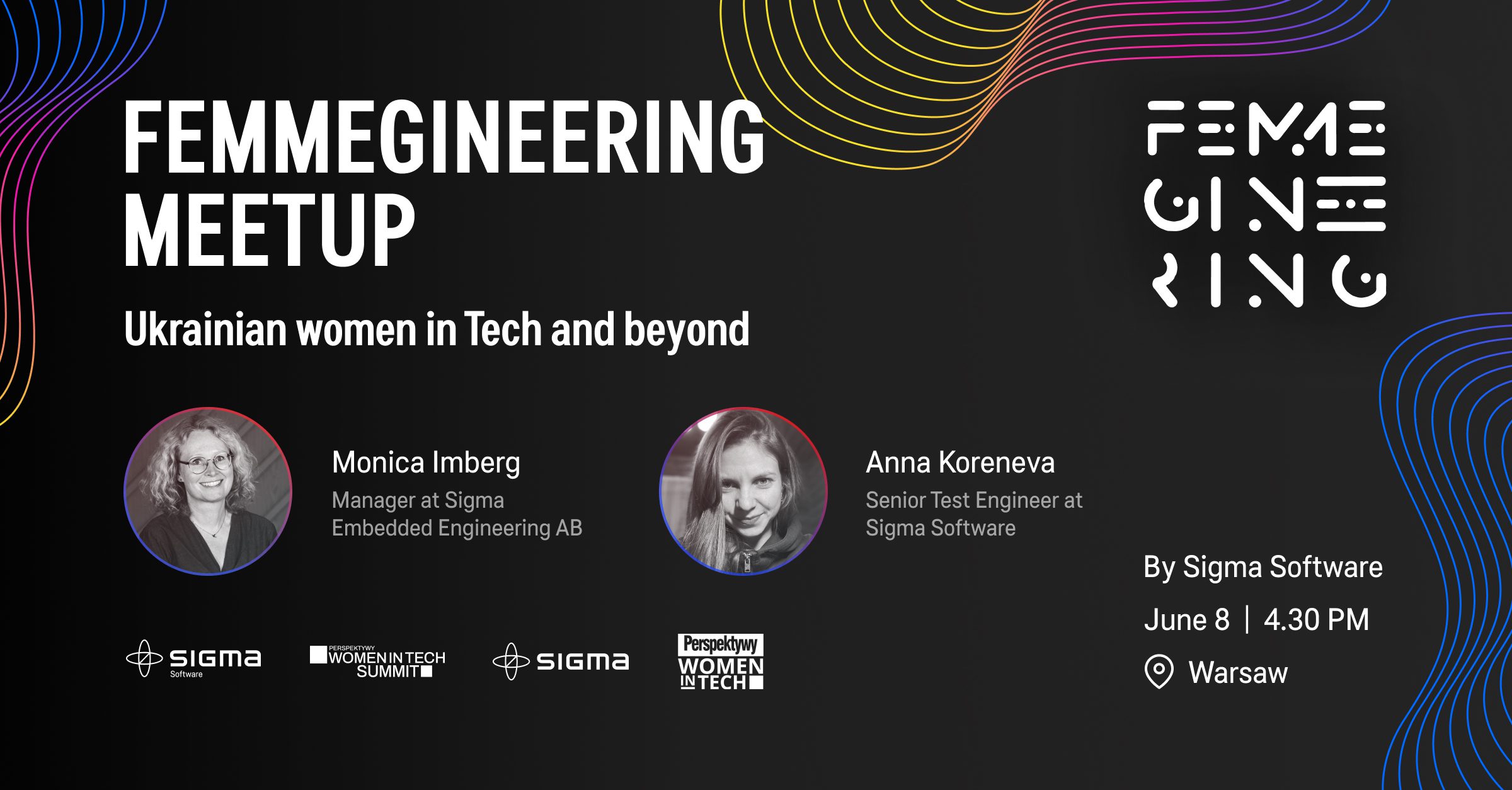 About the speakers
Monica Imberg — Manager at Sigma Embedded Engineering AB. During her 30 years in the telecom and car industry, Monica has been involved in producing everything from text messaging in 2G, groundbreaking speeds in 5G to self-driving cars. Over the years, Monica has had many interesting roles such as software developer, project manager, software lead, product owner, group manager in such companies as Sigma Embedded Engineering and Ericsson. Through these roles, she has had the opportunity to travel to many exciting countries and places, including Japan, China, Romania, and the United States.
Topic: From 2G to self-driving cars: my lifetime journey in engineeringDuring the meetup Monica will share the gripping story of her career path full of different experiences in tech and leadership, pitfalls on the way, fears, challenges, and wins.
Anna Koreneva — Senior Test Engineer at Sigma Software. She has 10+ years of experience in Software Testing. Her work experience doesn't focus only on the testing, in parallel, she actively participates in the establishing/improving projects' development lyfecycle from designing app parts to the developed increment acceptance. Good analytical skills helped Anna improve product quality, make an evaluation, predict the process-related risks, and boost the overall product growth. She acts as Test Engineer Lead and builds test processes from scratch in various tech projects.
Topic: Switch off the red light to your productThe role of a test engineer can sometimes be blurred assuming its core responsibility lies in bug finding. However, the software tester is a greenliner of the product whose helicopter view helps detect and highlight risks and even possible business gaps. During the meetup, Anna will share how the testing process becomes an essential map of the product growth. Based on her case, she will explain which approaches to use and pitfall to avoid, and how to build the test process in dev teams with a lack of time and resources.
Here are a few reasons why you should join the event:
To find out how to enhance software product development by creating high-quality architecture
To meet talented and motivated Ukrainian and EU women who are working on complex tech & business solutions
To join the movement and become a part of the community that is transforming women's tech perception and building the opportunities for the audience
To get free access to the agenda of the summit, meet keynote speakers, participate in networking events, and attend mentorship zones
More about Femmegineering
Femmegineering is an initiative that aims to build a female programmers community by launching educational events, providing free access to IT education and mentorship by industry leaders, as well as organizing hackathons to power innovative solutions for a better world. Founded by Danir Group in Sweden, Femmegineering aims to contribute to a more equal technology industry by making female role models more visible and creating an inclusive environment where they are equipped with the tools and resources to build successful careers in the tech sector. 
Sigma Software Group decided to take the initiative to a new level and scale it to the Emerging European countries. Since most of the refugees who fled from Ukraine are women and are sole breadwinners for their families, this initiative will practically help families affected by the war by creating job opportunities for women.
About the organizers
Sigma Software Group is a Swedish-Ukrainian IT company offering 100+ remote job opportunities around the globe! Our clients are world-known companies such as AstraZeneca, Scania, SAS, Fortum, DanAds, Viaplay, and others. We create best-in-class tech solutions and integrate 20+ existing products of our portfolio. We help enterprises to digitize their businesses and support startups in their growth. With Sigma Software, you get a flexible schedule, a culture of professional growth and development, a strong international team, world-known customers working in 10+ business domains, a variety of technologies, and a responsible employer. Join us in Poland, Hungary, Romania, Spain, Portugal, Sweden, Latin America, and remotely from any corner of the world.
The Perspektywy Women in Tech inspires, connects and supports women in technologies, science, and innovation. Perspektywy Women in Tech encourages women to choose education in the STEM area (Science, Technology, Engineering, Mathematics). They help them enter the job market and build spectacular careers – in industry, science or by developing their own tech startup. This way the community supports the emergence of a generation of self-aware women leaders who will change the tech world.
They also organize the Perspektywy Women in Tech Summit – the biggest event for women in technologies in this part of the world – drawing 8500 participants from 100 countries.
Danir Group is an entrepreneurial company owned by the Dan Olofsson family. Danir was founded in 1986, and our role is to own and develop our companies while contributing to a better society. We do this through entrepreneurship, long-term commitment and community involvement.
Check out the meetup news on the event page on Linkedin and Facebook!
about the author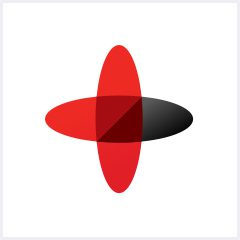 Software Engineering Company
Sigma Software provides IT services to enterprises, software product houses, and startups. Working since 2002, we have build deep domain knowledge in AdTech, automotive, aviation, gaming industry, telecom, e-learning, FinTech, PropTech.We constantly work to enrich our expertise with machine learning, cybersecurity, AR/VR, IoT, and other technologies. Here we share insights into tech news, software engineering tips, business methods, and company life.
Linkedin profile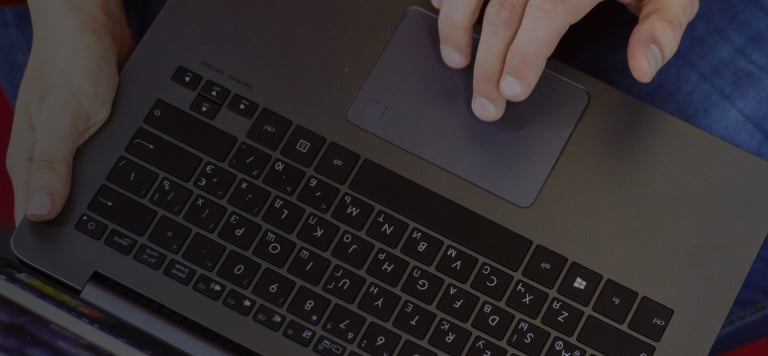 NEED AN INNOVATIVE AND RELIABLE TECH PARTNER?