The First Post-Pandemic Web Summit: Our Insights and Takeaways
Life, as we know it, is coming back to normal. After almost two years of lockdowns and restraints we are witnessing the magic of face-to-face interactions once again. Who would've thought that re-experiencing such simple things could be so moving? And yet Web Summit 2021 magically plunged us into these wonderlands of offline meetings and communication at full throttle.
This year Sigma Software was one of the fortunate companies not only to be represented at the first-ever Ukrainian pavilion, but also to co-organize it. Together with other businesses and public officials we united our efforts to present the Ukrainian tech ecosystem to more than 42,750 attendees at the most acclaimed tech event in the world.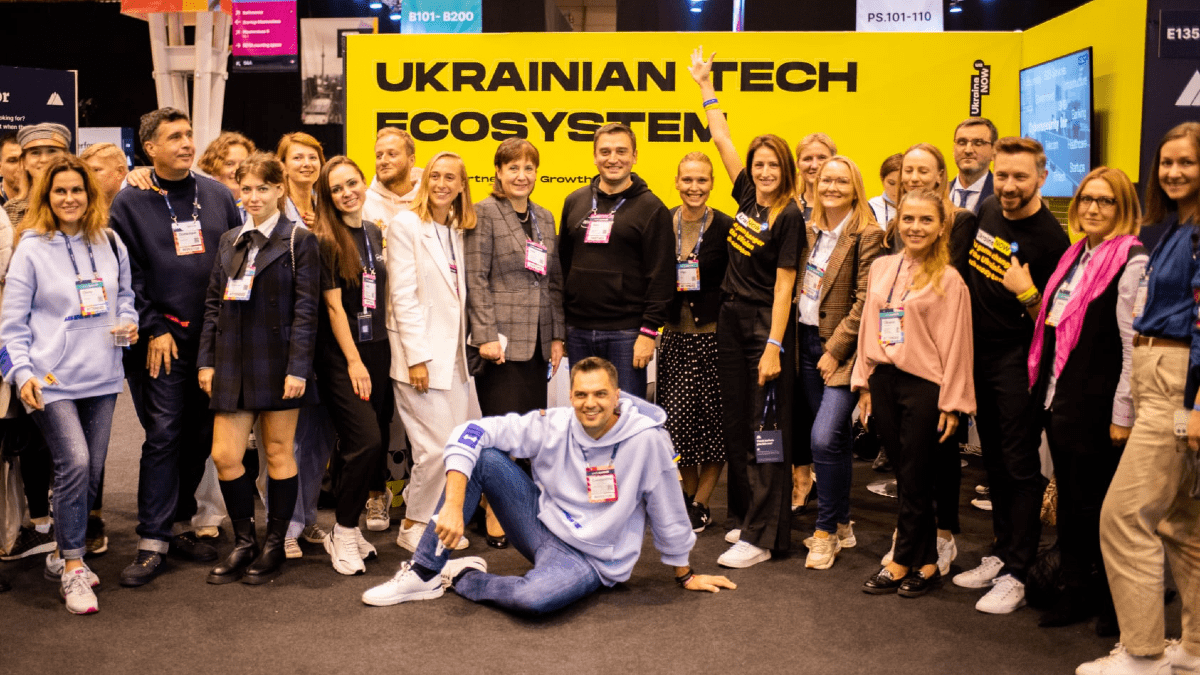 Let's start with some eye-catching numbers from this year's Web Summit.
This year, people from 128 countries made the journey to Lisbon to connect, network, and learn from each other. For the first time, more than half of the attendees were women (50,5 percent).
Almost 750 world leaders, entrepreneurs, executives, tech developers, sports stars, musicians, and actors shared their unique insights and knowledge and gave over 1,300 talks. This year we were able to hear from Amy Poehler, Sir Tim Berners-Lee, Samuel Eto'o, Craig Federighi, Harry Kasparov, Thierry Henry, Wladimir Klitschko, Iker Casillas, and many others.
Over 1,500 startups, from bootstrapped young companies to unicorns in the making, participated at Web Summit in one way or another. Among them were over 60 Ukrainian teams.
And last but not least, there were 870+ investors, 1,850+ members of the media, and 210+ partners.
The first Ukrainian pavilion at Web Summit: How it went
The Ukrainian stand at the world's biggest tech conference turned out to be a huge success. More than 15,000 attendees visited Ukraine's pavilion, which was organized to meet several challenges:
To unveil Ukraine as a hidden gem on the global tech ecosystem map
To get acquainted with the top-achievers and game changers
To learn how Ukrainian tech and business talents can help grow international businesses
To reveal our country as a new hot spot for business, investments, and partnerships
The most important official activity for the whole delegation was the presentation of the Ukrainian booming tech ecosystem. The location in which this event took place was overcrowded with 200 people from over 20 countries. Over an hour and a half, 13 speakers gave the audience a comprehensive overview of the local IT market and their organizations.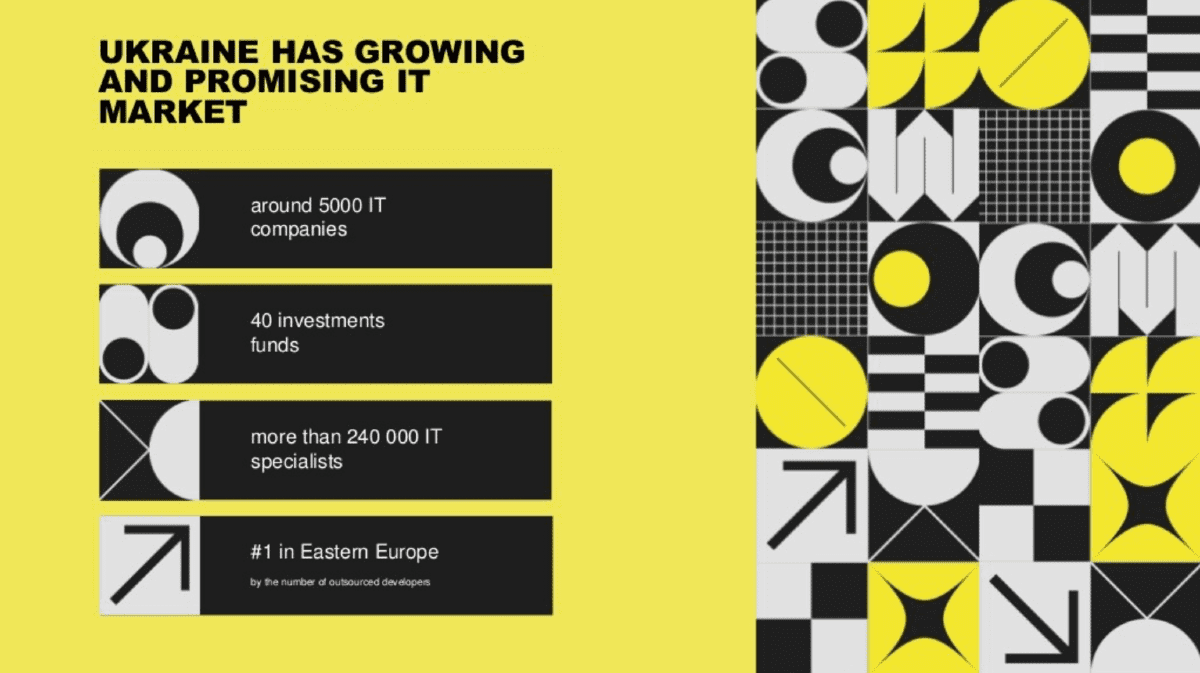 The participants had a chance to find out about the special legal framework Diia City, a brief overview of such sectors as cybersecurity, gaming, fintech, and also why Ukraine should be considered an appealing destination for international businesses and investors.
You can check the full presentation via this link.
A word from our CEO
One of the speakers was our CEO & Co-founder Valery Krasovsky, who gave a brilliant speech about Sigma Software Group and all our activities, initiatives, and achievements. According to Valery, we contributed to the startup ecosystem development by co-organising the Ukraine's tech pavilion.
"Sigma Software is a unique service company that also helps young Ukrainian and Western companies grow and get new clients. We have been doing this since 2005 utilizing our tech and business expertise and network in many business verticals in more than 11 countries. Over the past 5 years, we have initiated 5 product companies and invested more than $6 million into Ukrainian and international startups."
He believes that Ukraine has enormous potential when it comes to future unicorns and this summit was a great opportunity for startups to find new clients, partners, and investors.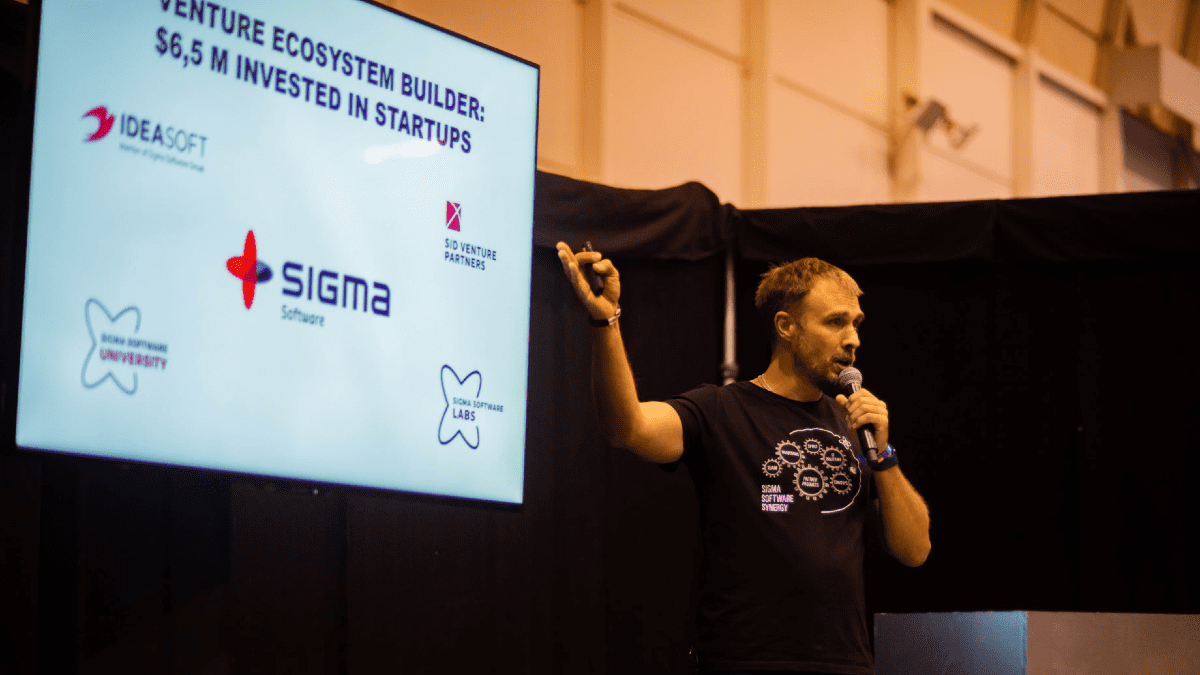 "And I would walk 500 miles, and I would walk 500 more…"
We decided to take the best out of the first in-person major tech event in two years. A big team of eleven people traveled thousands of miles in order to fulfill their tasks.
As a part of Sigma Software's product wing, Datuum.AI went to Web Summit 2021 with several goals in mind — to find investors and potential customers. "We talked to investment funds, and also found about 15 "hot" contacts with whom we hope to do joint projects in the near future," says Iryna Shimko, Senior Business Development Manager at Sigma Software Group and Business Development Director at Datuum.AI.
In fact, they've managed to do even more. "Datuum.AI is a young project that has been in development for only six months. It is a low-code/no-code platform for data mapping and extraction. We needed to make sure that the platform we are creating really meets the needs and expectations of the market. And we are very happy that we were able to confirm our hypothesis. We saw a great need for our product."
People came up to the stand and stayed there for about 30-40 minutes, telling Iryna what their pains and problems were and asking if they could help solve them. "We also managed to check what else the market needed and how we could expand our functionality depending on the needs people voiced," she concluded.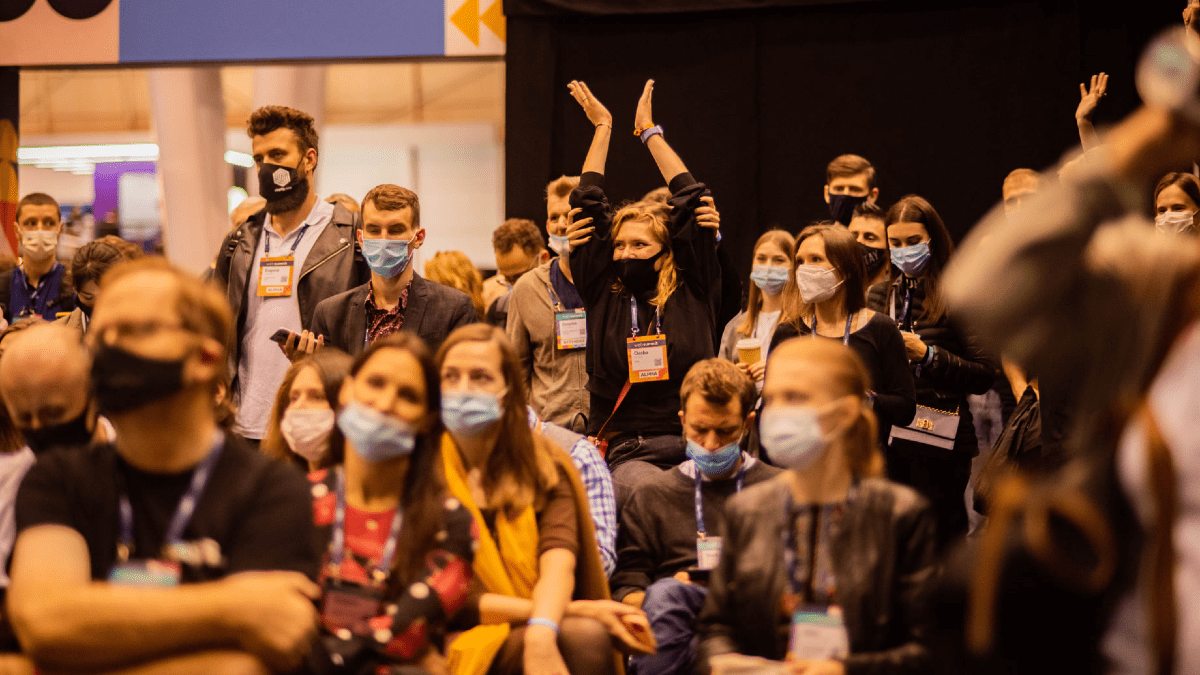 For Veronika Korzh, Сo-founder at WOD Insight, a unique fitness tracking app for CrossFit and HIIT athletes, Web Summit 2021 was also the first one as well as for her team. "It has brought an understanding to our team that we are building an app which is quite rare on the market even if there were a lot of fitness apps presented. We met 2 potential investors and 2 domain accelerators and are currently in the negotiation process with them."
According to Veronika, Web Summit is a great opportunity for any stage startup to receive an outside look at themselves, to understand customers' needs and what investment trends are on the market. "Don't miss your chance to visit it next year," she says.
Good PR as an essential part of every business
Alexandra Govorukha, Head of International PR at Sigma Software, thinks that the success of Ukrainian tech companies has two key ingredients: cool products or solutions & proper communication.
"One without the other would have no effect. You need to talk about what you are doing. Too many cool things have sunk into history because they were not talked about. Some because of modesty, some because of an inability to tell stories around their products. Create stories and don't be afraid to tell them. Choose the right channels and formats of communication," says Alexandra.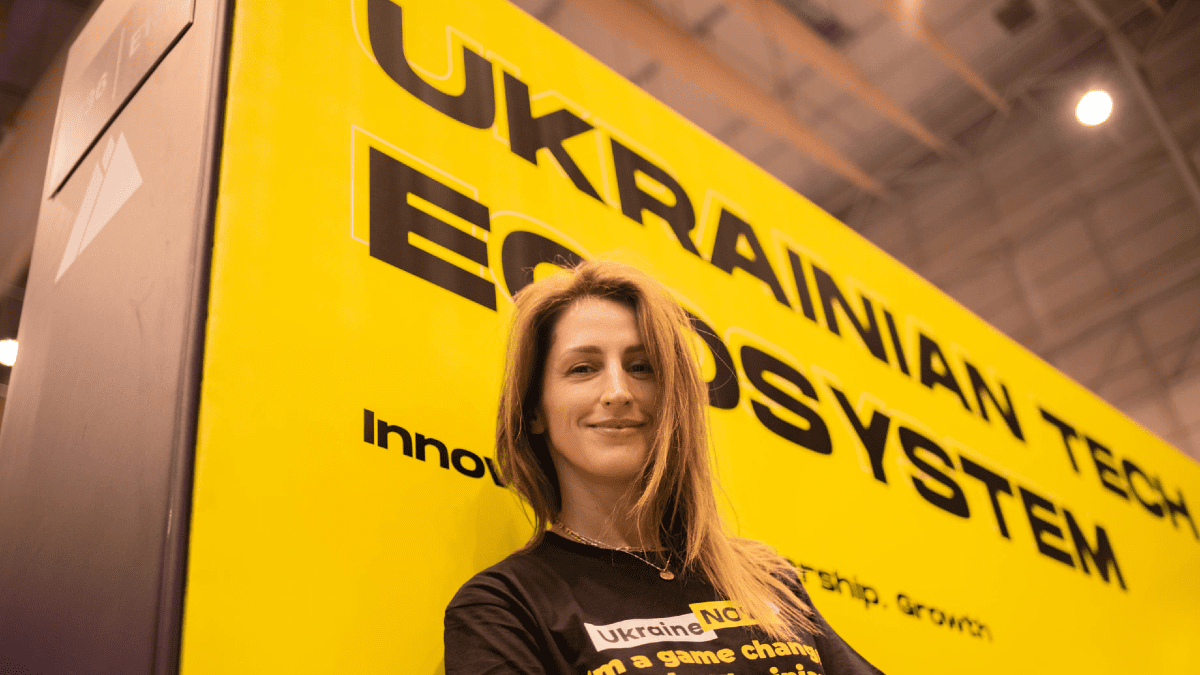 Takeaways from our business incubator Sigma Software Labs
Galyna Isakiv, Associate at Sigma Software Labs, and her team also spent 4 jam-packed days full of head turning talks, numerous meetups, exciting startup pitches, and mindblowing insights. "My primary focus was venture investments and unicorn hunting, so I was rushing back and forth through pavilions communicating with startuppers from all of the world and keeping my eyes and ears wide open for info on selected topics.
Venture talks at the Summit covered: figures and analytics on global VC funding, impact investing, trends (Big Data, ClimateTech, InsureTech, FinTech, Blokchain, no-code platforms, HealthTech), future of growth-stage investments, and many more."
Galyna believes that now is the best time for startups as the world has transformed to a totally founders market. "I've made numerous interviews with entrepreneurs from the whole world': from UAE to Nigeria and I am absolutely excited and amused about those brilliant minds that are driving the future with their brave ideas. They've got it all: blockchain technologies, hardware, advertising & marketing, AI & machine learning, Gaming & VR, and more. 1,519 startups tried their luck this year."
Special pitch stages were set up for startups looking for investors where they could present their products. Eco-friendly Startup effa, the world's first 100% renewable and recyclable toothbrush made of paper, became the first ever Ukrainian startup to pitch at the main stage during the semi-finals.
Before the start of the event, Sigma Software Labs conducted its own research of Ukrainian startups that took part in the Summit and identified the most promising of them. Each year the number of Ukrainian teams grows and this year Ukraine has been represented by more than 60 creative startups.
"When we talk about our team results, these are first of all valuable contacts and we have had effective communication with them. We got a lot of bright new connections as far as experience exchanges with our foreign colleagues from Portugal, Germany, and Italy in order to discuss possible options for partnerships. We also met with foreign VCs and confirmed their interest in Ukrainian products. I also talked with more than 30 brave startups looking for the best and most promising ideas.
All of these factors confirm the qualitative Ukrainian startup ecosystem growth, and we are excited to be a part of this paradigm and fully support talented teams on an ongoing basis, opening new opportunities for each of them," says Daria Yaniieva, PR Lead at Sigma Software Labs.
Final thoughts
The secret of Ukrainians' popularity at the Summit is that we stick together, share useful information, and help each other. Dozens of people would huddle around the small but bright and attractive stand of the Ukrainian tech ecosystem.
"The popularity of our pavilion was created by the Ukrainians who invited their foreign friends to our stand, made appointments, simply came up to support their friends, and thus attracted enormous attention from everyone passing by, making them stop and see what interesting things were happening there. As a result, there were crowds of people at Ukraine's booth all three days of the Web Summit," says Alexandra Govorukha.
Andrew Wrobel, the founding partner at Emerging Europe, the leader of Tech Emerging Europe Advocates, has been following the development and growth of Ukraine's tech scene very closely for the last decade. "I must admit that I'm constantly impressed, particularly recently with the strong focus on digital transformation, but also by the numerous startups and unicorns. All members of the tech community support each other, support entrepreneurship, and this has led to continuous growth. Several challenges remain, especially on the political and macroeconomic front, but the talent makes up for it with their open-mindedness, creativity, and skills."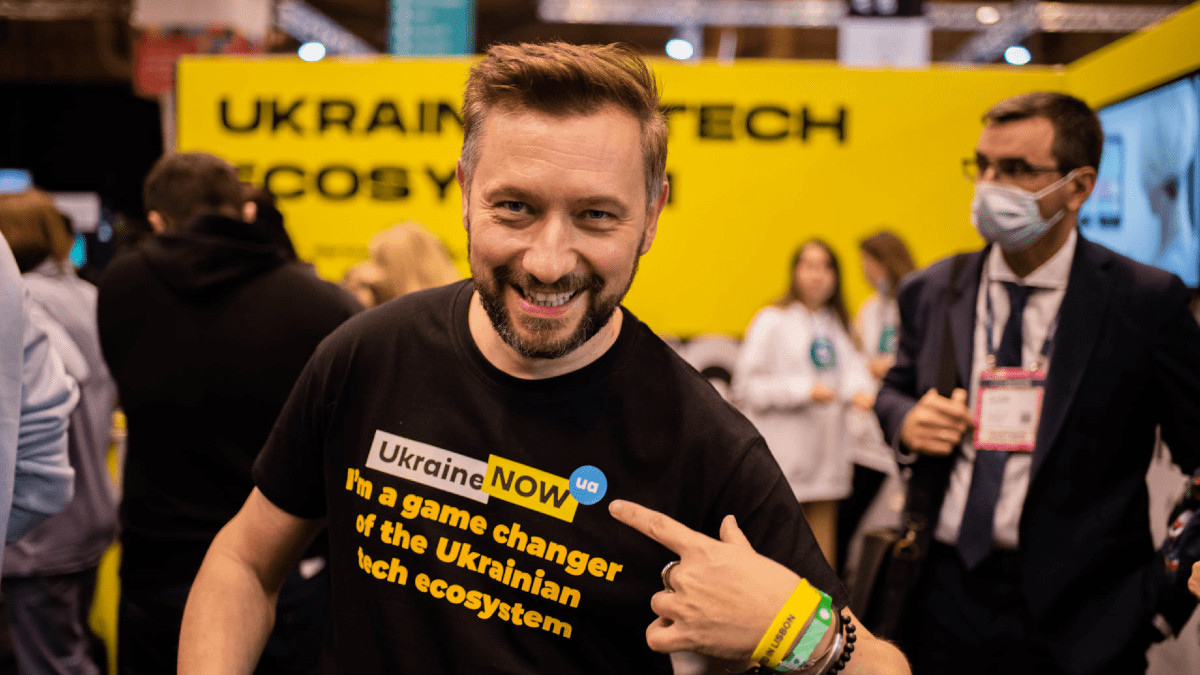 The creation of a national pavilion became possible due to combined efforts of the co-organizers — Ukrainian Startup Fund, the Ministry of Digital Transformation, Sigma Software Group, the Ministry of Foreigh Affairs, Embassy of Ukraine in the Portuguese Republic, Еuropean Business Association, Ukrainian Hub, iplace digital agency — and partners Digital Future, Parimatch Tech, Rocket, Fondy, Avenga, ISSP, Concord Fintech Solutions, JKR Investment Group, UNIT.City, IT Ukraine, SoftServe, and NGO IT Education Development.
We want to thank all of our partners, friends, and colleagues that made it possible. Sigma Software is already making plans to shine even brighter next year. Stay tuned!
about the author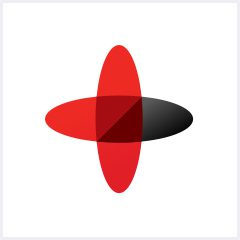 Software Engineering Company
Sigma Software provides IT services to enterprises, software product houses, and startups. Working since 2002, we have build deep domain knowledge in AdTech, automotive, aviation, gaming industry, telecom, e-learning, FinTech, PropTech.We constantly work to enrich our expertise with machine learning, cybersecurity, AR/VR, IoT, and other technologies. Here we share insights into tech news, software engineering tips, business methods, and company life.
Linkedin profile
Related services & solutions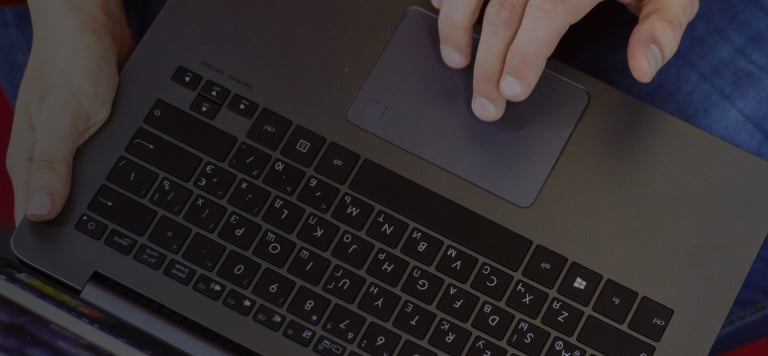 NEED AN INNOVATIVE AND RELIABLE TECH PARTNER?