In-house vs Outsourcing Software development: What to Choose?
Sigma Software team has been delivering outsourced software development and related services to ISVs, innovative start-ups, and global enterprises for 20 years. The current study on in-house vs outsourcing software development reflects both our and our client's experiences. We have put those together to help you better understand all the pros and cons of each of the models, map your business case against different options, and choose the one that fits your needs best.
Outsource or develop in-house? This question often pops up when one needs to develop or support some IT solution or product. Which option is better?
In fact, both are great. It is more a matter of what your business needs, expectations, and capabilities are. It is important to clearly define those, investigate how both models work, check the advantages & disadvantages of insource vs outsource software development, and study typical use-cases for each model. This can help you make an informed decision and choose the model that will work best for your current business case.
In-house development vs outsourcing models: What's the difference?
A good understanding of how both models work is essential for making all the advantages of outsourced and in-house development models loud and simple.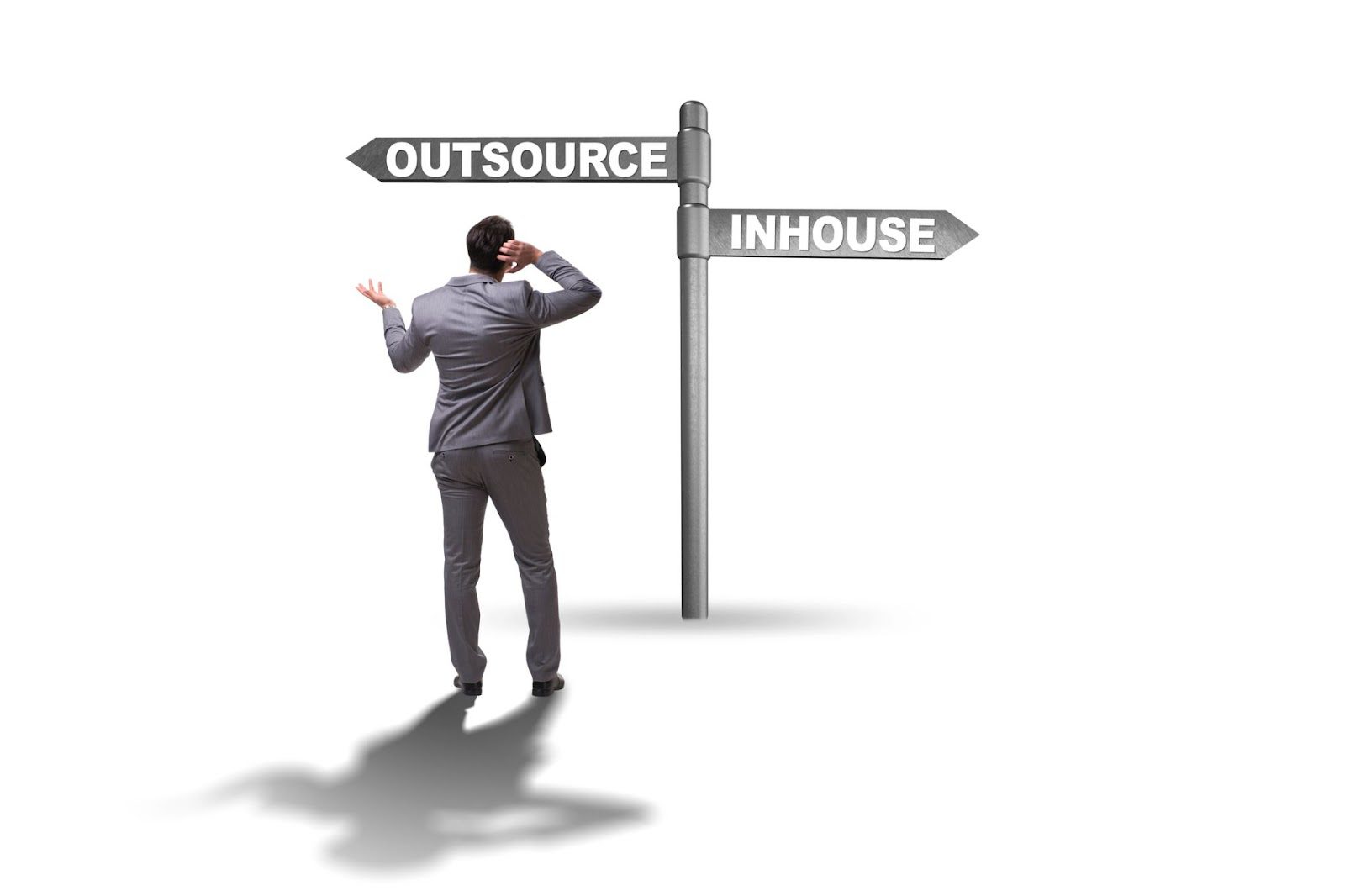 In-house software development (insourcing) assumes delegating software tasks to IT professionals who are permanently employed by your company. Historically, this has been the most common approach to software development. The team members work under your control and are deeply involved in your company's life, processes, and product. They share your corporate culture, mission, and vision. However, in-house software development also means that you will need to hire, onboard, manage & control the team members, and take care of their growth and retention along with managing the project.
Outsourcing development, on the contrary, is the model where you delegate all or a part of software development activities to IT professionals from external agencies. These outsourcing agencies typically provide organizations with turnkey solutions development, project outsourcing, dedicated software development teams, as well as team augmentation services. Software outsourcing is an approach that is prevalent among many companies today. Fortunly predicts it will grow by $98 billion from 2020 to 2024.
Outsourcing software development pros and cons
Like any model, outsourcing has its pros and cons. It is important to be well aware of those in order to choose the most suitable option as well as to be prepared and find ways to mitigate the disadvantages you are not comfortable with.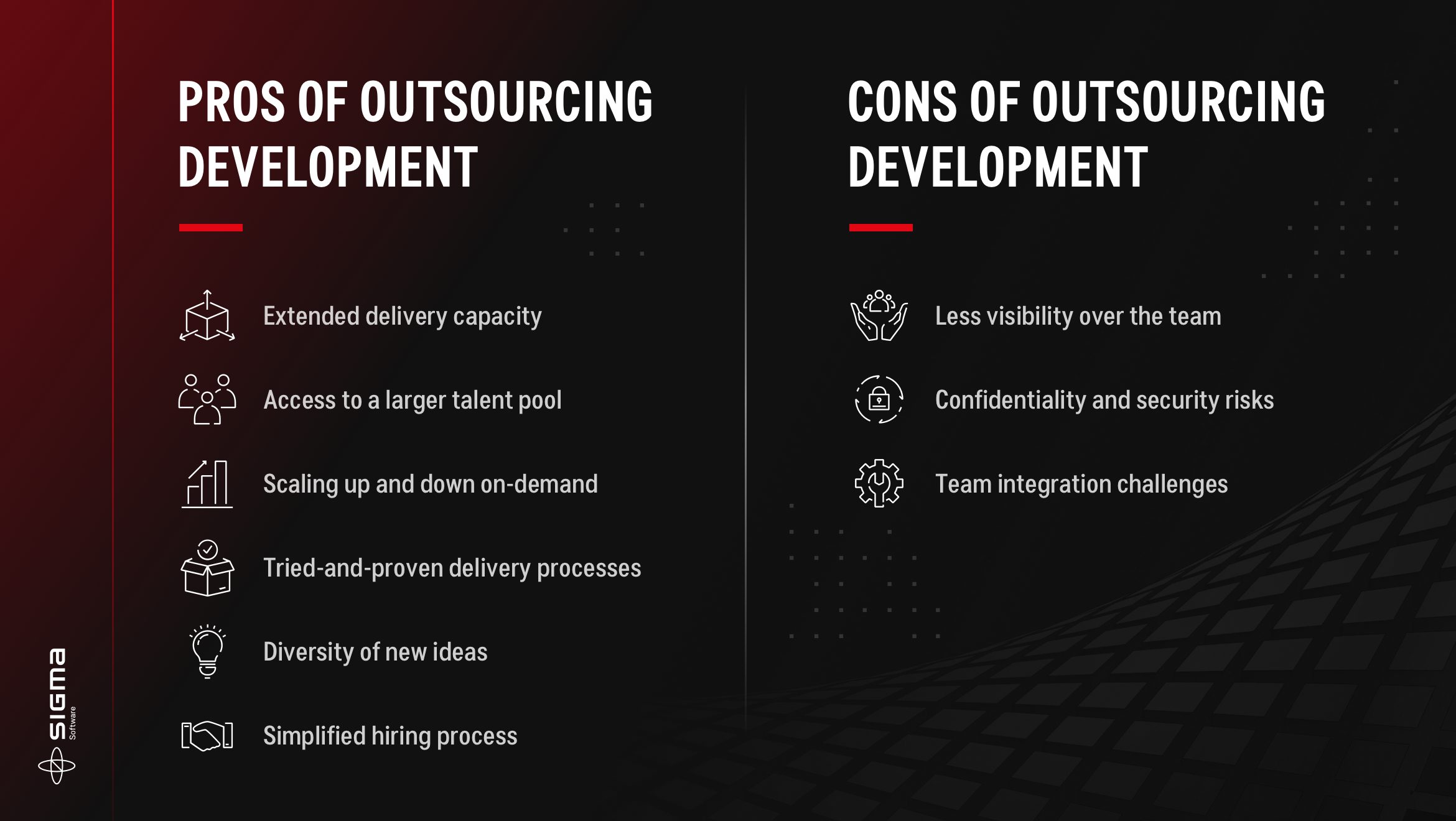 Advantages of outsourcing software development
Properly organized outsourcing provides many benefits and expands the company's capabilities. Many leading organizations use outsourcing services, which indicates its popularity and profitability for the end-user. Outsourcing software development is a smart solution for well-established companies for several important reasons:
Extended delivery capacity and shorter time to market
Software outsourcing enables organizations to increase development speed and boosts delivery capacity. It helps companies extend development teams with more specialists, do more projects, and accomplish more tasks within the same timeframe. Moreover, outsourcing companies often have their own know-how, best practices, and reusable components that help them speed up software development. As a result, you will be able to roll out the product or solution to the market faster.
Scaling up and down on-demand
Team workload may fluctuate over time depending on the project stage. You may need peak resources or require short-term involvement of niche experts for advice or relatively small tasks. Outsourcing copes with such challenges really well. It is designed to be agile and let your dedicated team scale up and down on-demand. Thus, you can adjust the team size according to your project plans and involve part-time specialists or peak resources when needed.
Access to a larger talent pool
When it goes to in-house development, you only have access to a limited pool of local talents. Outsourcing gives you the opportunity to hire specialists around the world, in many other cities and countries where your contractor already has some presence. An outsourcing company can easily staff a team of qualified professionals for your project in diverse locations as they already have available specialists, well-established recruitment channels, processes, and some brand awareness there.
Tried-and-proven delivery processes
Companies that specialize in outsourcing usually have a substantial track record of accomplished projects. This means they have already established tried-and-proven processes that safeguard smooth operations. Outsourcing companies know how to organize the knowledge transfer process, work out the requirements, as well as plan and carry out the development, testing & support of the product. They know which KPIs to track and where to find room for optimization. Their experience is readily available to keep the service delivery stable and predictable.
Diversity of new ideas
External specialists usually have an unbiased and fresh look since they are new to your routines. They can introduce new and creative ideas and suggest valuable optimizations to your project.
Moreover, your outsourcing partner may have already solved similar business problems on previous projects and will be able to suggest a good way to quickly and efficiently solve yours. They are also likely to have experience in different domains and can bring something new and unconventional from another domain into your solution.
Simplified hiring process and smooth people management
In-house staffing requires substantial efforts for hiring, onboarding, performance evaluation, feedback, and retention. The outsourcing approach can help start your project faster and with minimal overhead on your side. You will be able to focus on more important tasks and not waste time on administrative routines. The outsourcing partner will also take care of setting up delivery processes, management, reporting, communication, etc.
It can also be challenging to recruit people that will work with technologies or areas of expertise that are new to your business because you will somehow need to evaluate their hard skills. Outsourcing agencies usually have a wide range of specializations, a broad technology stack, and enough specialists to interview, evaluate & select the right candidates even when it goes to some niche expertise or rare technologies.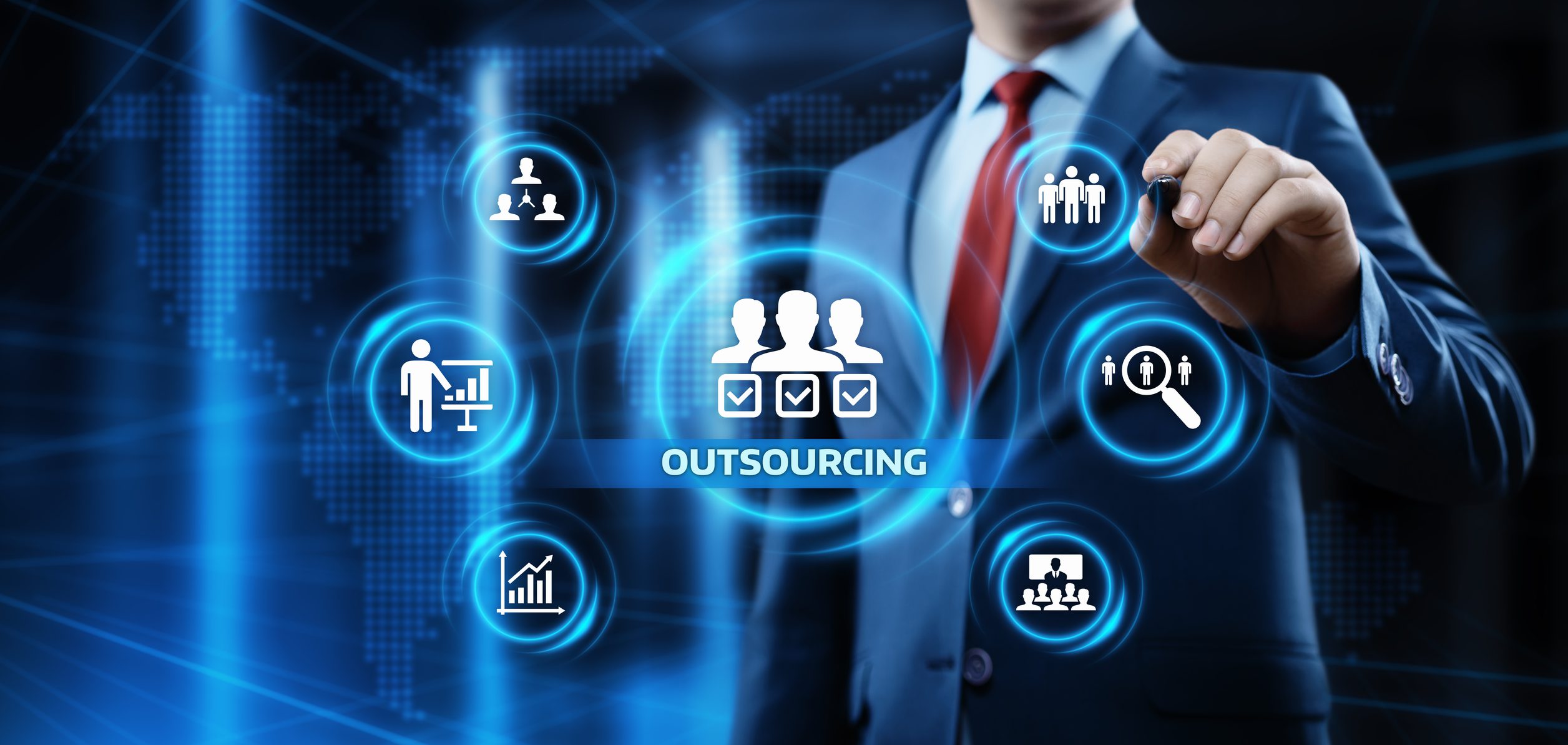 Disadvantages of outsourcing software development
Nothing is perfect and outsourcing also has its drawbacks. However, quite often the drawbacks ascribed to outsourcing may result from the rushed choice of supplier, lack of open dialogue, and collaboration process gaps. Several tips on how to choose a supplier are included in our article on  What to Consider Before Hiring a Dedicated Team.
Less visibility over the team
One of the major drawbacks of outsourced development is that businesses may have slightly less visibility over how tasks are tracked and completed. However, this issue can be easily fixed. You can discuss with your supplier the desired degree of visibility and control over your assignment along with ways how to safeguard it.
Regular reports and status meetings, access to the team's project/task management tools, frequent demos of completed work, team timesheets, effort reports, etc. can substantially increase the visibility. It will allow you to follow the project progress and stay updated on recent changes.
Confidentiality and security risks
Security risks are present with both in-house development and outsourcing. However, those may be a bit higher with outsourcing since you are entrusting confidential information to an external contractor. It is important to sign an NDA for safeguarding the confidentiality of your data, know-how, and business ideas from a legal perspective.
It also makes sense to conduct thorough research on your potential supplier and double-check how your contractor guarantees the appropriate level of data security and ensures secure SDLC. Many outsourcing providers already pay much attention to cybersecurity and willingly take additional measures to comply with security requirements you may have.
Team integration challenges
Different time zones, cultural and language differences can hinder collaboration efficiency. It is important to safeguard that the external team is well aware of your goals and growth strategies. You need to provide regular feedback on the team performance and have some informal communication with team members. This will help your external team become an efficient part of your delivery organization and motivate them to contribute to the development of your business's success.
Moreover, there are many different collaborative tools such as Jira, Skype, and Microsoft meetings out there now, which greatly help teams to streamline remote work, mitigate time differences, and integrate teams more easily. However, team integration requires additional efforts at the organizational level.
Outsourcing software development examples
As an outsourcing company with 20 years of experience, we have seen numerous success cases where outsourcing brought substantial value to our client's business. Below are several examples of such projects.
DanAds self-service advertising platform development
7 years ago DanAds contracted Sigma Software to turn their MVP into a marketable ad platform. We started working with DanAds with 5 experts who were focused primarily on platform development.
Today Sigma Software is the core technology partner for DanAds. We have a team of 120 experts who not only develop the product but also participate in sales & marketing activities, do platform customizations, integrations, onboarding, and support for DanAds clients. Our IT specialists also provide help with cybersecurity, DevOps, and many other activities aimed at growing DanAds business.
Over the 7 years of cooperation, the product has grown to become a leading enterprise-level solution used by such global brands as Shazam, Tripadvisor, Bloomberg, Phillips, and eBay.
We think this success was possible because the collaboration has been based on open partner relations right from the start. The DanAds team has always been open and welcomed our suggestions while the Sigma Software team stayed motivated to contribute to the development of the client's product and business.
Сompetency-based training & assessment tool development for IATA
International Air Transportation Association (IATA) unites 290 airlines and helps formulate aviation industry policies on critical issues. IATA was looking for turnkey solution development and contracted Sigma Software to deliver a training and competence assessment application for dangerous goods handling processes.
Our aviation domain expert and technology gurus carefully analyzed the business case and investigated existing requirements & limitations. We came up with a tech solution that not only covered the IATA requirements but also included several valuable suggestions from our team that helped address IATA's business case in the best possible way. The app was designed and delivered in 1 year which is a very short timeframe for a solution destined to become a standard in the aviation industry.
The major success factor for this assignment was Sigma Software's great combination of domain knowledge and tech expertise as an outsourcing services provider. This helped us envision the solution that was a perfect fit for IATA's business needs (they didn't have to explain all the details as our experts spoke the same business language) and find the most efficient way to bring this solution to life.
Formpipe Dedicated Development Center
Back in 2008, Formpipe (an independent ECM software vendor from Sweden) was looking for an outsourced software development provider. They wanted to extend their delivery capacity and find a supplier who would take over the evolutionary development of one of their core products – Platina ECM.
Formipe wanted to check what improvements we would suggest to the product as a potential vendor. Thus, the first assignment we got from Formpipe was aimed at the product technical review. The suggestions the Sigma Software team came up with could potentially eliminate a number of major system's drawbacks and Formpipe contracted us to implement those changes and then take over full product development.
We have been cooperating with Formpipe for almost 15 years now. Today our Remote Development Center is responsible for the evolutionary development and support of all the company's main products including Platina ECM, Meetings, W3D3, and LTA which is the #1 archiving system in Sweden and is used by 90% of all government agencies in the country.
Our collaboration is full of synergy and goes far beyond software development. Sigma Software experts monitor ECM market trends and regulations and come up with suggestions on how Formpipe products can be optimized and adjusted to meet those.
We believe that this synergy became possible because of a well-planned and gradual knowledge transfer from Formpipe to our team. It ensured a very smooth transition and seamless team immersion into the ECM product as well as helped build a high level of trust between the companies.
When to choose the outsourced team model?
The success of an outsourcing project largely depends on the business case specifics. Therefore, it is critical to understand which characteristics of a business case are a good fit for the outsourcing model.
If you agree with at least one of the statements below, it is definitely worth considering the outsourcing development model as an option for your business case.
You need to accomplish a specific time-limited project, e.g. development of some solution, module, component, or system that is not your core business.
You face recruitment challenges such as the need to scale the team faster or difficulties in finding the right professionals.
You need to hire experts in some peculiar technology and find it challenging to evaluate their hard skills and work efficiency as well as manage them and safeguard their professional growth.
You do not have enough time or experience to coordinate the development process end-to-end.
You need temporary involvement of niche professionals.
Pros and cons of in-house development
Despite all the benefits of the outsourcing model, there are cases when in-house system development remains the best solution. Simply said, the benefits and drawbacks of in-house development are as follows: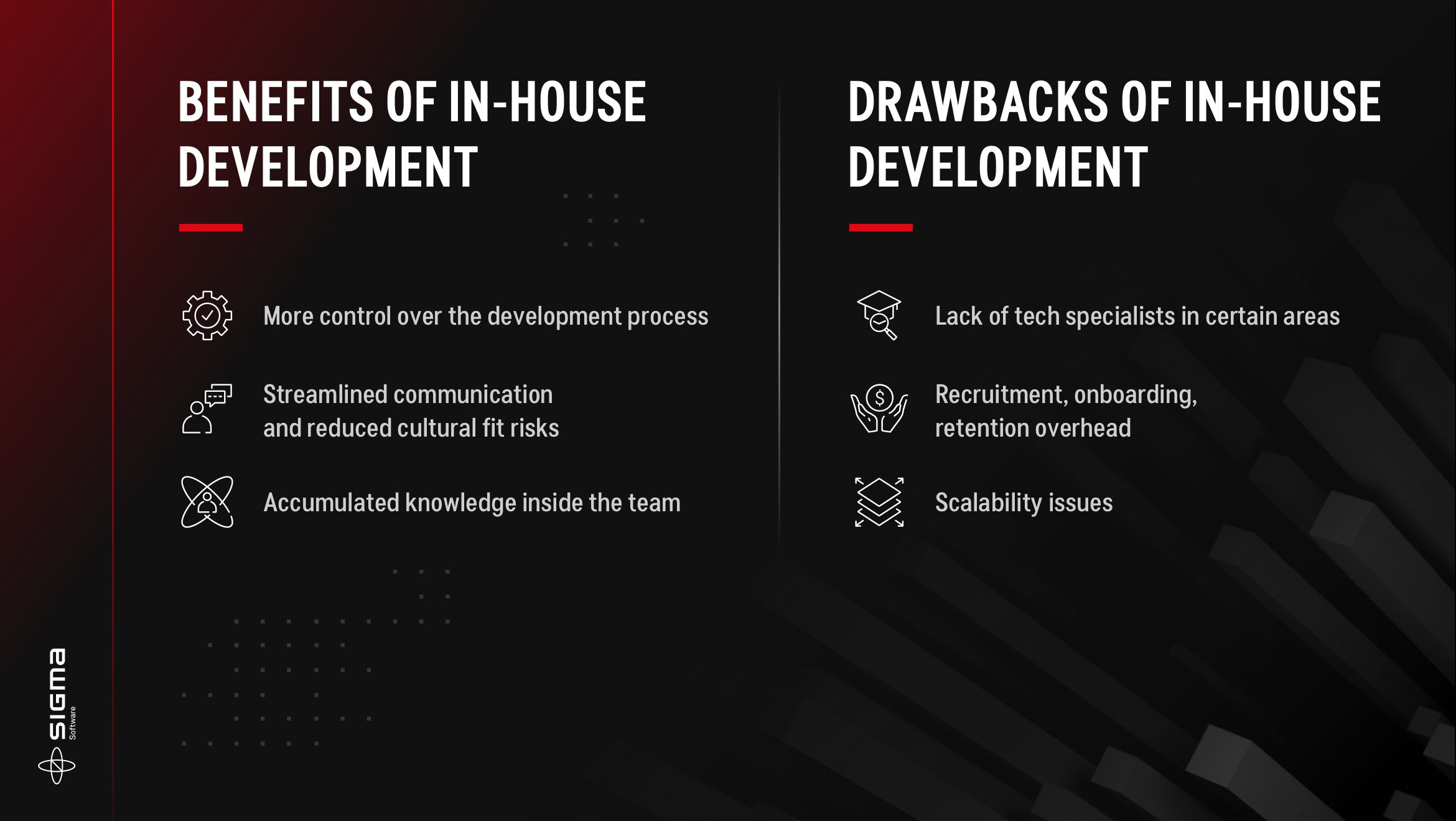 Benefits of in-house development
In-house app development advantages are quite obvious and well-known. However, they usually work only if you have enough time and willingness to actively manage your team, invest efforts into team-building and people management, and have enough experience to establish all the necessary processes and routines.
More control over the development process
Cooperation with the team inside your organization often gives the feeling of more control over the project's progress. Especially if you already have all the necessary routines and processes in place.
You always know what all the employees are doing and you have more information about the daily progress of the project, provided you have the time, expertise, and the desire to dig deep into project details.
Streamlined communication and reduced cultural fit risks
Direct communication is one of the core benefits of the in-house model. The possibility to meet and discuss tasks and project progress face-to-face at any time and without additional arrangements definitely helps facilitate discussion and consolidates the team.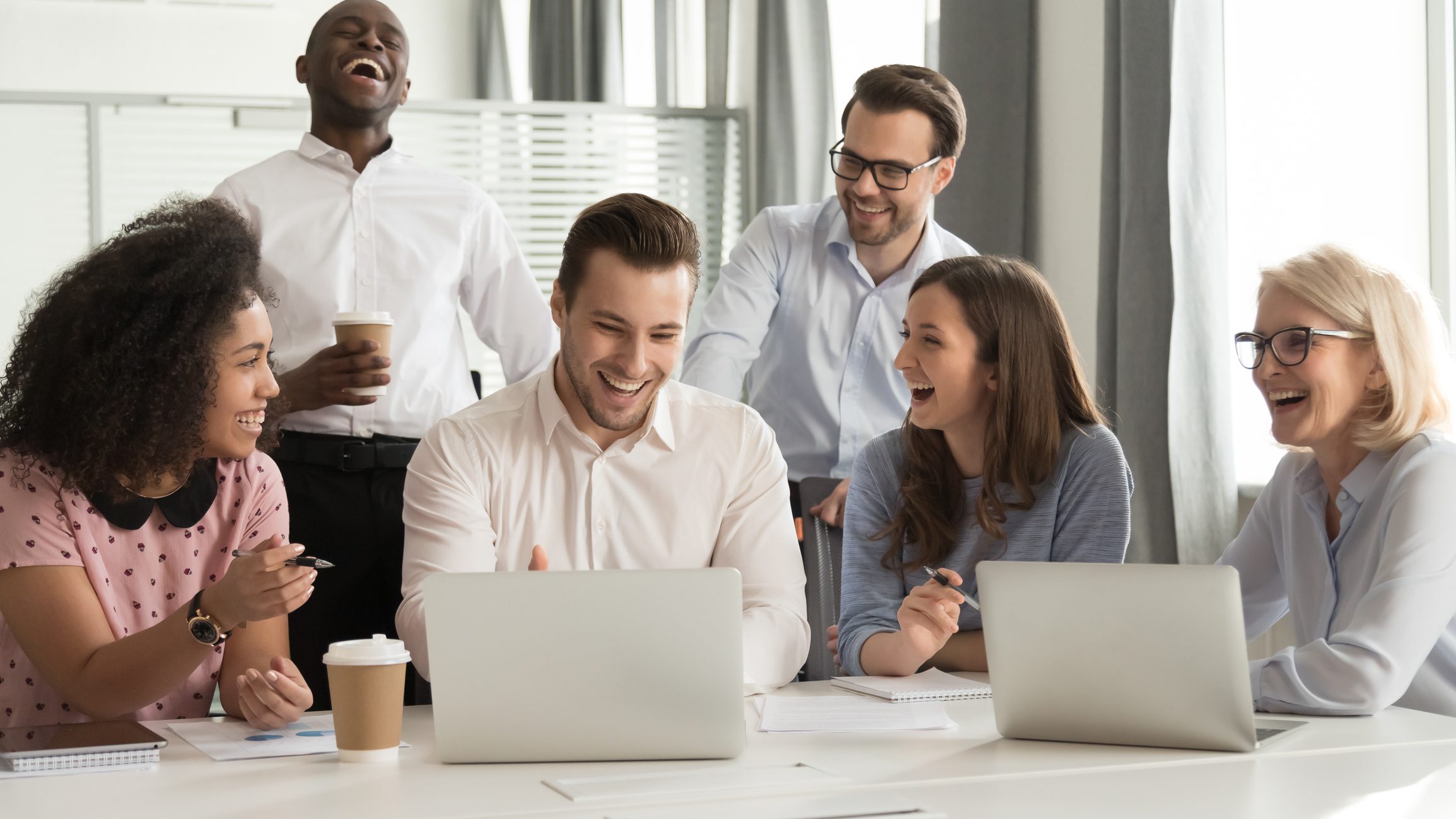 Your in-house team is usually deeply immersed in the company's culture and knows your business ways and requirements fairly well. This increases the chances that they will deliver solutions and results that are fully in line with your needs and expectations.
Accumulated knowledge inside the team
The in-house development approach means that all the knowledge and know-how are accumulated by the specialists inside the company. Of course, you still have retention risks as some key team members might leave your organization at a certain point. But you will definitely have more levels of influence for retaining core team members and keeping the knowledge inside the organization.
Disadvantages of in-house software development
Of course, outsourcing wouldn't be as popular as it is today if in-house development was infallible. Insourcing has some drawbacks as well:
Lack of experts in home markets
In order to meet all the functional and non-functional requirements of a project, it will be essential to recruit a broad range of professionals with specific knowledge and skills e.g. frontend & backend developers, DevOps engineers, projects managers, QA engineers, business analysts, designers, etc. It can be difficult, time-consuming, or quite expensive to find these specialists in the location where your company has offices. You can also hire them remotely in other locations, but it is much easier to do this through a partner who already has a presence in this market.
Recruitment, onboarding, retention, and management overhead
Hiring competent and qualified employees is a daunting task. Successful recruitment takes a lot of time and effort as you not only need to find good specialists but also test their skills meticulously. Moreover, when you recruit new people, they need time to integrate into your organization and processes to become an effective team. Thus, you have an additional headache in the onboarding and retention processes.
When you hire team members in-house, you are responsible for supervising their performance and making sure they perform according to the company's expectations, processes, and procedures. On the other hand, if you choose to partner with an outsourcing company, you do not need to invest your time and resources in recruitment and people management.
Scalability issues
The in-house development is often limited when you need to scale up and down fast and works inefficiently in cases where you need to hire specialists for a short period of time. In large companies that lead several projects at once, this aspect is not so important as you can relocate people between the projects. However, if you are a start-up or a small & midsize business (SMB), the ability to quickly scale your team up and down becomes critical.
In-house software development examples
It normally makes sense to opt for an in-house model when it comes to the long-term development of one or several large products at once and when those are related to your mission-critical business systems. For example, the following companies have large in-house teams that are united into big development centers:
These well-known market leaders have long-term projects that require permanent experts' involvement and full control over the development process.
When to choose the in-house team model?
Considering all the pros and cons of in-house development, this model can be beneficial for the following cases:
The project fuels your core business and it is critical to accumulate product knowledge inside your organization.
You have no formalized processes and requirements, so it is essential to have the whole team working in one location for streamlined daily communication.
You plan to have a stable workload on all team members over a long period of time.
The use cases related to having more control over the project progress, strict security requirements, team response time, and ease of communication are not included in this list. We have done this deliberately as our hands-on experience proves that this is a matter of delivery processes organization and is not related to the choice between outsourcing and in-house development.
Related article: In-House vs Outsourced IT Support 
Hybrid approach: get the best of both worlds
Looking at in-house development vs outsourcing is not about choosing between black and white and quite often both options can be good alternatives. Most businesses successfully use a hybrid approach mixing in-house and outsourcing approaches for more synergy.
A hybrid approach allows you to decide which services to outsource and which to keep in-house. It makes sense to choose a hybrid model when you have your own team working full-time on some mission-critical systems, but also need to complement it with specialists in specific technologies and experience difficulties in hiring them due to the lack of professionals in your local market. It's also worth considering a hybrid approach when you need to hire some niche specialists for time-limited tasks.
On the other hand, the approach works no less effectively when the company leaves product and strategy management on its side, and completely transfers technology-related tasks to the contractor.
If you're wondering how to divide project roles and responsibilities between in-house and outsourced teams, check out our Team Extension Outsourcing Options article.
Why do our clients choose Sigma Software as their outsourcing partner?
The right solution is the one that works best for you and your business. Both in-house and outsourcing approaches have their advantages and disadvantages. Nevertheless, the trend is that organizations tend to delegate many tasks to their trusted outsourcing suppliers. This gives excellent results in terms of cost and effort optimization without sacrificing quality.
Sigma Software has been providing outsourcing services for 20 years.  We have had a lot of opportunities to make sure that outsourcing brings a lot of value. For the sixth year in a row, we have been included in IAOP Top 100 Outsourcers list. Since our establishment, we have strived to provide top-notch solutions that fully address our clients' business needs on time and within budget. We are constantly extending our offers and mastering new cutting-edge technologies to meet business objectives.
Sigma Software in numbers:
19 years of global delivery experience
2000 software experts
22 offices in 9 countries
If you've decided to choose software outsourcing, contact us and we will help you scale your IT capacity and develop great products.
about the author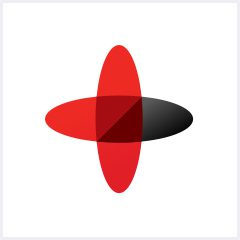 Software Engineering Company
Sigma Software provides IT services to enterprises, software product houses, and startups. Working since 2002, we have build deep domain knowledge in AdTech, automotive, aviation, gaming industry, telecom, e-learning, FinTech, PropTech.We constantly work to enrich our expertise with machine learning, cybersecurity, AR/VR, IoT, and other technologies. Here we share insights into tech news, software engineering tips, business methods, and company life.
Linkedin profile
Related services & solutions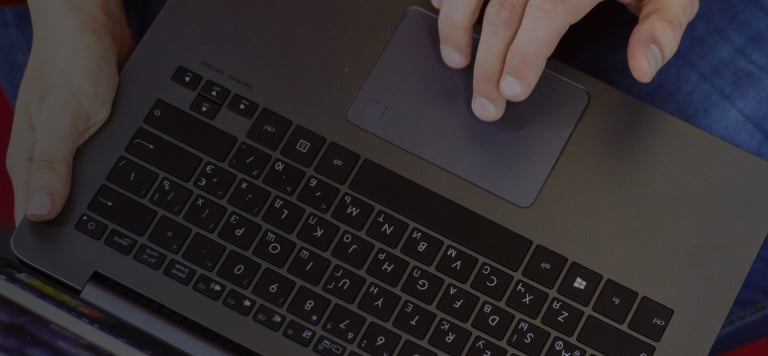 NEED AN INNOVATIVE AND RELIABLE TECH PARTNER?