Industries That Can Prevail Amidst Coronavirus
The world has become a different place as coronavirus continues to spread, with country-wide quarantines and 'shelter in place' orders becoming the new reality for many. A prior booming economy hit hard and fast, as businesses of all types and sizes try to make the best decisions possible to stay afloat. Although big industries like airlines, hotels, and restaurants have been hit hard, others can prevail. What are these industries and why are they succeeding?
As we see a rise in coronavirus cases, we're also seeing a rise in industries such as delivery services, remote work and collaboration software, automation, cybersecurity, and biotech. Although certain industries are thriving, according to the chart below, global private market funding has declined about 16% in Q1'20 compared to Q4'19, and 12% compared to Q1'19.  However, there is hope.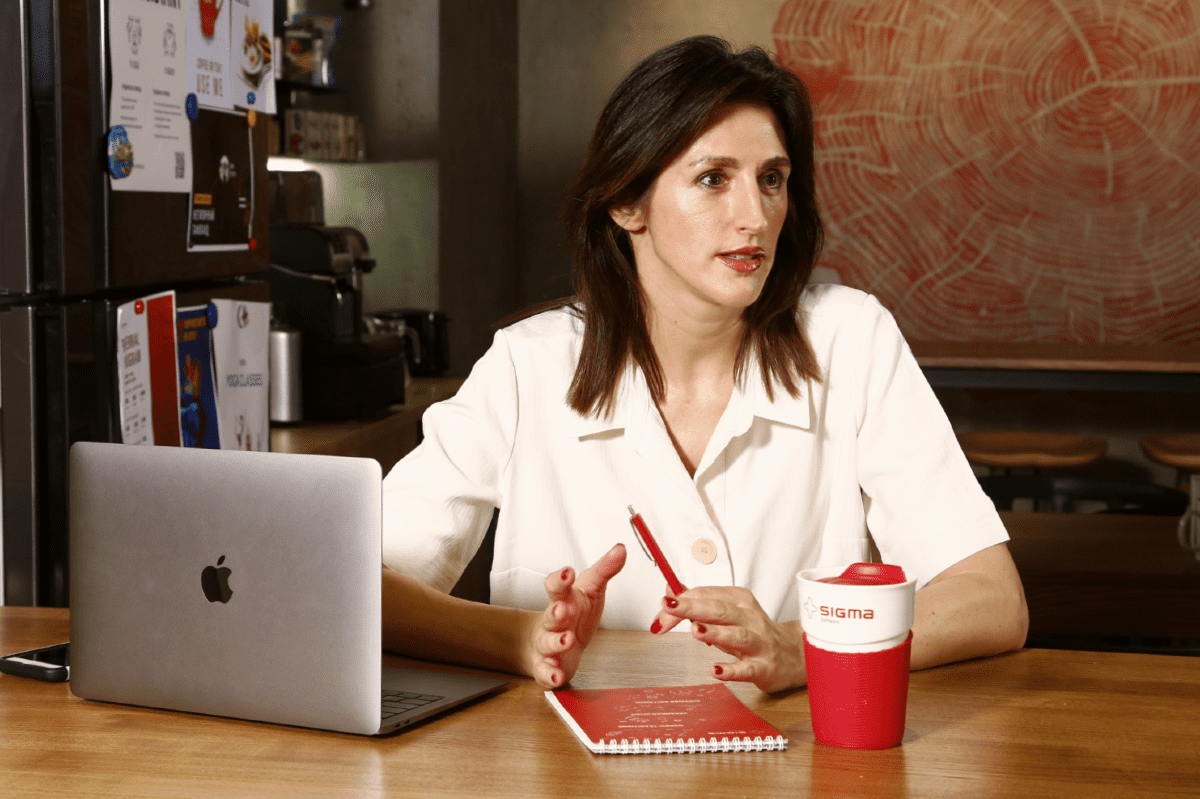 Alexandra Govorukha – Head of Growth in the UK and Israel at Sigma Software
Despite investors being more cautious about the businesses they back, as needs around the virus continue to develop, startups in these particular industries have a chance to meet those needs. As a result, these particular startups are thrust in the spotlight, increasing public awareness of the necessity of their technology.
Delivery Services
People will always need food and everyday essentials. In the early stages of the pandemic, we saw a growth in food delivery app users. In the chart below, two leading food delivery services in Poland – Uber Eats and Pyszne.pl – experienced a spike in users between January and March.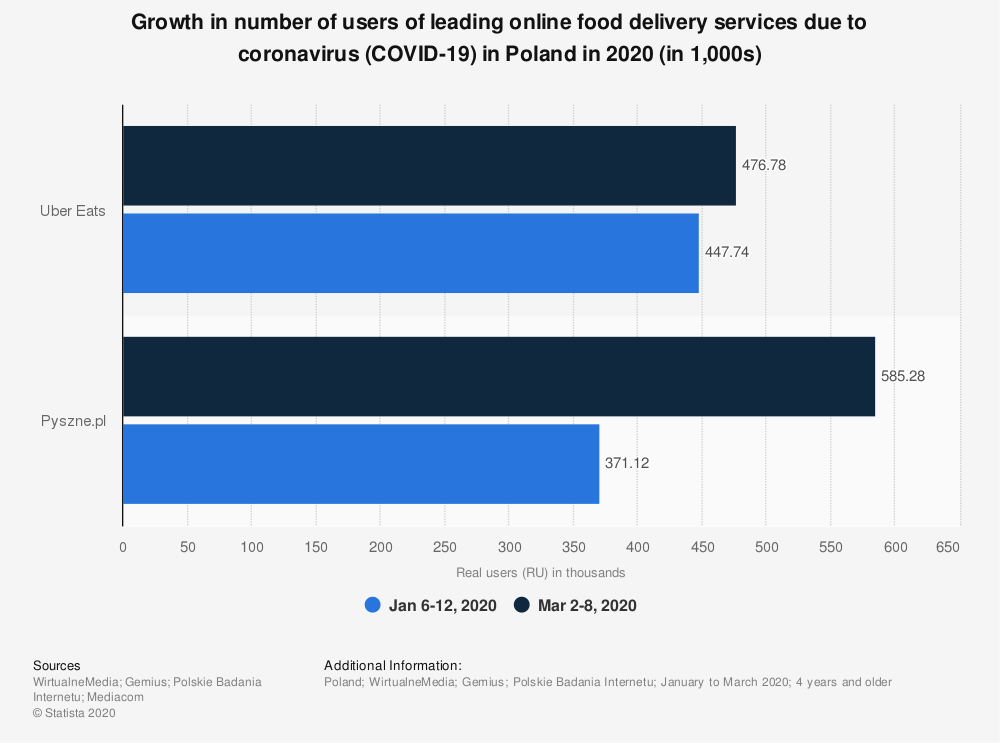 However, now, even with governments ordering many to 'shelter in place' and the promise of non-contact delivery from food delivery apps like Uber Eats, Glovo, and Deliveroo, people are starting to realize that ordering delivery is both costly and unsafe. As a result, many food delivery apps have begun to partner with grocery stores to also offer grocery delivery. These apps will now be competing with the already thriving grocery delivery apps such as Walmart Grocery, Instacart, and Shipt to get food and household needs met.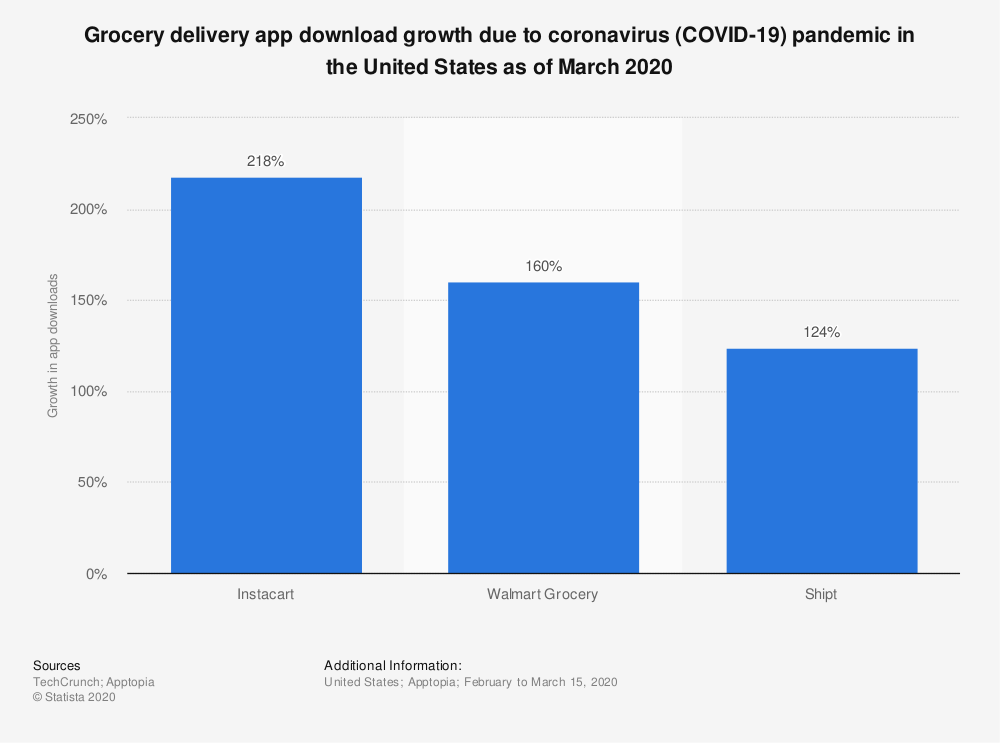 This surge in online demand for food and other household items has also contributed to overwhelmed workers and warehouses in major retail-companies such as Amazon, Walmart, and CVS. In need of help, these companies are looking to attract and hire a large number of hourly workers to manage the front-lines.
Remote Work and Collaboration Software
As remote work has become the new normal for non-essential workers, there has been an increase in the users of video conferencing, collaboration, and task management tools. The Zoom app is dominating the charts for both iPhone and Android users, its current market cap having increased 77% from January 31 to March 21.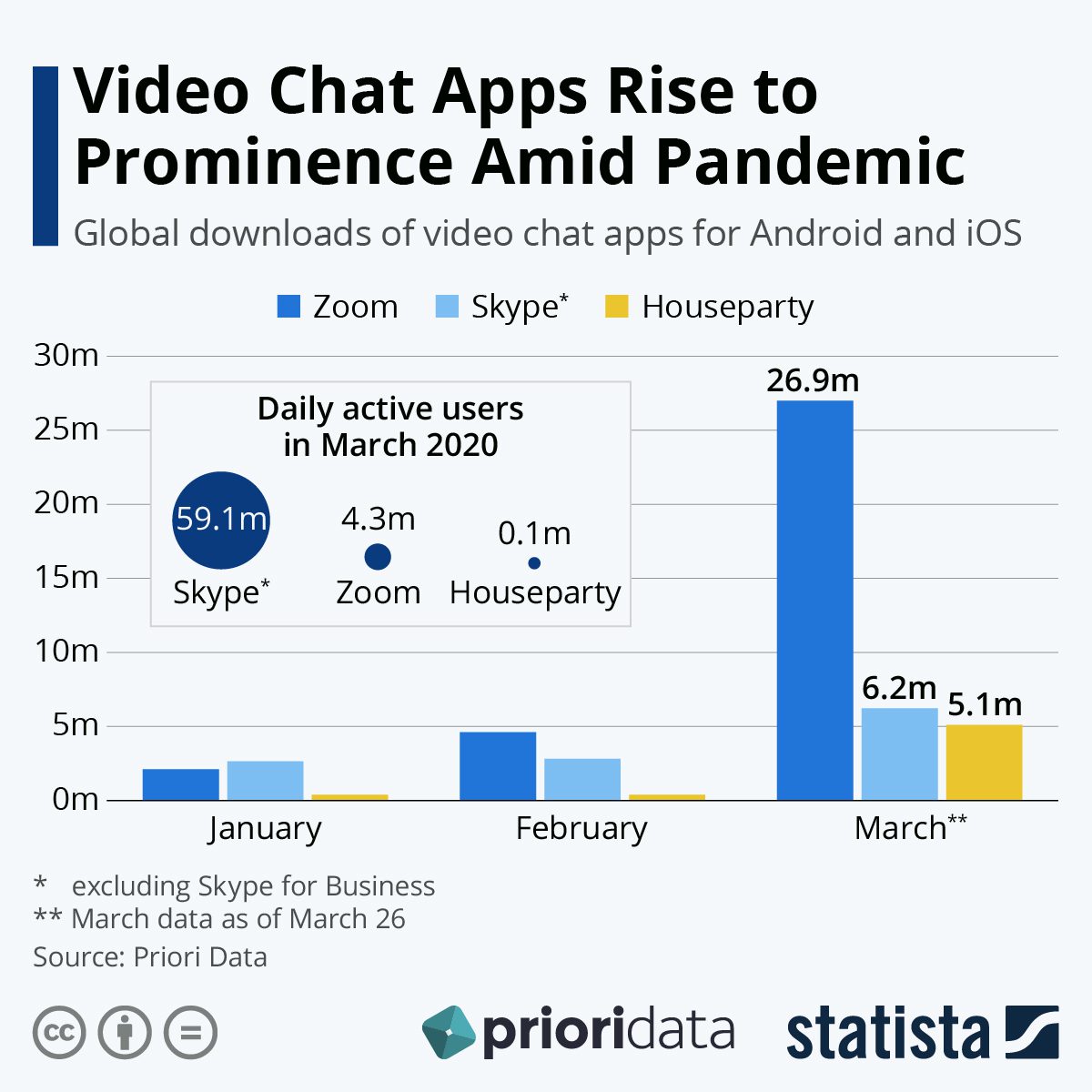 You will find more infographics at Statista
The current rise in collaboration software use shows a shift in attitudes toward remote working that many software companies are hoping to capitalize on. By offering free enhanced versions of their software, companies can meet demand while proving to users the importance of what their product offers. The hope is that companies purchase these products and make them an everyday part of their business practices.
Cloud-computing providers are also prevailing amidst the pandemic as more work activity is being done online. For many companies, a shift to the cloud is important as it helps maintain business continuity while ensuring security and reliability as they transition. The services also provide flexibility, as you can buy more or less processing power and storage as needed. Giants like Amazon, Microsoft, and Google cloud services have been soaring, seeing major bumps in their services as businesses try to remain connected.

Read about the remote work tools our experts recommend in the article:
Another remote tool that has become necessary during the pandemic is the e-document. As businesses have been forced to change how they conduct signings and other digital-paperwork transactions, e-document software has become essential. One such company is DocuSign, which already has technology strong enough to meet the demand for e-signature support.
Cybersecurity
Remote businesses have unfortunately become targets in an unprecedented amount of cyberthreats. Hackers know that every IT department is overwhelmed and are taking advantage of that. Even so, many companies are realizing the need to invest in cybersecurity consulting as they continue to become more vulnerable. As a result, we are seeing that stock selloff has spared cybersecurity as investments increase.
Biotech
The biotech industry has also seen a boom as the need for innovative healthcare and supplies continues to rise. Telehealth services have become popular, as healthcare workers find a way to talk to patients while continuing to social distance. Furthermore, startups have found ways to help by offering their solutions to the new challenges and necessities we're currently being faced with. The chart below offers examples of startups that offer solutions to monitor, track, and test the virus. The startups are ranked by their current funding amounts.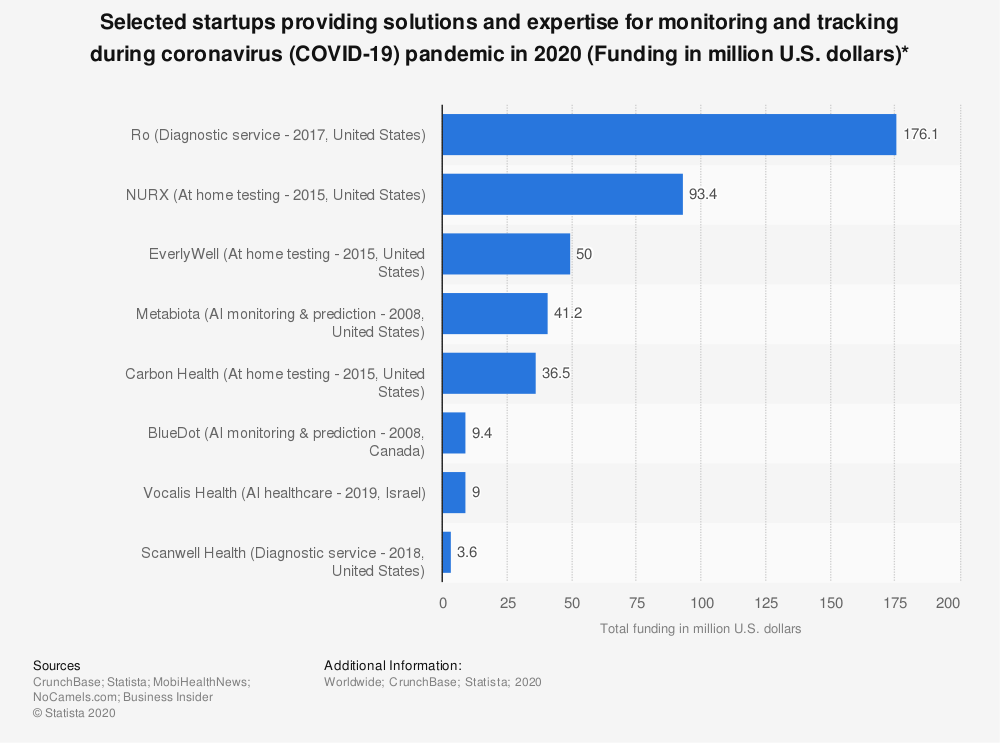 Business Process Automation
Automation will also see a boost, as many businesses are starting to think about automating their business processes and optimizing operations sooner rather than later.
"GlobalData reports that the coronavirus (COVID-19)
has made manufacturers realize the need for faster automation and innovation,
but it is going to take time to recover from the virus' economic effects."
The current crisis will eventually end and automation can protect your business from what the future may hold. Sigma Software will be a reliable tech partner to help with your automation needs.
More Changes to Follow
This article has discussed some of the industries that are prevailing throughout this pandemic. This list is not extensive of course, as other industries like gaming, video and music streaming, online education, staples eCommerce, and fintech will experience positive changes as the virus continues to change our reality. Technology is key to such changes, making certain goods and services more readily available. Start transforming your business today to adapt it for the future.
Sigma Software has been helping startups grow successfully for 10 years and has 18 years' experience of managing remote teams. Want to know our special conditions for startups in response to COVID-19?
Ping us here: info@sigma.software
about the author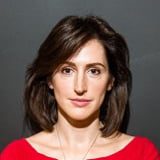 International PR Lead, co-founder of UTEW Tech Tribe, National Network Lead at TechUkraine
Alexandra Govorukha has 20 years of successful experience in B2B sales/Marketing/PR. She actively contributes to the development of Ukrainian tech community and promotion of Ukraine as a European tech hub through organizing and participating in industry events and driving ecosystem development initiatives.
Linkedin profile
Related services & solutions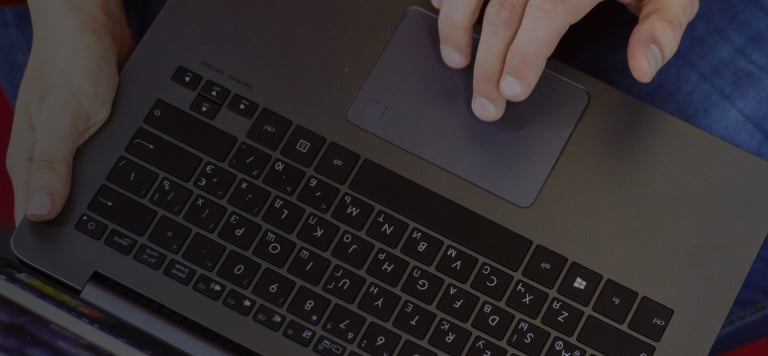 NEED AN INNOVATIVE AND RELIABLE TECH PARTNER?