Kids Ed Project Star for Life Ukraine: 1st Year Results and Plans
Star for Life Ukraine has started educational activities in 2022 as a social charity fund organized by Sigma Software. Though the fund is quite young, it is a part of the Star for Life family that has worked in different areas worldwide for more than 17 years (South Africa, Namibia, Tanzania, Jerusalem. Launching educational initiatives in the quickly changing Ukrainian conditions was not easy, but it became extremely important and truly influential for many children.
The aim of Star for Life Ukraine is to empower young generations to realize and achieve their dreams despite any challenges. Through this stormy year, the fund's team has focused its efforts on several directions: holding free IT courses, assisting with children's psychological support, ensuring children's access to the digital world and thus to online education, connection with friends, and entertainment.
Free IT Education for Schoolchildren and Young Adults
In 2022, Star for Life Ukraine provided educational activities in two directions. The first one is IT Summer Camp intended to teach Java skills to children in a healthy and calm location. Together with co-organizers – Sigma Software, IDF School, and Voices of Children – the fund held an IT summer camp in a country hotel in Ivano-Frankivsk Region. Three computer science teachers, who were forced to relocate from Mariupol and Nova Kakhovka, also joined the camps as mentors and trainers.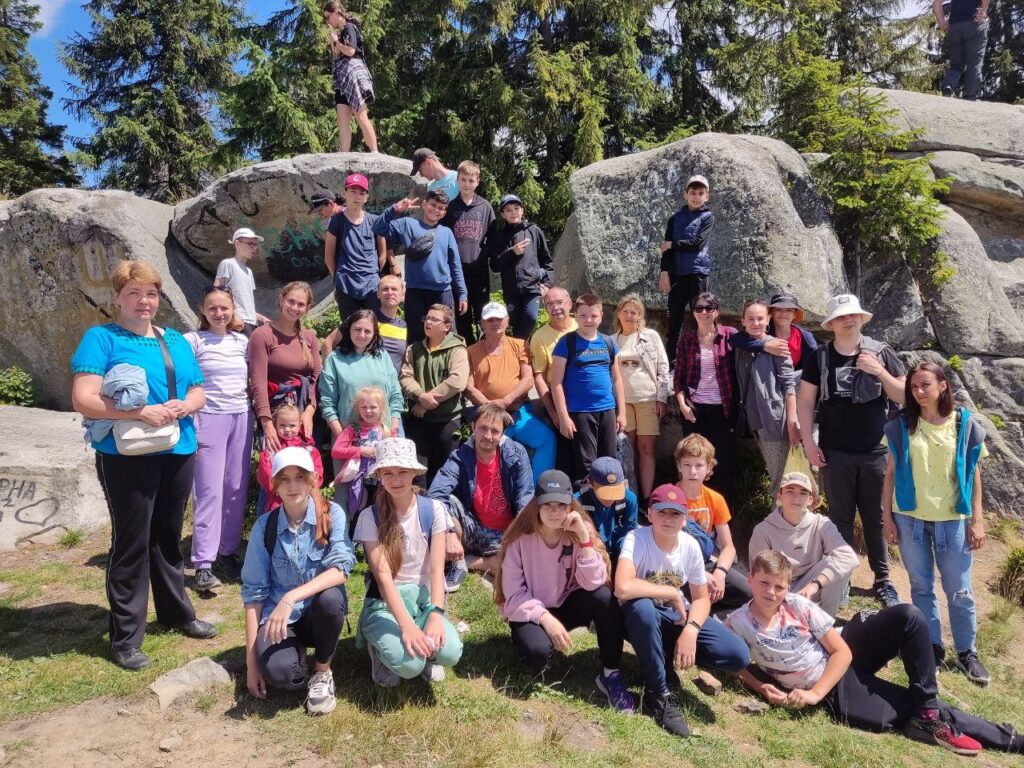 The other direction is specialized IT courses. In 2022, Star for Life Ukraine started the first course "Java for kids" in partnership with IDF School. Throughout the year over 200 children passed this course.
In 2023, the Star for Life Ukraine team is going to launch a new course – "Android for kids". The pilot group of about 15 kids begins their studies in January.
Done in 2022:
200+ children passed IT course "Java for kids"
24 kids and their parents joined Tech Summer Camp in the Carpathians
IT Lab arranged in Verkhovyna Lyceum and equipped with computers
Launched Winter IT Class with over a thousand applicants
Planned for 2023:
a new IT course "Android for kids"
500+ students in both IT courses
a coaching program for social workers at school
partnership with schools in the West of Ukraine
4+ Tech Camps for kids and their parents – to teach tech skills and provide sessions with certified psychologists experienced in working with children's war trauma
a program to upskill Computer Science teachers in Ukrainian schools.
Cooperation with other Star for Life divisions
Star for Life acts in different corners of the world where education and psychological support can help children and young adults build a better tomorrow.
Since 2005, Star for Life coaches strengthen students' self-esteem and motivate them to invest in their education and make wise life decisions. Their program is currently available in 120 schools in South Africa and Namibia. The Star for Life Foundation in Jerusalem focuses on the advancement of better life opportunities for all inhabitants of East Jerusalem, so that, in the long term, they can build a brighter future for themselves and their families.
In 2022, Sigma Software University and Star for Life Ukraine assisted with organizing of 7 educational courses in East Jerusalem. Over 135 participants joined the courses.
The plans include adapting Start for Life Ukraine IT courses for Jerusalem and South Africa. In January 2023, the course "Java for kids" will be released in English. Also, in 2023 the fund will add at least three more courses – Android programming, UX/UI Design, and QA Testing.
Computers for Children and Families
Many children in Ukraine were forced to leave their homes with only the most necessary of their possessing. Some schools have lost all their equipment and now struggle to continue teaching their kids. To ensure children's access to the digital world and thus to online education, connection with friends, and entertainment, Star for Life started a quest of collecting at least 100 laptops by the end of 2022.
With the help of our partners Zacco, Nexer, and anonymous partner from Great Britain, the fund heads to 200+ computers in 2022 and 2023 years. The process of transportation, cleaning, and installing the required software is at full blast. They even had to arrange a storage and technical setup station in Ivano-Frankivsk to streamline the preparation of the equipment.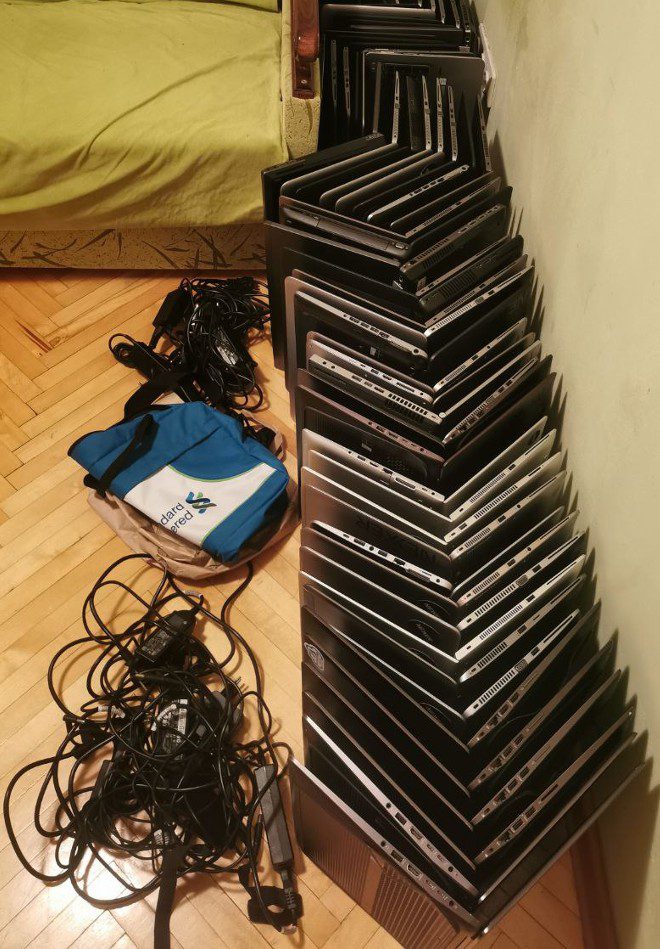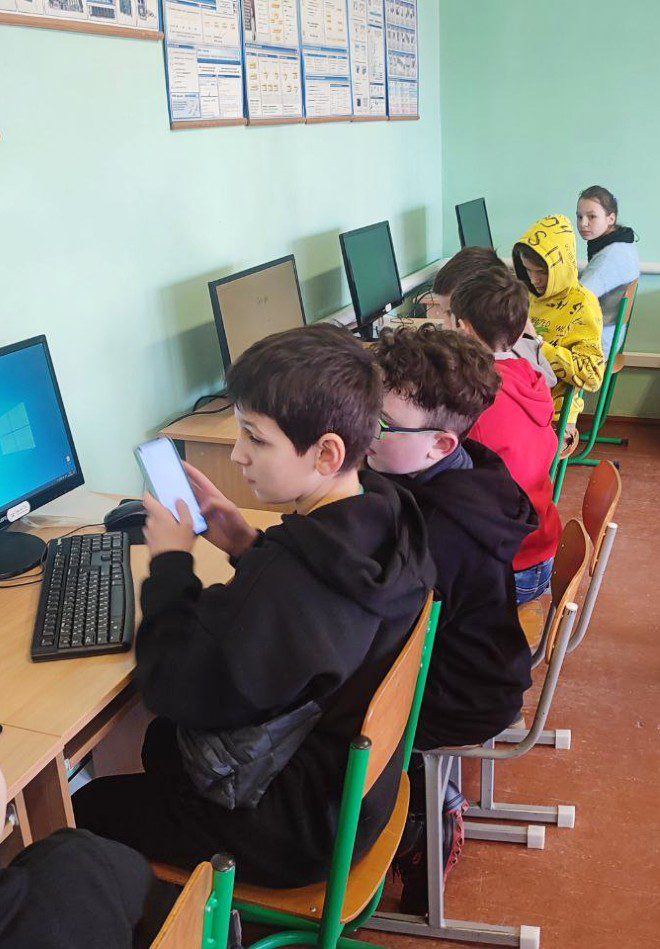 First batches of computers were already delivered to our partner schools. The plan is to cover the needs of the students of our IT courses and provide as many computers as we can to our partner schools.
Our Organizers and Partners
Co-organizers of Star for Life Ukraine:
Sigma Software, a Ukrainian IT company having 20 years of experience in the implementation of quality technological solutions that provides high-tech solutions for the technical implementation of the project
IDF School, an online programming basics school that aims to introduce and engage schoolchildren in real-life software engineering using modern programming means
Sigma Software University, an educational platform for knowledge exchange and development of the IT community in Ukraine that develops educational content and engages practicing experts to work with children
Voices of Children, a charitable fund providing psychological support to children affected by the war since 2015. Together with Sigma Software, the fund creates and implements training programs aimed at IT skill development in children and coping with traumatic situations.
Partners:
Zacco IP360, a modern, full-service intellectual property consultancy committed to changing the world through the protection of innovative thinking. The company has extensive expertise in patents, trademarks, online brands, cyber security and software development
Nexer, a tech company leading the digital revolution and having dedication and expertise within digital transformation, artificial intelligence, IT, and R&D.
Star for Life Ukraine is looking for partners and donors. If you would like to join one or more of the fund's initiatives, do not hesitate to contact the team via join@starforlife.org.ua
ABOUT STAR FOR LIFE
Star for Life Ukraine was founded in 2022 as a non-profit sub-organization of the well-known Star for Life maternity project. Star for Life was launched in 2005 by Swedish entrepreneur, business leader, and philanthropist Dan Olofsson together with his wife Christin, as a charitable foundation focused on empowering young people to fulfill their dreams and live healthy lives.
In the past two decades, over 500,000 youth have participated in Star for Life's four-year program in public schools across Sweden, South Africa, Namibia, and Tanzania. Through a unique educational program, Star for Life coaches strengthen students' self-esteem and motivate them to invest in their education and make wise life decisions. In this way, they can build a better future and, as adults, contribute to a more equal, fair, and sustainable society.
about the author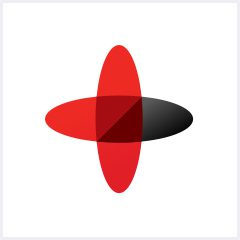 Software Engineering Company
Sigma Software provides IT services to enterprises, software product houses, and startups. Working since 2002, we have build deep domain knowledge in AdTech, automotive, aviation, gaming industry, telecom, e-learning, FinTech, PropTech.We constantly work to enrich our expertise with machine learning, cybersecurity, AR/VR, IoT, and other technologies. Here we share insights into tech news, software engineering tips, business methods, and company life.
Linkedin profile
Related services & solutions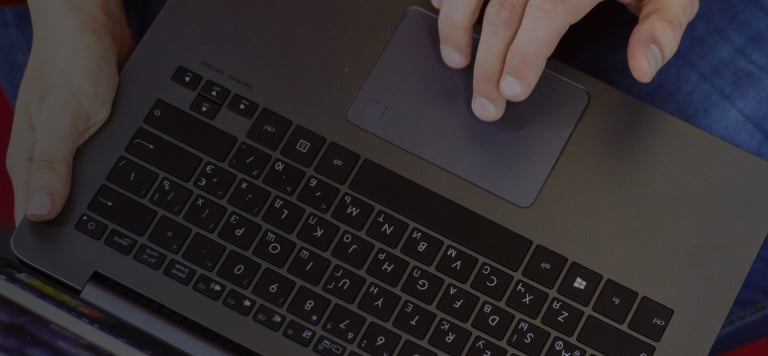 NEED AN INNOVATIVE AND RELIABLE TECH PARTNER?