Mix Your Reality: Game Development and Launch in a Service IT Company
It's always very easy to do what you have been doing for many years and copy what has already been done by others. And it is an obvious fact that every company has its unique set of strengths and expertise in the market. But everyone also understands that growth is not possible without getting out of your comfort zone and stepping forward into the unknown in order to create innovation.
We took that step in the game development world and now we can share the main challenges we faced developing our first mobile game created fully in house. This was probably the first commercially available mixed reality simulation on a mobile platform, where a player feels like they are in the center of large scale Hollywood blockbuster.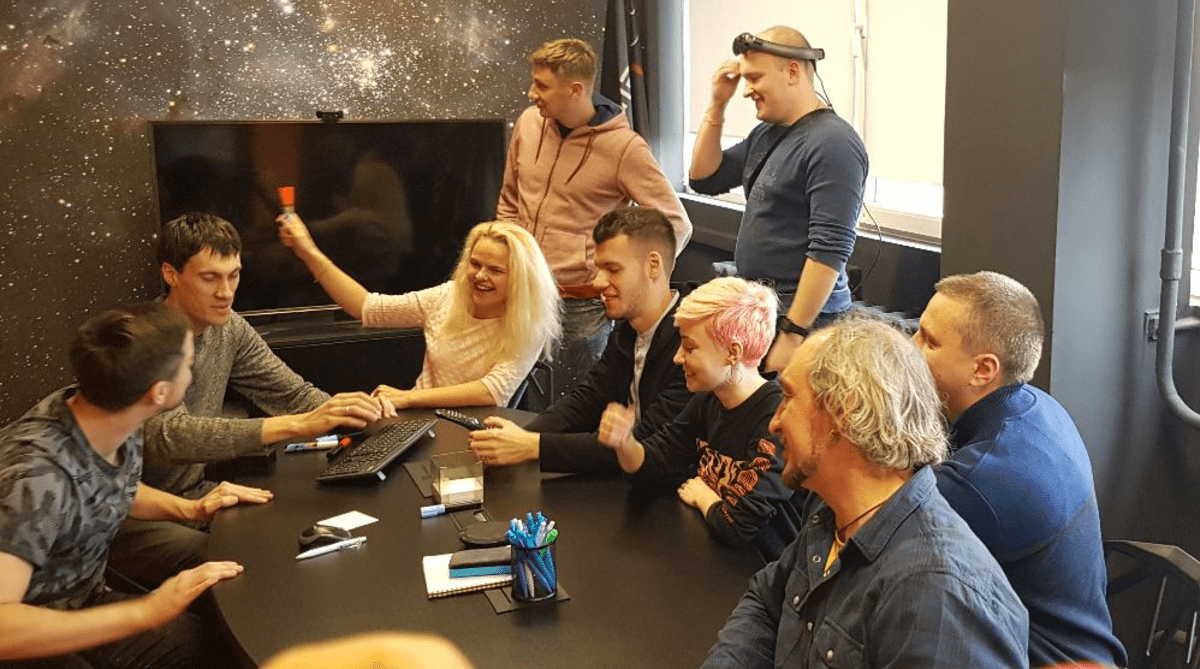 For the general public, it sounds very easy to create a game and also to launch it, especially if you have a lot of creativity and inspiration to do it. But what if you decide to create something unique and unusual for the market? What if you want to be the first one to find a solution for mixing the physical and virtual worlds? And what if you aim to achieve your goal, not on some specific devices, but make it available to the mobile mass market?
There is a long history of AR/VR crush in Sigma Software. We started our development efforts a long time ago with the entrance of the first AR/MR user devices like Epson Moverio, Microsoft HoloLens, and Magic Leap into the market. While testing the waters of mixing physical and virtual realities, we created a tech demo to showcase our AR/VR expertise. The demo attracted a lot of attention and after some time we decided to create our first mobile game based on this showcase.
An Idea as a Main Driver
There were many ideas for the game discussed and weighted, but finally, the decision was made to go for a shooting game that would turn the users' familiar surroundings into a SciFi alien invasion movie and the user into a warrior inside a huge battle robot, commanding a fleet of spacecraft to defend Earth. The game was named Black Snow.
We were lucky to have an initial core team with a decent game creation experience. We had a wild card on our hands and decided to go even further and create a unique fully immersive AR game for mobile devices.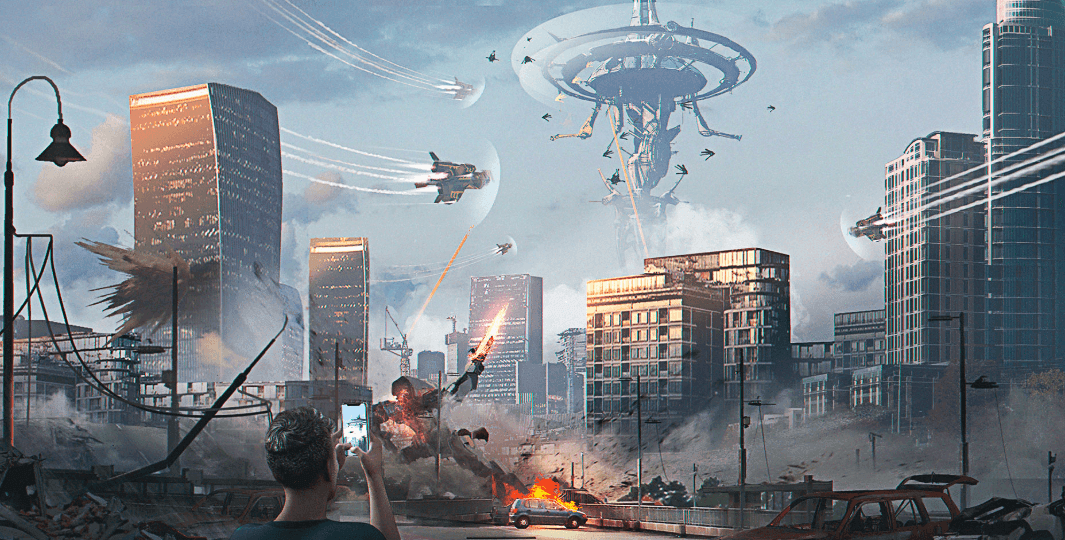 At some point, we understood that a new task clearly presented a serious challenge even for the seasoned team. Driven by the idea, we expanded and strengthened our game development team to embrace all the skills and expertise required to tackle something which had never been done before. It would be an understatement stating that our team is the most valuable asset we had then and have now.
Technology as the Main Challenge
Game development took more than two years with a bunch of complex engineering tasks that the team had to solve. These included creating an augmented reality for an open world as well as achieving a full immersion effect with graphics alignment, surround sound, and haptic feedback. To ensure a seamless experience, we used calibrations hidden from the user and immediate access to the gameplay.
Furthermore, we faced the need to combine and balance different game mechanics as well as to deploy a global geo-game. The game had real-time multiplayer capabilities together with cinematic large-scale gameplay. The team worked hard to create an intense game experience and augmented reality similar to Microsoft HoloLens and MagicLeap on a common smartphone. Unlike other AR games, the playing area of Black Snow stretches for 2 kilometers in every direction from the player's location.
Environment as a Must-Have Requirement
When creating a game, you will definitely need not only your creativity and imagination to check your ideas and the real implementation, but also a fully available environment for your team. Since our main goal was to give a unique AR experience to our players, we created our AR/VR lab to test all our latest development findings and implement the best of them in our Black Snow game. We started with alpha testing using all available resources. In parallel, we were investigating new devices, modern technologies, and tools to create a unique game experience and "wow" effect for our players around the world.
We were acting like a startup to be as agile as possible and to get the first results asap. Our team learned how to do marketing, analytics, playtests, and even App Store console management to speed up the process and correct our actions and further steps.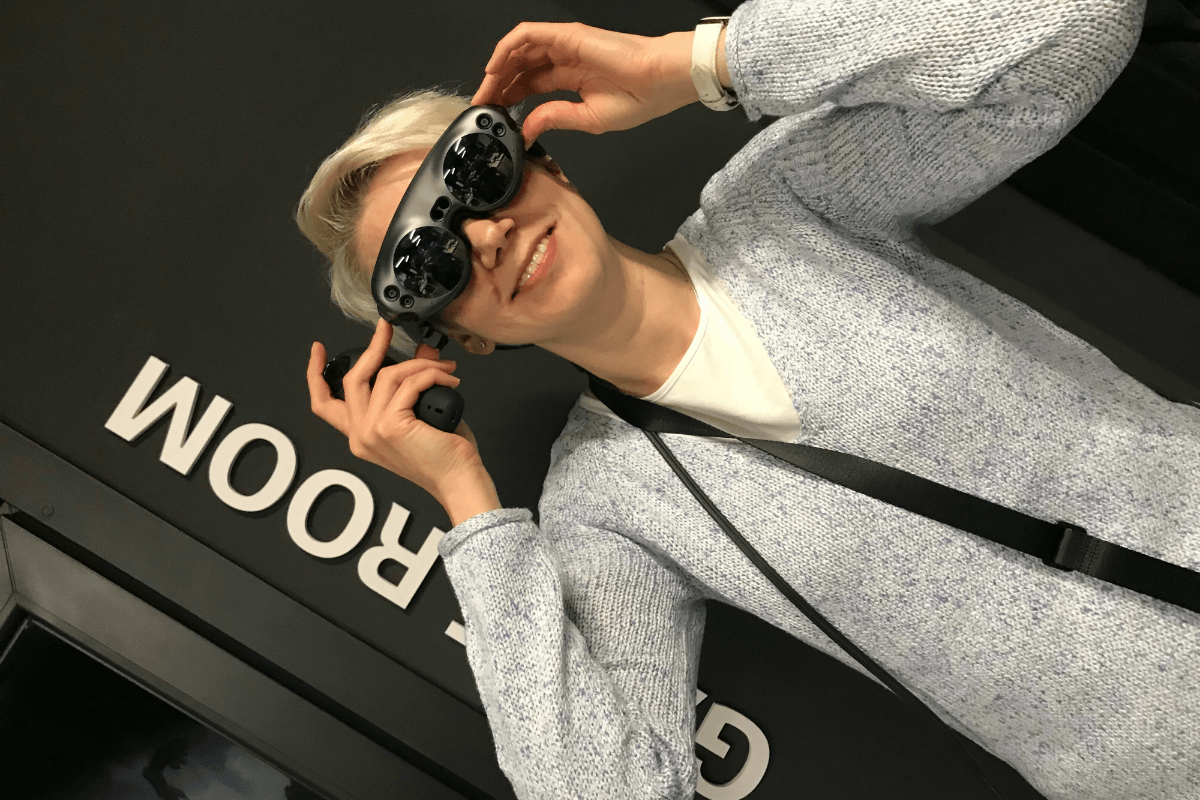 However, game development is always hard to put into some frameworks and fit into some standard project procedures. We wanted to avoid having procedures that resulted in creating a game that was simply not fun for the players. On the other hand, when working without a process at all, you can end up with terrible results. That's why we combined our Sigma Software great enterprise experience with the game development agility and best practices to develop the creative and manageable processes with which to achieve our goals.
The Final Result as the Best Reward
We pushed our first game into Live on the App Store in June 2019. It was an amazing day when the whole team understood that we achieved our initial goal — we created and soft-launched a fully immersive AR game available for handhelds, enabling players to try stunning, fully 3D large-scale cinematic aerial battles like nothing they've ever seen on a mobile phone. Everyone knew there would be a long process of polishing and improving the game, however, our team always looks forward with confidence.
Now the Black Snow game has been launched for iPhones in 18 countries, and this list will expand soon. Follow the news about Black Snow expansion on Black Snow TV and on our social media channels on Facebook, Instagram, and YouTube.
about the author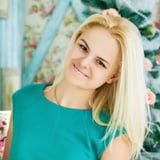 Game Development Project Manager
Anastasia is a project manager with more than 5 years of experience within the gaming domain, managing also small startups and enterprise project in the entertainment area. Her duties include team and tasks management, budget planning and optimization, communication with clients to help them creating and maintaining the most efficient business processes together with Sigma Software.
Related services & solutions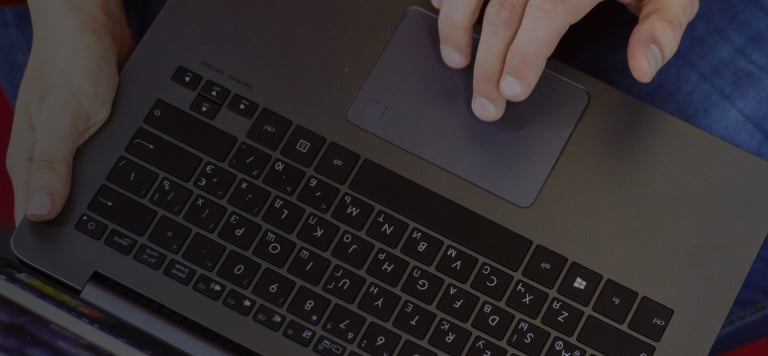 NEED AN INNOVATIVE AND RELIABLE TECH PARTNER?