Our Collaboration with Major Slot Games Provider Play'n GO Goes On
Sigma Software continues to strengthen cooperation with gaming specialist and the leading mobile casino gaming developer Play'n GO. Over the last year, we participated in the development of several titles for Play'n GO and are not ready to stop anytime soon.
Our cooperation with Play'n GO, one of the world's leading suppliers of mobile casino games and gaming software, began in 2017. It started with the front-end development of a single game – Sweet 27. We worked hard to create software engineering of exceptional quality and immediately after completing our assignment with Sweet 27, we received a new project from Play'n GO. This assignment was to do the front-end development for Reactoonz, a brand new cascading gridslot game. Since we had already worked extremely well together, the project ran smoothly and successfully. The game became one of the most challenging and coolest games that Play'n GO has ever developed and is still a very popular choice for many slot players all around Europe.
The successful cooperation on the front-end development for these 2 games allowed Sigma Software to also take responsibility for the technical art and testing which extended our front-end development team.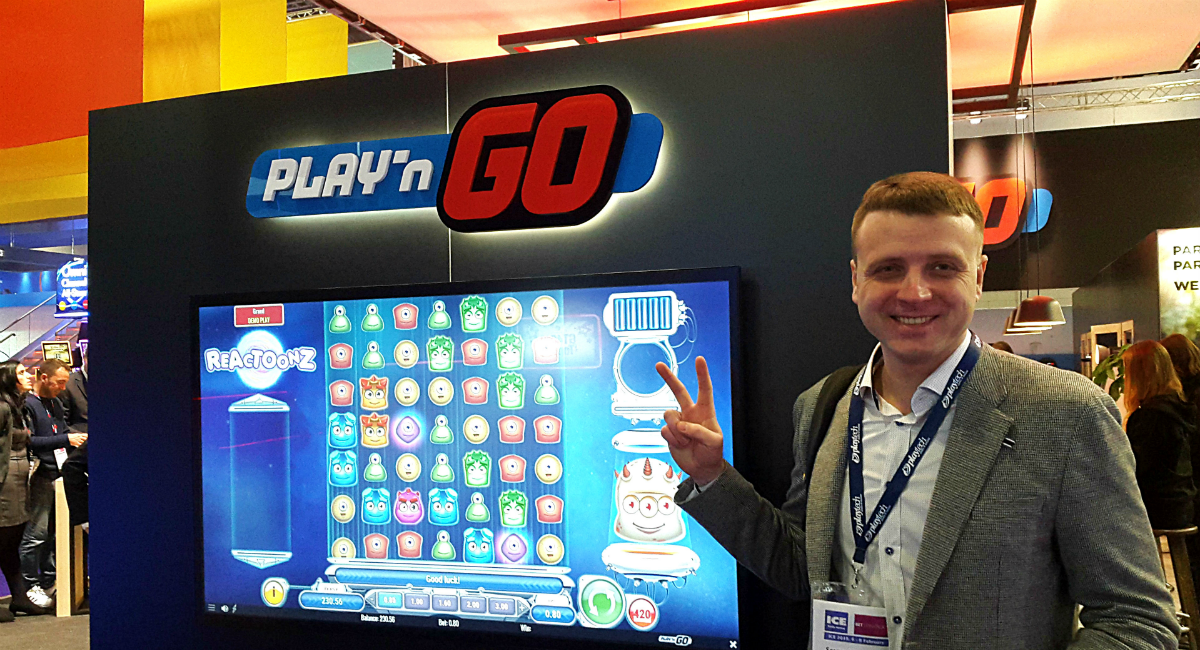 Since that time, our team has participated in the development of 17 games for Play'n GO and is now working on 4 more titles.
For all these games, our developers performed technical analysis, front-end development, technical art support, testing, and 3rd line support to complement Play'n GO's brilliant art, game design, and back-end. For a few games we also did code migration from Flash to TypeScript, renovation of the sound environment, and art with minimum code tuning.
"Sigma Software is dedicated, professional and is open to new solutions," says Gábor Reisman, Lead Game Producer at Play'n GO. "They played a crucial role in the development of some of our most recent games: Rally 4 Riches, Charlie Chance in Hell to Pay, Dawn of Egypt. The developer team, in line with the testing team, has always shown the right mentality and proactive work attitude during the projects. I am definitely looking forward to working with Sigma Software teams in the future."
Game Launcher to Automate Game Development
Besides always trying to do the best possible work, our game dev experts also work on automation of the development processes to shorten lead times for our customers. An example of such development is the game launcher. It is a sophisticated solution that simplifies and speeds up the development process, thus decreasing manual work by an average of 30%.
Game launcher enables the appliance of instant settings as well as the ability to check layout changes in real-time. It regulates sounds automatically according to requests, allows running combinations' animation in 10 clicks, shows tasks in progress from the back-end, and facilitates bug detection ("logger in real-time"). The game launcher is a one-stop solution valid for all environments and all games. It loads and saves resources (i.e. arts, layouts) in any environment.
The result of our fruitful partnership is a bunch of cool and successful games. Here are just a few of them.
Recent Games We Helped Play'n GO Develop
Dawn of Egypt is one of the games that are extremely popular among players around the world. It is a 5-reel slot game which features game balance and audio and visuals inspired by previous similarly themed slots from Play'n GO. With this game, in addition to regular front-end development and testing responsibilities, the customer entrusted us to create state-of-the-art animation and various visual effects to make the game more engaging. Basically, this was the very first game where our team began to create 3D modeling in order to animate in-game elements. After Play'n GO launched the game, it became very successful: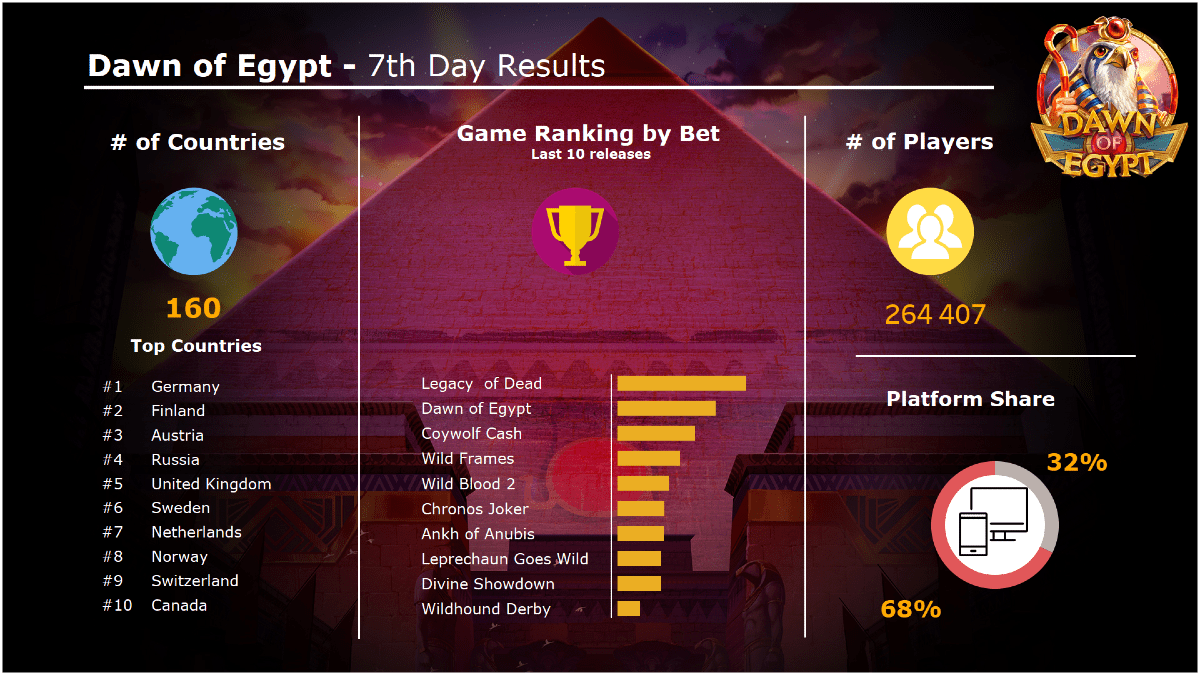 Rally 4 Riches – this game was a challenge both for us and for Play'n GO. This slot included a bonus game where players roll dice and move across a field while a real-time animation simulated their rally. When the game was almost finished, it was decided to completely change the bonus game and bring more reality to it by adding 3D graphics.To finish our part of development work on time and with a 3D bonus rally, we applied console methods of development – imitation of 3D by using 2D images and a great deal of mathematical magic.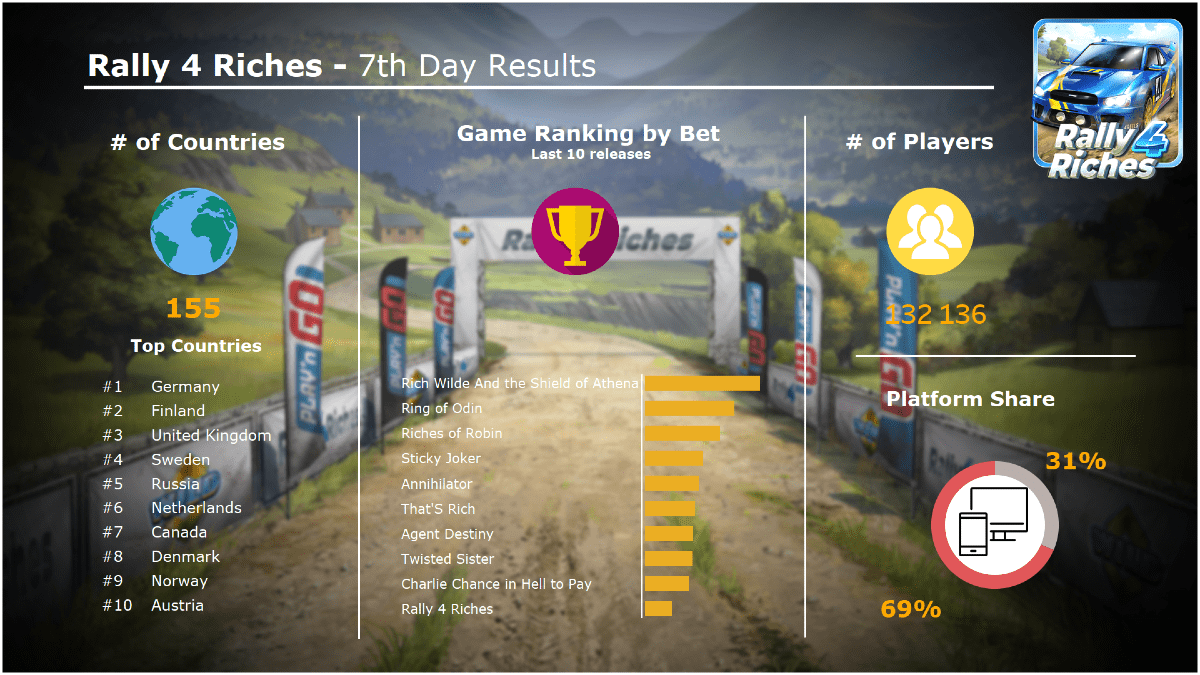 Riches of Robin – a 15-reel game with a set of original visual features designed by Play'n GO and developed by Sigma Software. The gameplay revolves around the collection of a symbol with a big reward after a certain threshold. This feature was implemented for the first time in a Play'n GO game and can be used for other games as well since we made it flexible enough. This game was also the first one where our team used a Megaton engine developed by the Play'n GO team to work with 3D graphics. It proved to be very efficient and allowed for more frequent use of 3D graphics in other games for Play'n GO.
Charlie Chance in Hell to Pay – a 3-reel game with cool graphics styled to look like vintage cartoons. The game's draw is its character who reacts to various game situations and takes part in the main feature. It was a new challenge for our team to implement the animation of Charlie moving during the main feature similar to Platform type games. We managed this task and this mechanic's implementation can be used in other games as well. A very special thanks goes to the Play'n GO art team for the brilliant artwork and animation they provided!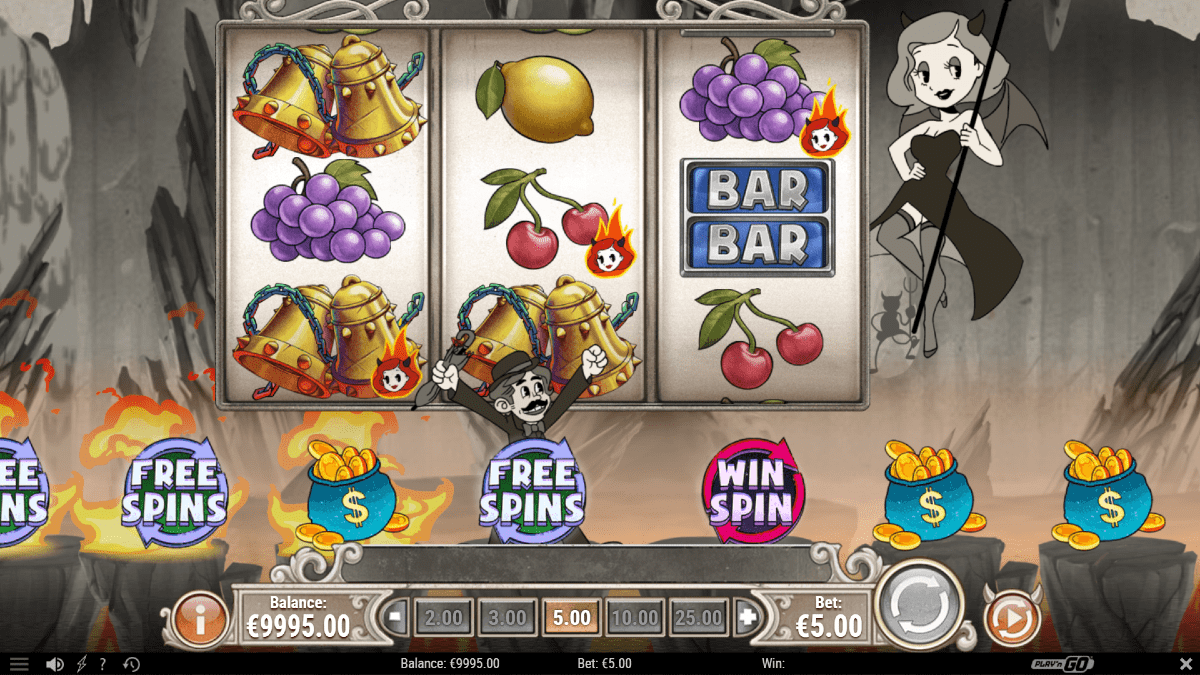 The customer was highly impressed by our game dev team's performance and the level of involvement:
"At Play'n GO, our designers make games with our players in mind. This user-centric focus injects innovation into our products from start to finish, with new features, front-end presentation, and technology to entertain our audiences," said Sandro Magliocco, Lead Game Designer. "We have collaborated on many projects with Sigma Software, all of which have innovations made possible by determined developers who are committed to creating top-of-the-line products. From hit successes in Dawn of Egypt to leading innovations in Rally 4 Riches and Charlie Chance in Hell to Pay – Sigma Software is a fantastic collaborator and their developers make every effort to ensure we are happy with every deliverable.
Iterating within production so that we have the best quality product is a big commitment at Play'n GO. Sigma Software is dedicated to working alongside the Design Team to ensure we are creating these high-quality products – this is what makes for such a great partnership. This collaboration will improve and only get better as Sigma Software becomes more and more integrated with the Play'n GO process. The Design Team here at Play'n GO look forward to all our future projects with Sigma Software."
The story of our cooperation with Play'n GO became one of the cases that we applied to EGR B2B Award and that hepled us win in the IT Supplier category in this contest.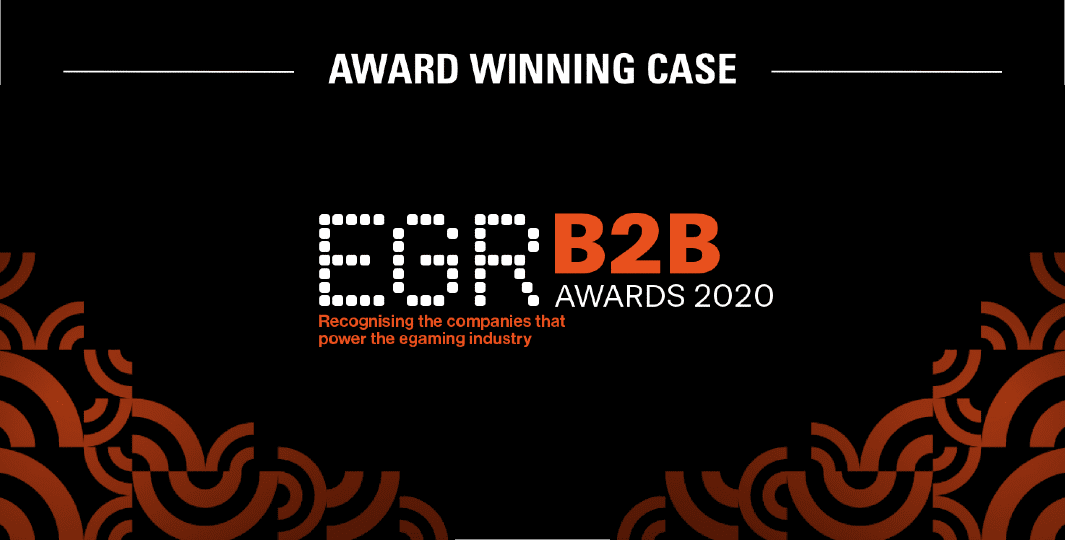 About Play'n GO
Founded in 2005, Play'n GO is a leading supplier for slot gaming in the casino industry. One of the first suppliers to recognize and utilize the potential of mobile slot gaming, their innovation has revolutionized the industry and led Play'n GO to the forefront of the casino supplier market. Since its inception Play'n GO have curated a portfolio of award-winning games developed and tailored for compatibility with all devices and operating systems. In addition to this, they also provide back-end services and solutions to ensure operators are equipped to provide the ultimate gaming experience; this includes their casino platform and their server-based gaming solution, OMNY.
about the author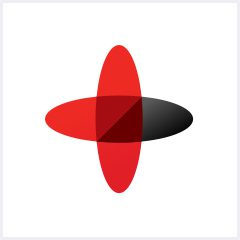 Software Engineering Company
Sigma Software provides IT services to enterprises, software product houses, and startups. Working since 2002, we have build deep domain knowledge in AdTech, automotive, aviation, gaming industry, telecom, e-learning, FinTech, PropTech.We constantly work to enrich our expertise with machine learning, cybersecurity, AR/VR, IoT, and other technologies. Here we share insights into tech news, software engineering tips, business methods, and company life.
Linkedin profile
Related services & solutions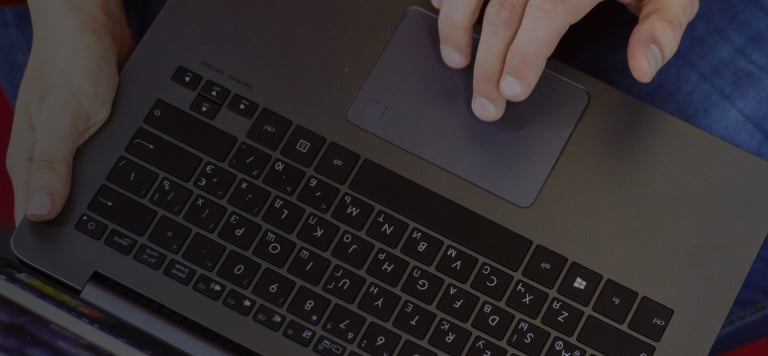 NEED AN INNOVATIVE AND RELIABLE TECH PARTNER?