Presenting Sigma Software Group Ecosystem at GITEX AFRICA
May 31 – June 2, 2023, in Morocco, the launch edition of GITEX AFRICA took place, uniting every community in the innovation ecosystem across Africa. IT providers from all over the world visited the event to introduce their tech services and products to the African market. Sigma Software Group showcased our ecosystem and a range of innovative products, including Sigma Software University, Sigma Software Labs, IdeaSoft, Eventyr, datuum.ai, Black Snow Games, and GeekPay.
African governments are endeavoring to facilitate universal digital access for the 800 million Africans expected to be online by 2030, and an internet economy potential worth $180 billion by 2025 as reported by Wilson Center. The African Union has issued Digital Transformation Strategy. It reflects a growing political consensus that adopting digital technologies can create economic opportunities for Africa and the world.
On this background, the first ever African edition of the renowned GITEX GLOBAL – GITEX Africa attracted great interest. Global leaders, Pan African ministers, and government leaders convened to explore the limitless possibilities of technology and connectivity for the sustainable and inclusive development of the continent – 900 tech companies and startups, 30+ government delegations, 250+ global investors, 250 international speakers, and tens of thousands of tech executives from 100+ countries.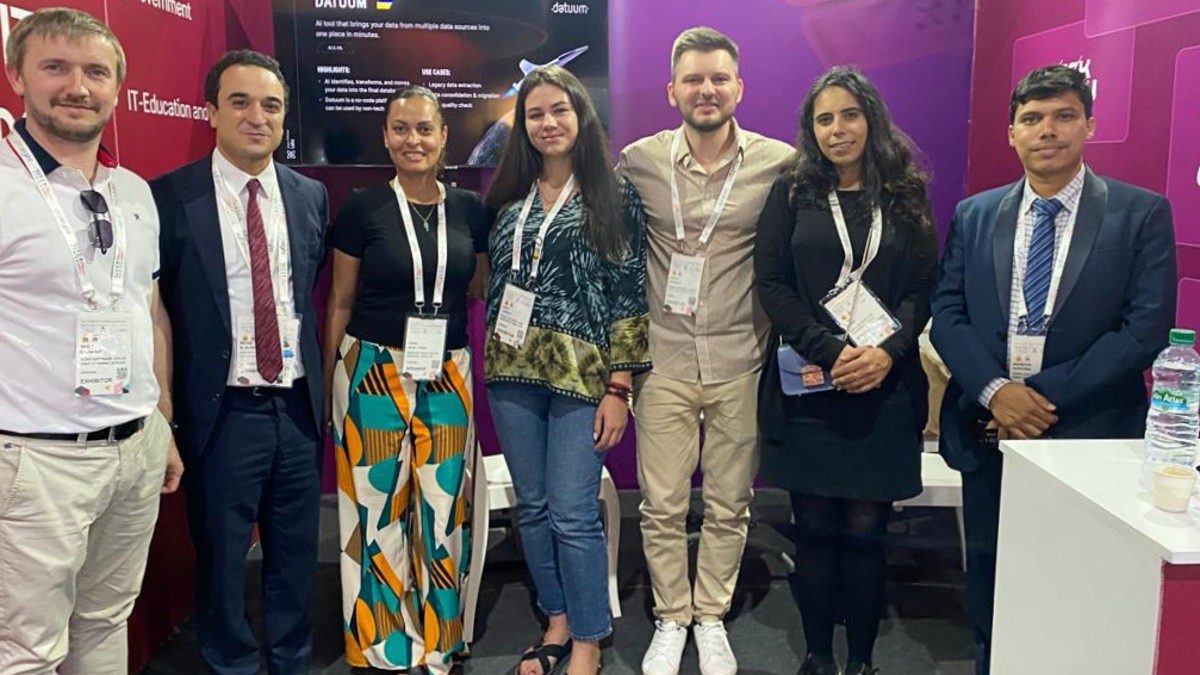 Businesses on the African continent have minimum legacy but great thirst for innovative software solutions. Products and solutions that require minor customization, while offering an increase in efficiency are highly welcome. Especially in such domains as AI, Cybersecurity, Fintech, Cloud Computing, E-commerce, and Connectivity.
Sigma Software Tech Solutions for African Businesses
Introducing the Sigma Software Group ecosystem at GITEX AFRICA revealed how much our company can bring to this market – starting from a portfolio of partner products that streamline adoption of innovative digital solutions to deep expertise in novel technologies, such as cybersecurity, AI, digital currencies and blockchain.
At the event, the Sigma Software Group delegation presented our expertise in several areas:
FinTech and Digital Banking.

Sigma Software has succeeded in designing a well-balanced and innovative offer for the Financial Industry. It includes a set of products to quickly

digitalize core banking

and low-code middleware to orchestrate APIs and experiment with business logic when delivering services or communicating to the customers, a ready-to-use neo-bank platform, data-related tools and expertise, crypto AML, and everything that you can imagine when talking about customer service in digital channels.

CBDC (Central Bank Digital Currency)

. Being on the edge of technology, Sigma Software participates in work groups for the implementation of CBDC in several countries. With our expertise in Blockchain and FinTech, we are well-equipped to help governments leverage this powerful trend and take their country's financial system to a new level.

E–government.

In partnership with the Ukrainian Ministry of Digital Transformation, Sigma Software demonstrates the benefits of the renown Ukrainian Diia project, called 'government in a smartphone'. Digitalization and automation of public sector operations, proved efficient even in extreme conditions, promises significant boost to the developing countries . Numerous other Sigma Software's projects for governmental bodies and municipalities include

document management and archiving solutions

, contact center systems based on messengers and

chatbots

, and others

.
IT Education and E-learning. Based on our own educational platform Sigma Software University, we provide trainings and courses aimed at professional development and knowledge sharing with IT community globally.
Cybersecurity. Providing cybersecurity consulting services for over 11 years, we have developed recommendations and approaches backed by practical experience. Our specialists with unique expertise in security defense are ready to help businesses tackle major cybersecurity risks specific to their company and domain.
AR/VR. Sigma Software started exploring applications of AR/VR technologies in 2017 and already has significant developments and accomplished projects.
As part of our ecosystem, our pavilion featured partner products that help our clients find a time- and cost-efficient solution to their business challenges in diverse areas. Among them: GeekPay, a secure digital currency payment service; datuum.ai, a tool for moving data from different sources into a single database fast and smart by using AI; Black Snow Games, next-gen AR for businesses to attract new visitors and enhance customers' experience.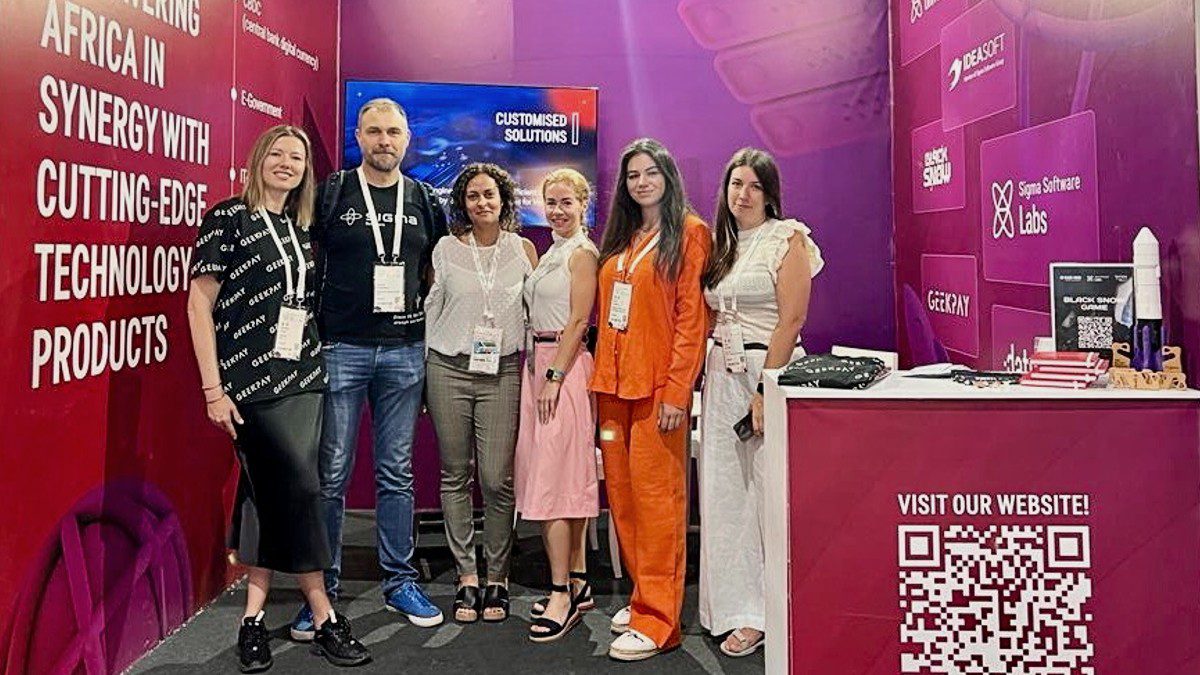 More offerings for local businesses in our portfolio included Finmap (accounting for SME), INPUT SOFT (web-based aviation management solution for airports and airlines), datrics.ai (no-code analytics and ML tool), Coaty World (advergaming metaverse tool for brands to attract customers), and more.
"African governments are very interested in increasing the financial inclusion of their population, so our expertise in CBDC, Blockchain, and FinTech was met with great attention at GITEX AFRICA.
Also, our eGov and Cybersecurity experience provides a solid base for implementing innovative solutions in the public sector of African countries. For example, in Morocco, there is a number of initiatives, headed by the Ministry of Digital Transformation, Association of Digital Development and Her Excellency Minister of Digital Transition Ms Ghita Mezzour. We discuss a number of ways how our products and services can boost public sector digitalization," shares Anton Marukha, Head of Business Development, EMEA at Sigma Software.
"Representing Sigma Software University at GITEX AFRICA, I had a great opportunity to demonstrate our educational offerings and e-learning solutions that can be beneficial for the African market. I see a lot of space for fruitful cooperation in the field of IT education, since both African governments and private investors make considerable investments in tech education and professional development. The portfolio of our courses, e-learning solutions, and automated learning process solutions can contribute to the aims of universities, state digital transformation agencies, and private companies," says Maxim Pochebut, Chief Learning Officer at Sigma Software.
Keynote Address from our Colleague Hanna Abdel Hamid
Regional Director and Head of Sigma Software Canada Hanna Abdel Hamid took the stage at GITEX AFRICA in Marrakesh to deliver a keynote address on breaking the glass ceiling for women in the tech industry. The support and encouragement she received from the incredible crowd were truly overwhelming.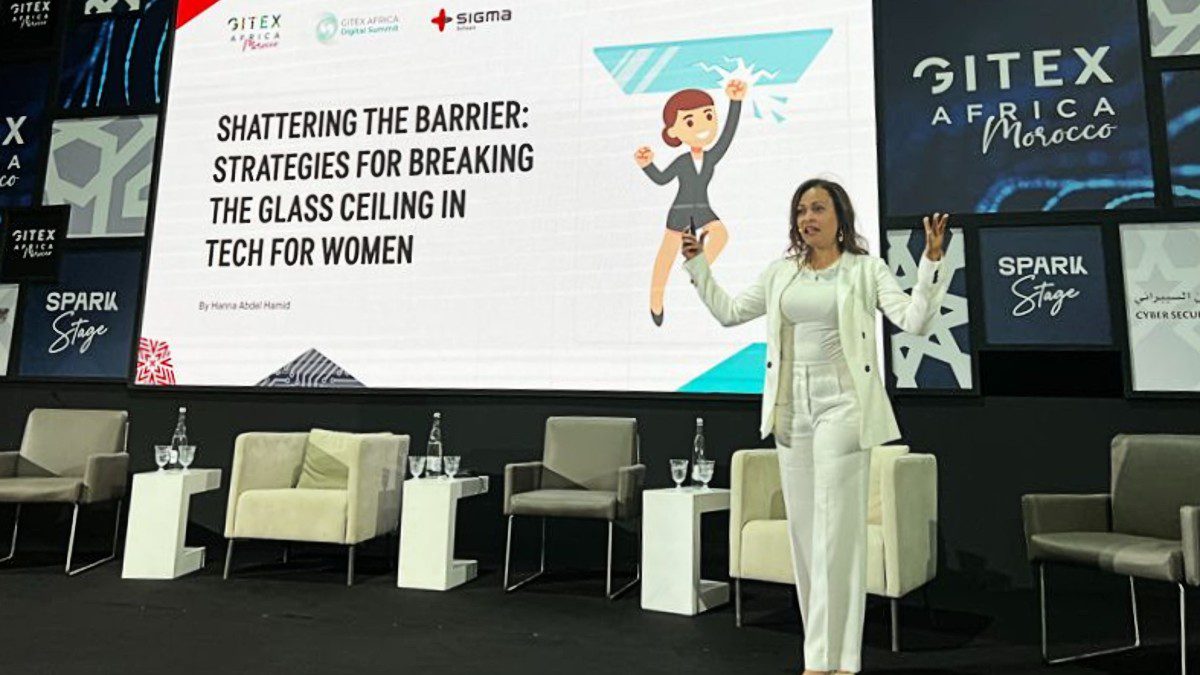 Hanna says:
"Being back home in Africa, witnessing the rise of this beautiful nation, filled my heart with immense pride and joy. Africa, you are truly a beacon of progress and potential. Your vibrant spirit and unwavering determination inspire me every day. I am deeply grateful for the opportunities I have been given and for the chance to make a difference in the lives of aspiring women in technology. Breaking barriers and empowering women to reach their full potential is a cause that lies close to my heart.
To all the aspiring women in tech out there, know that the sky is not the limit – it is just the beginning. Believe in yourself, pursue your dreams relentlessly, and surround yourself with a supportive network. Together, we can shatter every glass ceiling and pave the way for a more inclusive and diverse future."
about the author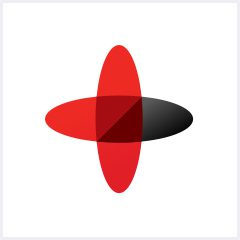 Software Engineering Company
Sigma Software provides IT services to enterprises, software product houses, and startups. Working since 2002, we have build deep domain knowledge in AdTech, automotive, aviation, gaming industry, telecom, e-learning, FinTech, PropTech.We constantly work to enrich our expertise with machine learning, cybersecurity, AR/VR, IoT, and other technologies. Here we share insights into tech news, software engineering tips, business methods, and company life.
Linkedin profile
Related services & solutions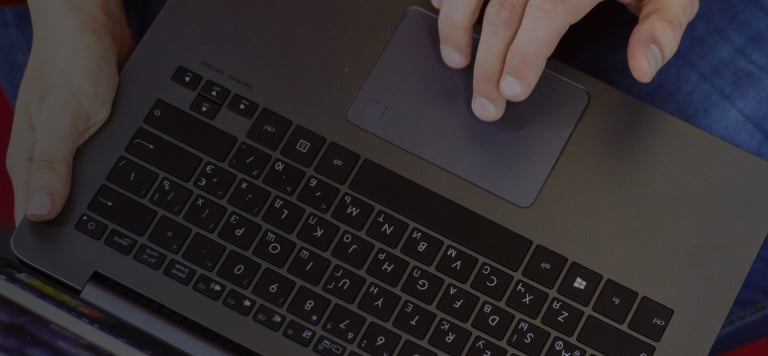 NEED AN INNOVATIVE AND RELIABLE TECH PARTNER?