Sigma Software Webinar #6: Accelerated Change: Cybersecurity
As Gartner estimates, security services are expected to account for 50% of cybersecurity budgets by the end of 2020. Even though the cybersecurity industry is on the rise, many businesses faced challenges dealing with cyberattacks that occur every 39 seconds, which is more frequent than ever before. A reasonable question for businesses to ask is: how to start the journey to protecting the business from cyber threats?
Do you want to learn more about the cybersecurity industry in the world switched online? Join a free webinar Accelerated Change: Cybersecurity. The event will be held in a series of webinars by Sigma Software aiming to explore the new reality, inspire businesses to move forward, and present expert views on how to surf the digital wave.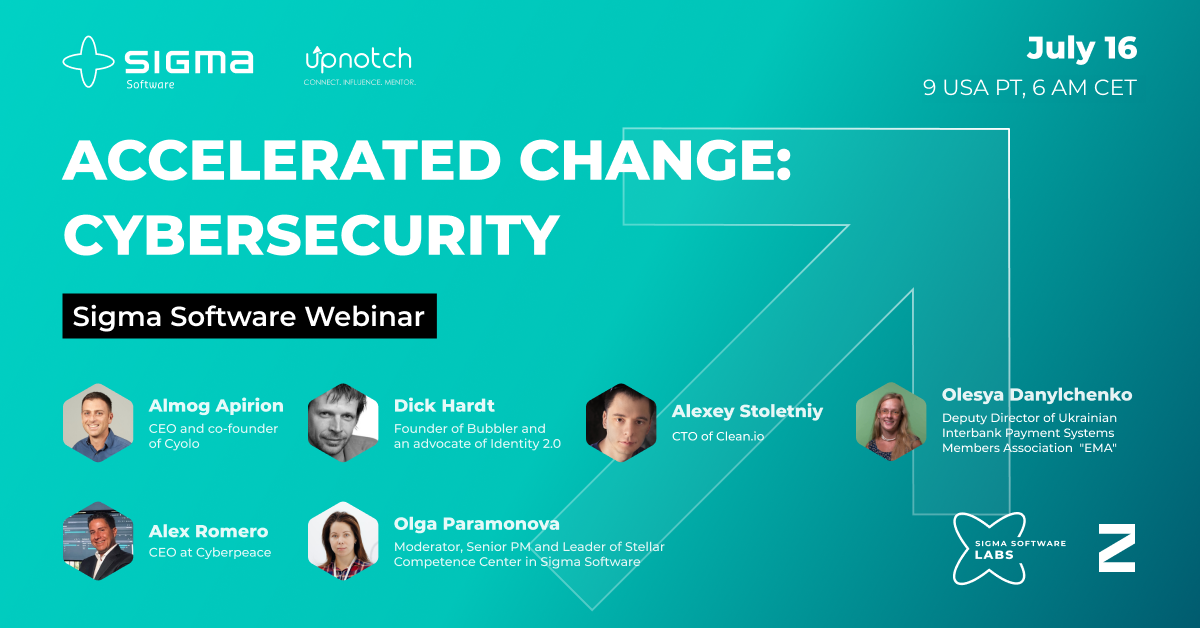 On July 16, experienced experts will share their thoughts about the current state and future of cybersecurity:
Dick Hardt, a founder of SignIn.Org and an advocate of Identity 2.0, the USA;
Almog Apirion, CEO and co-founder of Cyolo, Israel;
Olesya Danylchenko, Deputy Director and Head of Payment Cards Security Forum, Ukrainian Interbank Payment Systems Members Association "ЕМА";
Alexey Stoletniy, CTO of Clean.io, the USA;
Alex Romero, CEO at Cyberpeace, the USA;
Olga Paramonova, Leader of the Stellar Competence Center in Sigma Software, Ukraine (Moderator).
The webinar will be compelling for startup founders, CEOs, CTOs, cybersecurity experts, Chief Privacy Officers, VP of Engineering, Engineering Leads.
We are going to highlight the following:
Cybersecurity challenges during the COVID-19;
Tips on protecting businesses from cyber threats inside out;
The current state of the cyber-threat landscape across the banking industry.
The webinar will take place online in the format of a pre-moderated live discussion with a Q&A session. During the session, a specialist will do a penetration test and cybersecurity check of your company.
About the speakers:
Dick Hardt is the founder of SignIn.Org and is an advocate of Identity 2.0. The software and startup veteran, who started Sxip Identity, ActiveState, and spent time at Microsoft and Amazon among other places, has been focused on internet identity for much of the last 20 years. Dick is involved in the technology and business community, holding a board position with the Vancouver Enterprise Forum and previously sitting on the boards of the British Columbia Technology Industry Association and Ludicorp (former parent company of Flickr). As a successful entrepreneur and technology expert, Dick gives keynotes at numerous conferences across the globe: Web 2.0, The Next Web, ETech, Burton Group Catalyst, Digital ID World, KuppingerCole European Identity, Highland Forum, and more.
Almog Apirion is the CEO and co-founder of Cyolo, the company which helps organizations remain agile, resilient and productive, by securely connecting onsite and remote users, to the organization's applications, servers, desktops, and files. Almog is a security veteran: he was the CISO and Director of cybersecurity and IT technologies at Orbotech, a leading provider with over 35 years of proven experience in product development and project delivery. Almog personally founded and commanded the navy's cybersecurity unit in the Israeli army. During the past 12 years, he's been solving big organizations' cybersecurity problems.
Olesya Danylchenko is a Deputy Director and Head of Payment Cards Security Forum, Ukrainian Interbank Payment Systems Members Association "ЕМА". Olesya has 19 years of experience as a manager in payment cards and ATMs risk management, security, and fraud prevention with 10 years of concentration in antifraud PPP in Ukraine, European, and CIS countries. Since 2011, she has represented Ukraine as a National Member of the European Association for Secure Transaction and is a member of the Advisory Group on Financial Services of EC3  Europol (since 2016).
Alexey Stoletniy is a СТО of Clean.io, the USA, a startup with a novel cybersecurity solution that protects revenue and user experiences across all platforms (the best startup in Baltimore, 2019). Alexey holds an Offensive Security Certified Professional certification and an MSc in Computer Science, which highly proves his technical expertise. With more than 15 years of experience in software development and passion for superior customer service, he managed software teams, led a software development department of 60+ engineers, and successfully accomplished countless projects for clients worldwide spanning many industries.
Alex Romero is a CEO at Cyberpeace, a Managed Security Service Provider focused on Threat Hunting and prevention mechanisms, servicing companies around the world in a 24×7 manner, Alex has more than 25 years of experience in the industry of training, consulting, design, development, and implementation of secure technologies in hardware and software. During 6 years, Alex was responsible for defining the methodologies for Secure Development Operations in Office Server at Microsoft Corp.
Moderator: Olga Paramonova is a Leader of the Stellar Competence Center in Sigma Software. Olga has huge expertise in business processes, management, startups, and AdTech. For over 10 years Olga has been building a development unit within the company, improving existing processes of proposals creation and shaping business ideas together with customers.
Check out the webinar news on the event page on LinkedIn!
About the organizers:
Sigma Software is a reliable tech partner that provides top-quality software development, graphic design, testing, and support services. Having advanced skills and ample resources, the company provides comprehensive cybersecurity consulting services: we advise on security strategy, create a solution that meets security requirements, run audits, and carry out incident responses. Sigma Software is a security partner with expertise in a vast array of markets, and, as such, we can advise on the most suitable solution for every unique company.
Upnotch.io is a mentorship app for executives, entrepreneurs, and rising stars. Their mentors are C-level executives who have built companies, scaled teams, and solved big problems. There are no costs or membership fees for mentors or professionals. Mentorships can be a one-off conversation or a longer engagement. Customers can meet over the phone or use video calling. Upnotch.io used their own rich data algorithms to attract top-notch mentors. Their goal is to find the perfect match for customers.
About partners:
Sigma Software Labs is a new ecosystem for Ukraine-based startups, small product houses, and service companies where they can be sheltered by a leading technology consulting company Sigma Software and obtain support and surpassing benefits to growing at all stages. Sigma Software Labs provides startups with office space, a network of VC funds, and access to Sigma Software board network of business advisors – serial entrepreneurs around the globe. The project's idea is to help Ukrainian startups show up on the world scene.
Zag is an independent growth consultancy proudly born inside one of the world's biggest creative agencies, BBH. They build breakthrough businesses, delivering top-line growth for ambitious leaders. Zag helps global corporations future-proof their businesses and startups scale their ventures, through four disciplines: growth strategy, innovation, brand experience, venturing.
Find videos from previous Sigma Software webinars on YouTube! Stay tuned!
about the author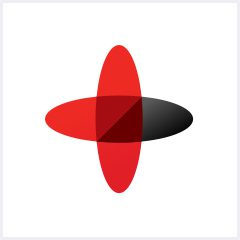 Software Engineering Company
Sigma Software provides IT services to enterprises, software product houses, and startups. Working since 2002, we have build deep domain knowledge in AdTech, automotive, aviation, gaming industry, telecom, e-learning, FinTech, PropTech.We constantly work to enrich our expertise with machine learning, cybersecurity, AR/VR, IoT, and other technologies. Here we share insights into tech news, software engineering tips, business methods, and company life.
Linkedin profile
Related services & solutions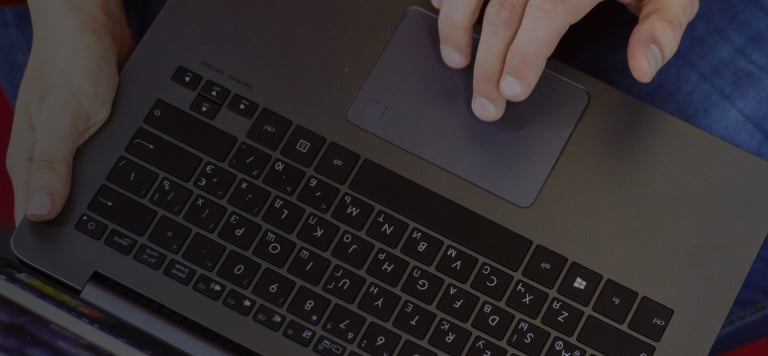 NEED AN INNOVATIVE AND RELIABLE TECH PARTNER?