Sigma Software Webinar #7: Accelerated Change: Media
Since the beginning of the COVID-19, the spread of information about the pandemic has been much faster than the virus itself. Facebook labeled nearly 50 million pieces of news about COVID-19 as misinformation in April, while Twitter marked more than 1.5 million users for spreading false information and displaying manipulative behaviors.
Do you want to learn how COVID-19 has influenced and changed the media industry? Join Sigma Software free webinar Accelerated Change: Media to find out more about:
challenges the media industry has faced
creative approaches to managing media in the current situation
what trends to expect at the end of 2020 – beginning of 2021
The event will be held in a series of webinars by Sigma Software aiming to explore the new reality, inspire businesses to move forward, and present expert views on how to surf the digital wave.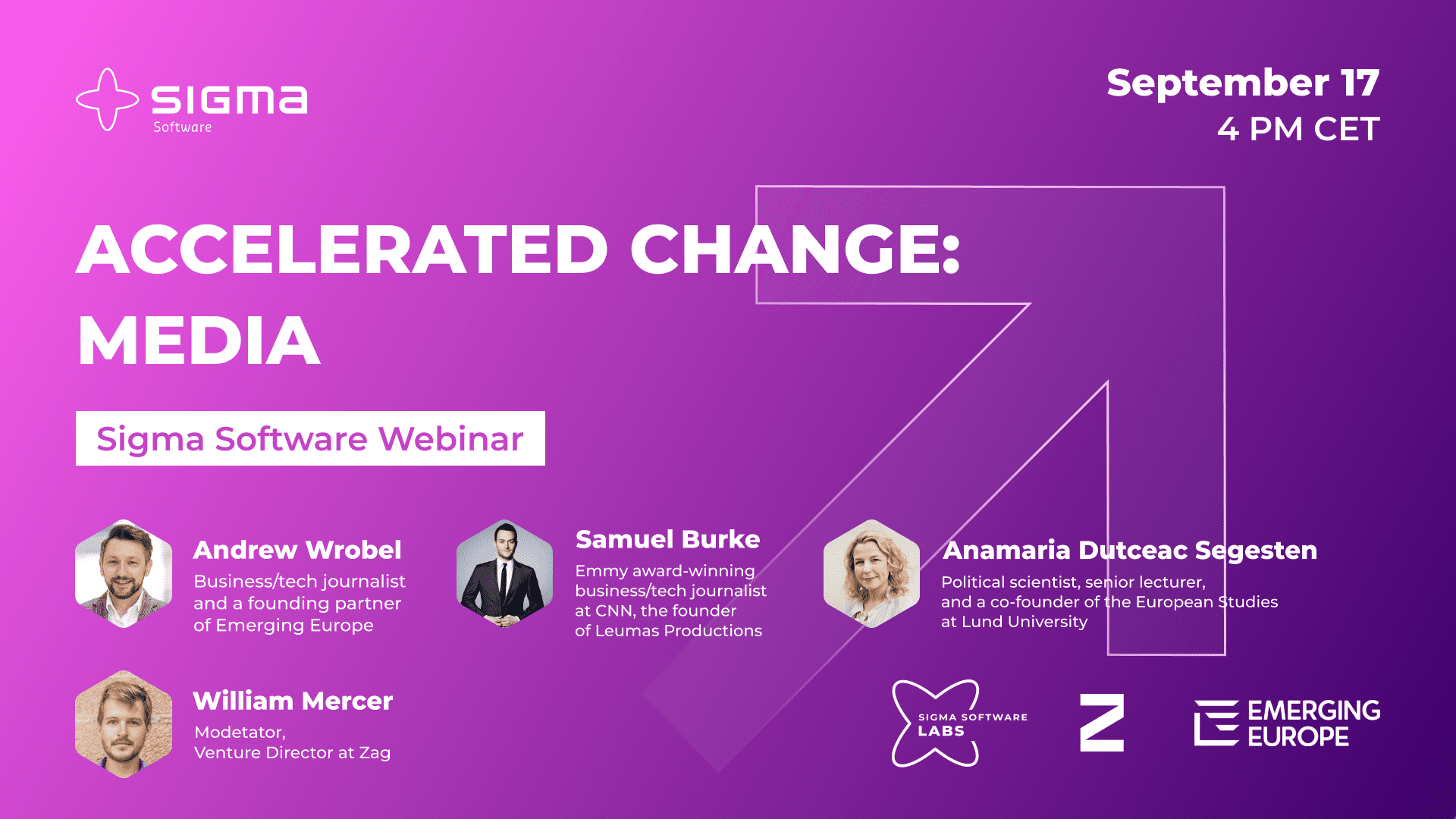 On September 17, experienced experts will share their thoughts about the current state of affairs and the future of the global media industry:
The webinar will be compelling for business and tech journalists, media managers, media contributors, media tech startup founders, and CEOs.
Register and receive a chance to win a free session with a Sigma Software's tech expert. During the consultation, our specialist will assess your business tasks or a product from a technical perspective and provide valuable tips and insights on how to improve it.
The event will take place online in the format of a pre-moderated live discussion with a Q&A session.
About the speakers:
Samuel Burke, an Emmy award-winning bilingual business and technology journalist who has anchored, reported, and produced at CNN, CNN en español, ABC, and NPR. He is the founder and executive producer of Leumas Productions. Burke has reported from the scene of major world events such as the Manchester Ariana Grande concert bombing, the Grenfell Tower residential fire, as well as the UK parliament and London Bridge terrorist attacks. He has interviewed the CEOs of the world's largest companies: Twitter, Microsoft, Alibaba, Tinder, Ford, T-Mobile, Intel, Under Armour, TransferWise. Also, Samuel interviewed Israeli Prime Ministers Ehud Barak and Ehud Olmert, as well as Chilean President Michelle Bachelet.
Anamaria Dutceac Segesten is a senior lecturer and a co-founder of the European Studies discipline at Lund University, Sweden. She is a political scientist with an interest in democracy, digitalization, political communication, and political identity. Currently, Anamaria is driving several projects investigating the role of social media in democratic politics. She is an active member of the SamTech think-tank, founded at Lund University to provide expert advice on how technology impacts society. Anamaria has written numerous articles in the media and has been active in reaching out to the general public through public lectures and participation in popular science events. In her communication, she has been helped by having served as a political analyst for radio BBC World Service during her stay in the United States.
Andrew Wrobel is the founding partner of Emerging Europe, a London-based intelligence, news and community platform, and the leader of Tech Emerging Europe Advocates. Trained as a journalist, he specializes in technology and innovation, foreign direct investment, nation branding and soft power, government relations, cross-cultural, and crisis communications. Andrew regularly interviews political and business leaders and speaks at international political, economic, and technology events, where he promotes discussion about emerging Europe. He is also a juror at various international business-related competitions, a media coach, a location promotion trainer and a media commentator. He has authored and contributed to a number of international business, investment and trade-related publications.
Moderator: William Mercer
Will is a Venture Director at Zag, the venture arm of the global creative agency BBH, where he manages an early-stage investment fund that has seen an 8x return in its first 3 years. William specializes in combining commercial strategy with narrative-based storytelling to help founders land investment, close their first customers, and create sustainable businesses. In 2018, Will founded Mission Led, a startup ecosystem consultancy that advised USAID on its $50 million entrepreneur strategy project in Ukraine. He also tabled recommendations for a 64K sq km newly built district of Shanghai and supported the UK's National Advisory Board on Impact Investing to make the UK the global leader in the field.
Check out the webinar news on the event page on LinkedIn!
About the organizers:
Sigma Softwareis a reliable tech partner that provides top-quality software development services and IT consulting. Systems we develop deliver benefit to customers in various industries. Having advanced skills and ample resources, the company creates large-scale solutions for enterprises as well as guides startups from idea to profit.
About partners:
Sigma Software Labs is a new ecosystem for Ukraine-based startups, small product houses, and service companies where they can be sheltered by a leading technology consulting company Sigma Software and obtain support and surpassing benefits to growing at all stages. Sigma Software Labs provides startups with office space, a network of VC funds, and access to Sigma Software board network of business advisors – serial entrepreneurs around the globe. The project's idea is to help Ukrainian startups show up on the world scene.
Zag is an independent growth consultancy proudly born inside one of the world's biggest creative agencies, BBH. They build breakthrough businesses, delivering top-line growth for ambitious leaders. Zag helps global corporations future-proof their businesses and startups scale their ventures, through four disciplines: growth strategy, innovation, brand experience, venturing.
Emerging Europe is a movement, a business, research, and media platform, or a think-and-do tank that generates ideas on how to enhance collaboration among the 23 countries of Central and South-Eastern Europe and the Caucasus, attract investment, foster development in the region and build a better future for it. They act as a bridge between businesses, governments, and local authorities, investors, non-governmental organizations, the academic and policymaking communities, serving as an independent voice that translates the region to the global audience.
---
Find the videos from previous Sigma Software Webinars on YouTube! Stay tuned!
about the author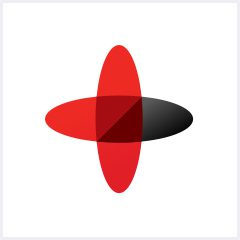 Software Engineering Company
Sigma Software provides IT services to enterprises, software product houses, and startups. Working since 2002, we have build deep domain knowledge in AdTech, automotive, aviation, gaming industry, telecom, e-learning, FinTech, PropTech.We constantly work to enrich our expertise with machine learning, cybersecurity, AR/VR, IoT, and other technologies. Here we share insights into tech news, software engineering tips, business methods, and company life.
Linkedin profile
Related services & solutions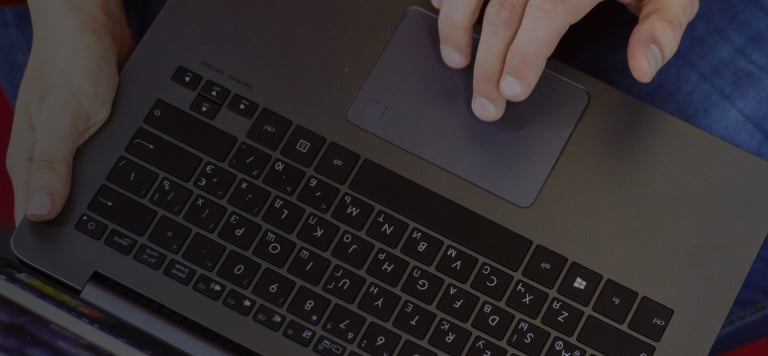 NEED AN INNOVATIVE AND RELIABLE TECH PARTNER?