Sigma Software Webinar #2: Cost-Saving Approach in Regulation of Bank Data
Digital transformation is shaping the future of banks and forcing them to take a step into the technology side. In order to successfully surf this digital wave, data science solutions are highly necessary. Predictive analytics, Machine Learning, and Big Data rapidly improve and optimize the daily work of banks, however, these solutions are quite costly.
Do you want to learn how to reduce costs for Data Science and not lose control over your data? Join our Cost-Saving Approach in Regulation of Bank Data webinar to find out. This is the second webinar held in the series of webinars by Sigma Software aiming to inspire businesses to move forward, including expert views on how to get situations under control and stay successful.
The first webinar in the series Startup Growth in Uncertain Times featured outstanding startup experts from the UK and Israel: Jon Mundy, co-founder of Kiln and ex-managing director of Zapp360, and Benny Keinan, a VP of R&D at Venn and Ex-VP of Engineering Video at Oath (Verizon Media).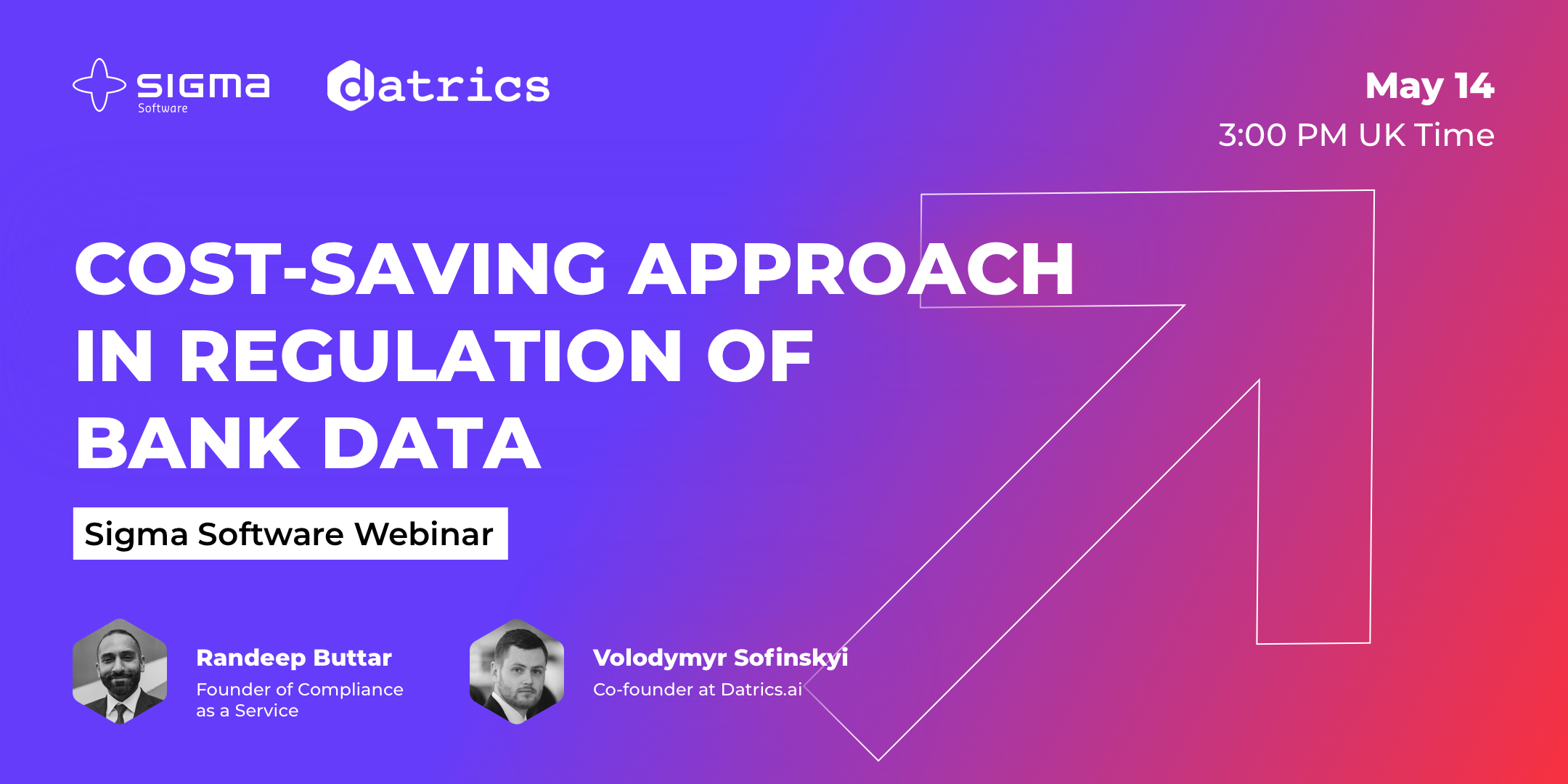 On May 14, experienced tech specialists – Randeep Buttar, founder of Compliance as a Service and a data-led transformation bank expert, and Volodymyr Sofinskyi, co-founder of Datrics.ai, proficient Data Scientist and Machine Learning Consultant – will share how to effectively implement a Data Science approach and save costs in a free webinar by Sigma Software moderated by Nicholas Hawtin, the Copenhagen-based CEO and co-founder of Think Legal Tech. The event will be interesting for business banking officers, innovation managers, risk managers, founders, CEOs, who are looking for information on the following topics:
How data can be used to drive a reduction in operational costs;
Risks-related Data Science approach in banking;
Opportunities and challenges for scaling business with data.
Register and get a chance to win a free two-hour consultation with Sigma Software tech experts! During the consultation, our expert will assess your solution from a technical point of view and give you valuable insights on how to improve it.
Boris Trofimov, a Software Architect with 15 years' experience in software development, architecting, team leading, and educating, who drives and develops Big Data expertise on company-wide level
Maxim Kovtun, a Solution Architect with 18 years' experience in .NET technologies and database development, who specializes in architecture elaboration, software development in different domains, team leading, sales process support, requirements capturing and structuring, documentation elaboration.
About the speakers:
Randeep Buttar is the founder of Compliance as a Service, a RegTech company specializing in regulatory reporting technology. Randeep has over 15 years of experience delivering service, people, process, data, and technology capabilities across multiple sectors. He has held senior change leadership posts in companies across multiple sectors including financial services, legal, oil and energy. He has led regulatory initiatives for market-leading firms including HSBC, Deutsche Bank, and Euroclear.
He was recently responsible for group-wide BCBS 239 (Risk Data Aggregation and Risk Reporting) compliance at HSBC and is now responsible for data management and data controls across the Basel 3 reformed regulations. As a founder of Compliance as a Service, Randeep is a motivated advocate of enhanced RegTech solutions and encourages the further development of an ecosystem that aims to bring the regulated and the regulators closer together.
Randeep is an Affiliate Member of the Chartered Institute of Securities and Investments as well as a member of the CISI Fintech Committee.
Volodymyr Sofinskyi is a co-founder of Datrics.ai, proficient Data Scientist, and ML Consultant with 5+ years of experience. Volodymyr is experienced in Machine Learning, Data Analysis, data modeling, and has an extensive background in the financial and retail industries. During his career, he's worked on banking application scorecards, credit risk engine in IB for a corporate bank, ML-related services for different banks and fintech startups.
Moderator: Nicholas Hawtin is the Copenhagen-based CEO and co-founder of Think Legal Tech that tracks all the innovations happening in the LegalTech, RegTech compliance space, and then helps to bring them to customers.
Watch out for upcoming webinars:
May 21: Digital Transformation for the Banks: Trends and Challenges
Banks and financial institutions have been among the first to switch to digital channels in order to allow reach and engage new customers in a more efficient way, reduce costs and improve overall performance and services. However, rapid technology development and increasing customer demands require constant updating and become a trend-chasing. As Gartner estimates, up to 80% of traditional banks will go out of business by 2030. What do they need to prepare for in 2020 and the upcoming years? What steps should they make today to stay in the game?
June (date to be announced): Cybersecurity in the World Switched Online
Former FBI Director, Robert Mueller, once said: "There are only two types of companies: those that have been hacked, and those that will be." These words are especially relevant now that many businesses are going online. Organizations face an ever-increasing number of cyber threats. According to recent statistics, hacking attacks occur every 39 seconds, which is more frequent and advanced than ever before. Yet, over two-thirds of businesses are not ready to respond to a cyber-attack, despite growing investments in cybersecurity. A reasonable question for companies to ask is: what are the most efficient investments we can make to be protected from cyber-attacks?
There are more webinars to come by the end of 2020. Please note that dates and topics may change, and if so, these will be announced.
about the author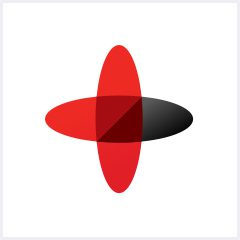 Software Engineering Company
Sigma Software provides IT services to enterprises, software product houses, and startups. Working since 2002, we have build deep domain knowledge in AdTech, automotive, aviation, gaming industry, telecom, e-learning, FinTech, PropTech.We constantly work to enrich our expertise with machine learning, cybersecurity, AR/VR, IoT, and other technologies. Here we share insights into tech news, software engineering tips, business methods, and company life.
Linkedin profile
Related services & solutions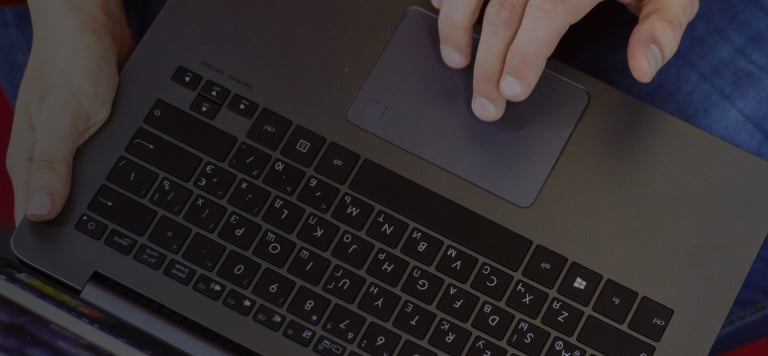 NEED AN INNOVATIVE AND RELIABLE TECH PARTNER?