Software Development Outsourcing to Eastern Europe: Which Country to Choose in 2023?
The Sigma Software team has been providing IT outsourcing services to startups and Fortune 100 firms for 20 years. The company has an extensive presence in the world's major IT Hubs and orchestrates distributed teams in different locations. In this article, we will portray specifics of outsourcing software development to Eastern Europe, describe the peculiarities of today's talent market, navigate through the region's top destinations, and look at locations that are leading the way. We will underpin all of this with a list of advantages that outline why involving Eastern European developers is beneficial for your business.
IT outsourcing has been a go-to solution for companies around the world, from startups to Fortune 100 leaders. This approach allows them to save substantial recruiting efforts and reduce costs on software development without compromising quality. According to Statista, the global IT outsourcing market will grow to $578.30 billion by 2027.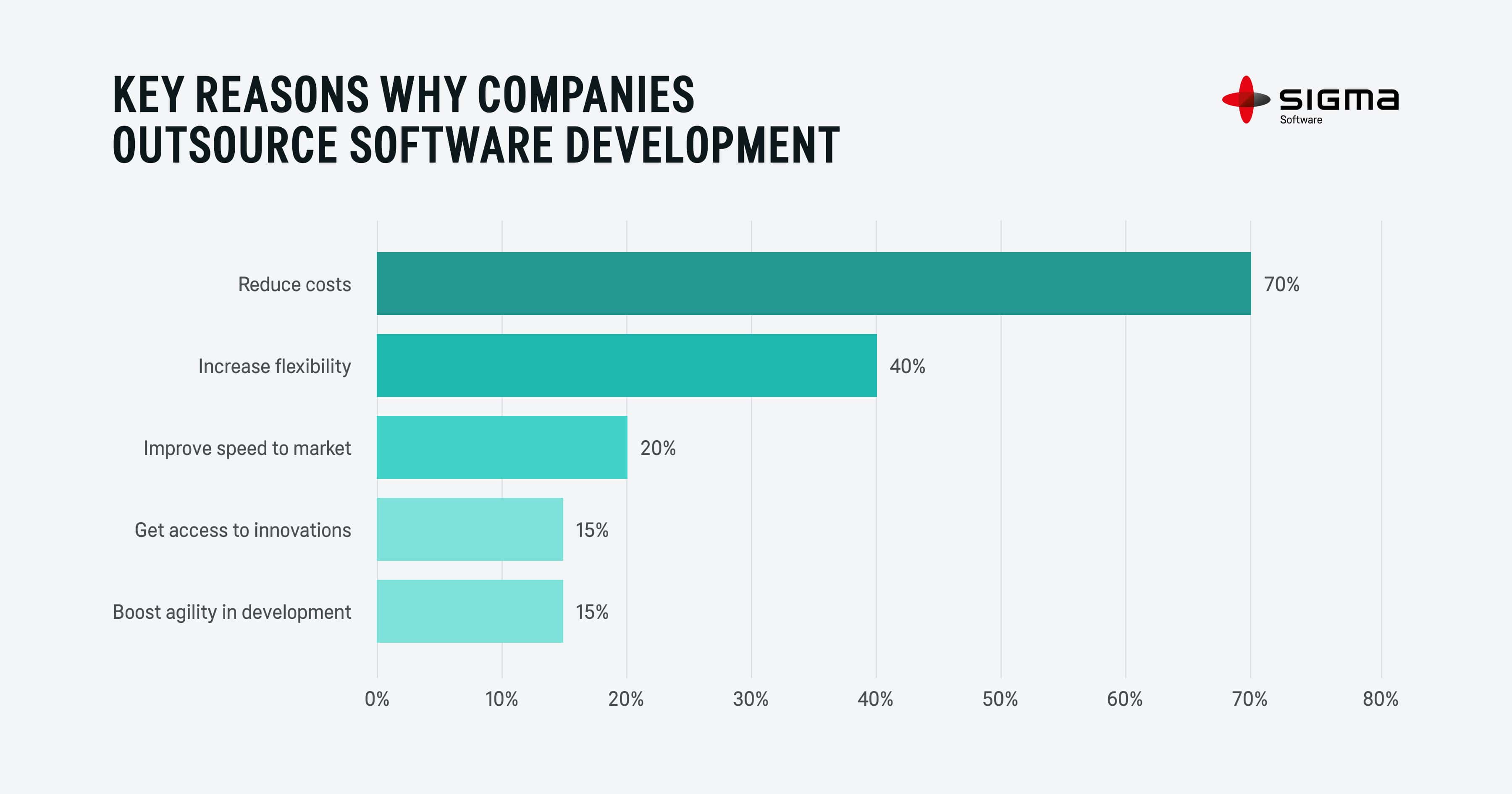 Based on: Deloitte
The growth is fueled by growing demand for digital transformation and innovation in all business segments. However, the latest trend for cost optimization pushes companies to look for more cost efficient yet reliable resource pools. Thus, many organizations today are reviewing their outsourcing strategies and seeking to source specialists from new locations.
Then comes the key question: what destination to choose? Historically, Eastern Europe has been one of the major IT outsourcing markets for leading companies from North America, Canada, Australia, the United Kingdom, and other Western European countries. The size of software development outsourcing in Eastern Europe, according to Statista, is constantly growing. It surpassed $103.9 billion in 2021, which was up from $93.1 billion in 2016.
Benefits of Outsourcing IT to Eastern Europe
2022 brought much turbulence to Eastern Europe as an outsourcing destination because of Russian aggression against Ukraine. Despite the existing risks, IT businesses in the region have shown resilience and constant growth. Ukraine, in particular, increased its software export profit by 23% compared to 2021.
The advantages listed below are among the key reasons why the Eastern European landscape has been and remains the preferred outsourcing destination for many companies around the globe.
A rich pool of experienced tech professionals
Eastern Europe has always been a powerhouse of talented software engineers. The cumulative talent pool in the region reached over 2 million developers in 2022, and you can easily find talents with deep tech and domain expertise.
Eastern European specialists are at the forefront of software development and their proficiency is recognized in various world ratings. For example, SkillValue places them at the top of the World's Best Developers list. Recent research by Coursera states that the regional workforce is highly qualified and has cutting-edge competencies. Eastern European engineers have been invariably featured in the HackerRanking list of the World's best developers for a couple of years in a row.
In addition, there are many technical universities in Eastern Europe that foster new talents. Most of them are featured in the Top 100 Best Universities List and are recognized globally due to their educational proficiency.
Similarities in Culture and Mentality
IT outsourcing always involves interaction among a company, a provider, and a team, which can be hindered by a cultural mismatch. Cultural differences have a big impact on conflict management, communication styles, teamwork, etc. So, a clash of completely different mentalities can lead to additional overhead and risks.
Outsourcing to Eastern European companies reduces the likelihood of having cultural differences and provides simpler communication, and smoother business collaboration. Eastern European developers are seasoned in collaboration with international teams, so the communication gaps are rarely an issue. Most software outsourcing companies have substantial experience working with US and Western businesses and are familiar with the business culture, communication style and ways of work with people from these countries. Therefore, in most cases outsourcing providers from Eastern Europe are reliable and long-term partners who speak your business language.
Proactive thinking
American and Western European businesses have long appreciated the proactive thinking that the teams in the region demonstrate towards building and delivering projects. Outsourced teams often come up with new initiatives and are willing to take more ownership of the clients' projects. They focus on the overall success of the business rather than just completing tasks. Specialists from Eastern Europe take full responsibility for their deliverables and regularly contribute with recommendations on the optimization of delivery processes.
Robust data privacy and security
One of the advantages the Eastern European landscape offers is a similarity in legal regulations. The region complies with copyright laws and policies like the General Data Protection Regulation (GDPR). Thus, Eastern European solution providers take all measures required to safeguard data privacy and security.
European and US legal regulations are quite alike in terms of the privacy policy and security requirements. Thus, businesses from the US can count on the appropriate security levels in relation to their laws and requirements.
Local outsourcing providers learned lessons from COVID-19 and have used that experience to safeguard uninterrupted and efficient remote work, despite any external influences. They ensure your information is safe and eliminate risks of possible threats by introducing secure authentication, VPN, data encryption, privacy equipment, etc.
Reasonable development costs
Eastern Europe is a world-renowned offshore destination with the best correlation of value for money. The hourly development rates in Eastern Europe are not the lowest among outsourcing regions, however, if you consider the Total Cost of Ownership (TCO) for your development, Eastern Europe provides the most optimal ratio. The TCO includes not only the developers' efforts but also the management, retention & motivation overhead that you would normally have on your end. Eastern European outsourcing companies are usually willing to take more responsibility over the development process thus reducing your in-house overhead.
The overall hourly rates in Eastern European countries may vary between $35 and $100, based on the skills and seniority level of technical experts as well as the outsourcing model used. (Check our article about the pros and cons of outsourcing development for more information about the differences between outsourcing models).
The outsourcing rates by country differ as well, but they are still lower compared to the prices offered by local suppliers in the US, Western, or Scandinavian countries.
Countries in Eastern Europe for Software Outsourcing
The war unleashed by Russia against Ukraine changed the dispositions of driving forces within the region. The Eastern European outsourcing landscape had shifted but has still resisted threats. Russia and Belarus have lost their outsourcing potential due to the outflow of developers and the corporate sanctions that were applied to most of the local companies. Ukraine, on the other hand, has managed to add in profit regardless of the war. Other Eastern European countries fortified their positions and grew revenue. The demand for software engineers in the region is still high among Western countries as well as the USA, Canada, and Israel.
Related article: Nearshore software development
According to Clutch, there are 3 biggest IT Hubs in the region:
Ukraine (1001 companies)
Poland (658 companies)
Romania (249 companies)
However, we usually suggest having a broader perspective and considering Bulgaria, the Czech Republic, and Hungary as well. Below is a detailed overview of IT sectors in these countries.
Ukraine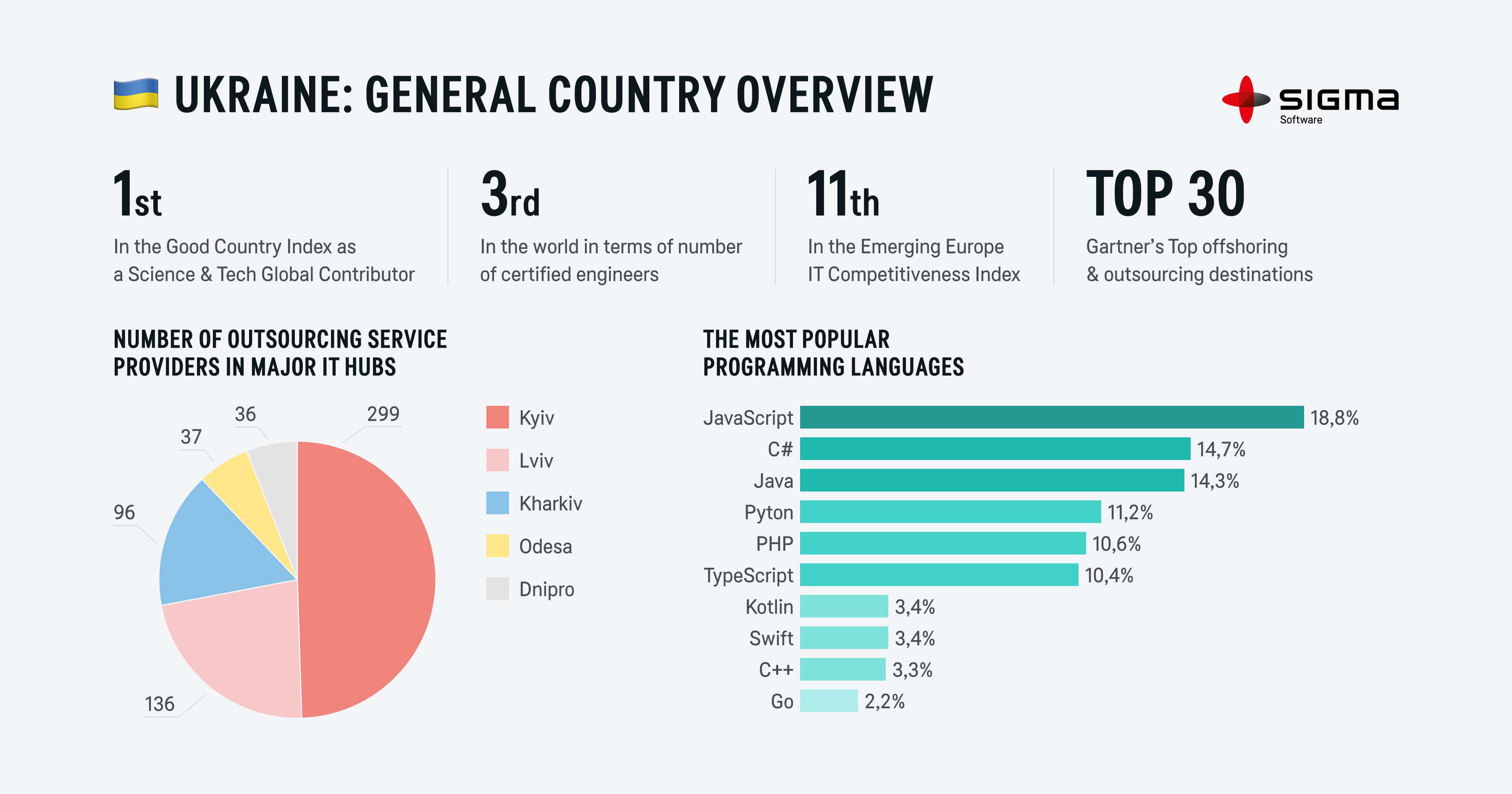 Ukraine has become one of the leading destinations in Europe for global outsourcing. The local IT sector is developing by leaps and bounds, having grown over 60 times, from $110 million in 2003 to about $6.8 billion in 2021. During the first quarter of 2022, the IT industry attained a record-high $2 billion in export income.
Now in Ukraine, there are about 285,000 IT professionals, over 30,000 entry level-specialists, and more than 110 R&D centers of international companies, including Microsoft, Dell, Cisco, SAO, etc. The Ukrainian IT industry accounts for about 5% of the country's total GDP (Gross Domestic Product) and is a prevalent sector of the Ukrainian economy.
Here are some more facts in favor of outsourcing to Ukraine:
Ukraine is in the top 30 Gartner countries for offshore services.
In 2018, the Global Sourcing Association recognized Ukraine as the best delivery destination in the UK.
11 Ukrainian universities are listed in the QS World University Rankings.
By the end of 2022, the Ukrainian IT sector generated $6.6 billion in exports, representing a growth of 7% compared to the same period in 2021.
World-famous startups such as Petcube, Preply, GitLab, Depositphotos, and Grammarly were established in Ukraine.
Much has changed since February 2022. The war has caused many transformations, as well as brought new risks for local IT businesses. However, despite the circumstances, Ukrainian software development companies have managed to effectively overcome challenges, safeguarding stable service and business continuity. For example, Sigma Software returned to full operational capacity 2,5 weeks after the full-scale invasion.
Most organizations relocated their employees to safer places, established new offices in the Western regions of the country, and provided employees with complete support in terms of relocation, accommodation, physical & mental health recovery, etc. Their offices, equipped with power generators and Starlinks, were turned into safe hubs for the IT community.
Ukraine should still be considered an outsourcing region with increased risks, but it is rather a question of what actions your local supplier takes to mitigate those risks. It is important to make sure your local provider has an effective BCP (Business Continuity Plan) and proactively works with risks. If so, the chances of getting your project successfully delivered from Ukraine are as high as they were before the war.
Poland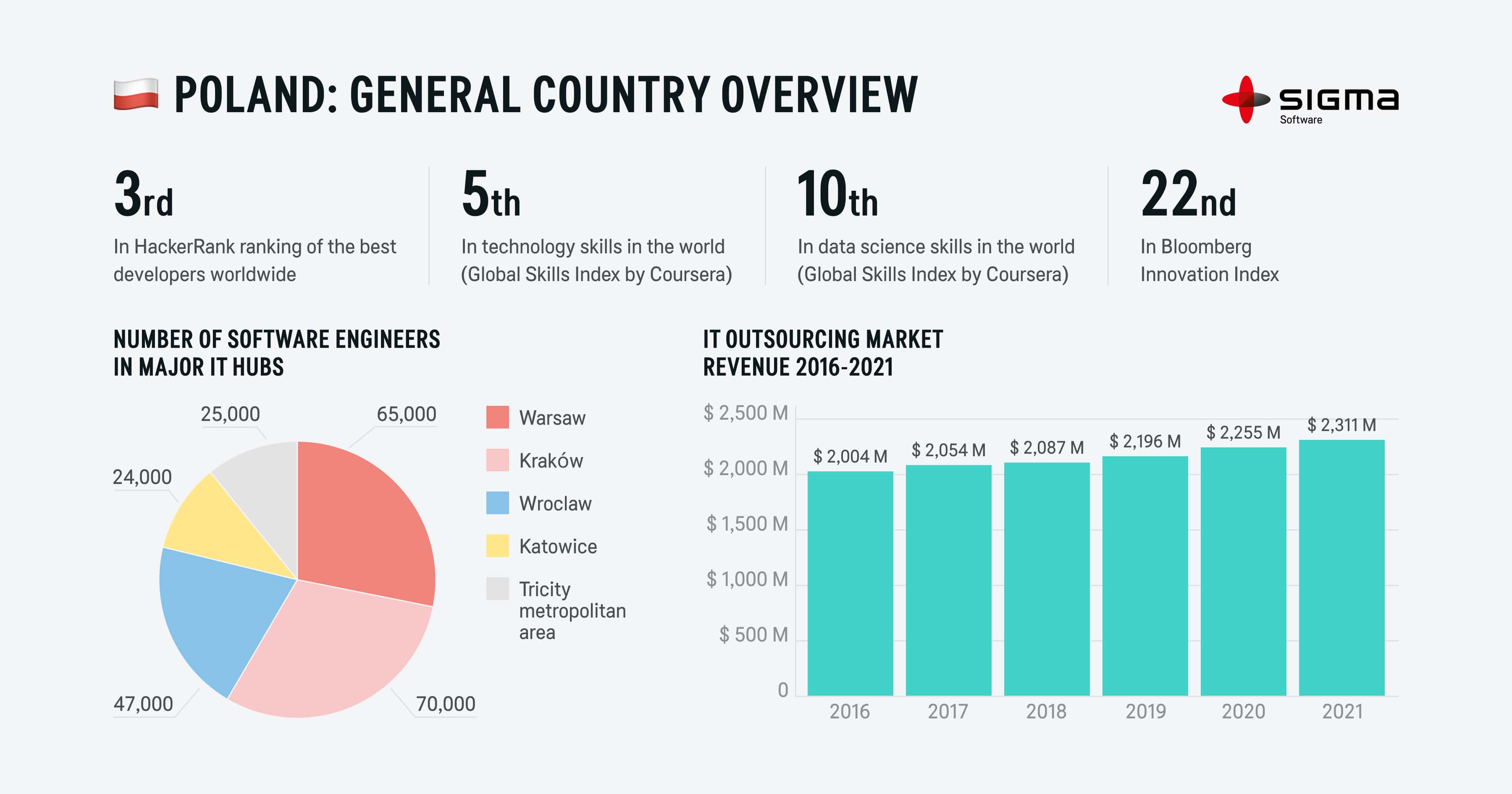 With its political stability, many years of EU membership, fast-growing economy, and experienced programmers, Poland remains one of the top destinations for IT outsourcing. The country has a clear legal system and is constantly implementing reforms to boost the business environment. Poland is the most economically advanced region in Eastern Europe and has a low inflation rate along with tempting tax incentives for IT outsourcing agencies.
Poland has 450,000 ICT professionals — the largest talent pool in the area. However, the country has increased this number even more since many Ukrainian IT specialists relocated to Poland in 2022. Currently, R&D in Poland is on its rise and attracts leading global companies like Amazon, Google, Samsung, SAP, Delphi Automotive, Intel, and McKinsey.
Poland ranks 16th in the EF English Proficiency Index with a majority of the population having good command of English. The country is one of the top educational centers in Europe and their universities are recognized in the QS World University Rankings.
Some more statistics:
The software development industry in Poland is valued at €8.8 billion and ranked 7th in Europe in 2022.
Polish developers are rated 4th in the world in terms of skill level, according to Top Coder ranking.
The country has the largest number of unicorn startups in Eastern Europe, according to Google and Dealroom
According to the 2018 HackerRank test results, Poland has the 3rd best developers overall in the world.
Poland was ranked 15th in the Tholons Services Globalization Cities 2020 rating, with Krakow and Warsaw emerging as major IT development hubs in the country.
Bulgaria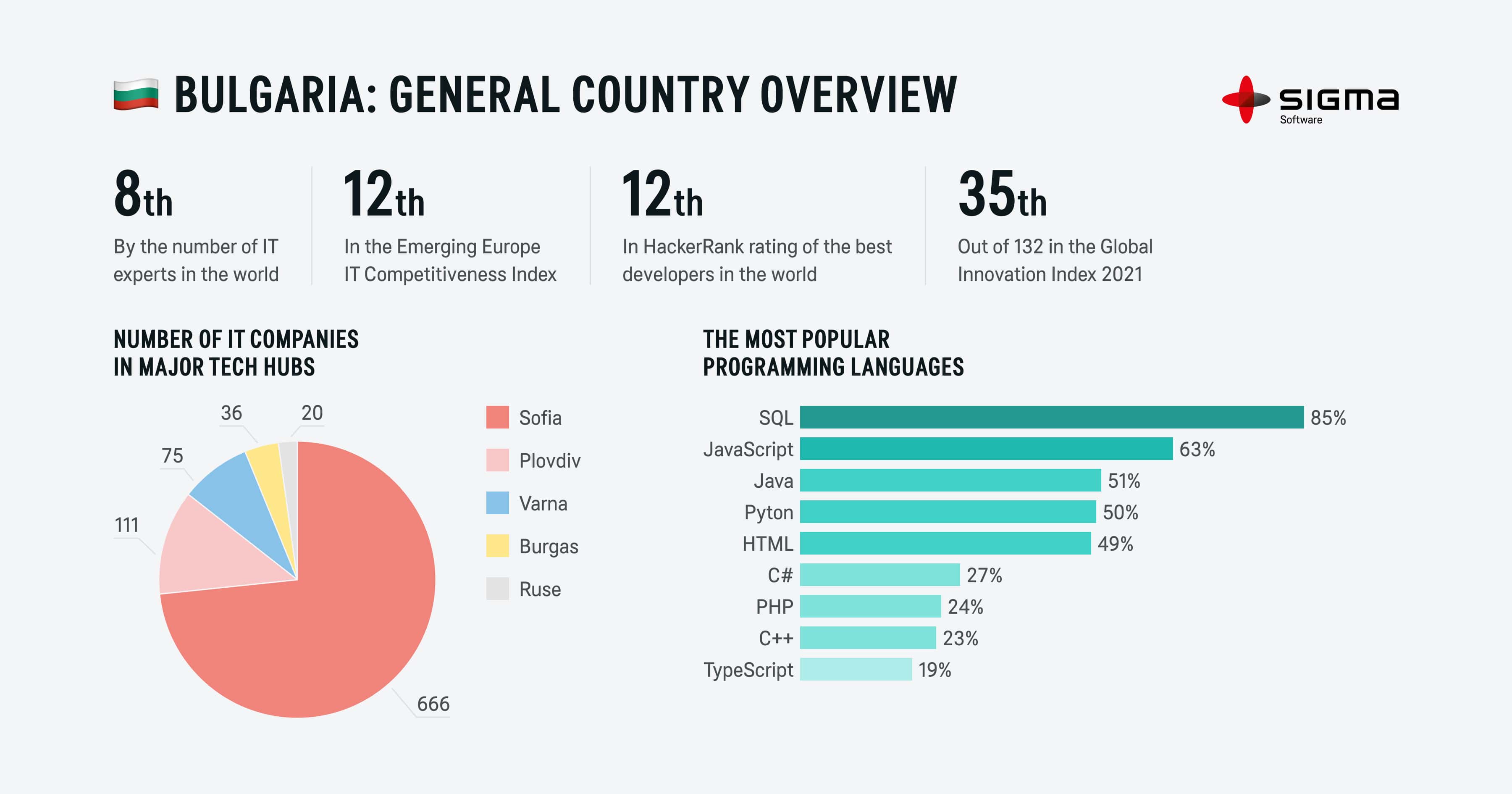 Bulgaria is a key outsourcing player with a long history in the market. Most companies choose the country for economic stability, high English proficiency, and a well-developed tech education system. STEM direction is very popular among Bulgarian students. Among the 280,000 students enrolled  in universities, over 115,000 specialize in the fields of IT, Mathematics, Economics, and Administration.
Local software companies are partnering with educational institutions, as well as launching their own projects to employ young talents. The Bulgarian IT market employs about 100,000 ICT professionals, and almost 30,000 are working in IT outsourcing. The country hosts numerous R&D offices of global corporations such as HP, SAP, Oracle, VMware, CISCO, etc.
Here are some other facts:
The software development industry in Bulgaria is estimated at €893 million and is ranked 21st in Europe in 2022.
In 2018, the country ranked 50th in the World Bank's Ease of Doing Business
Annually, Bulgarian universities graduate about 2200 IT specialists.
In 2020, the IT outsourcing sector of Bulgaria added $1,67 billion to the state budget.
71% of Bulgarian Companies use English as their working language.
Hungary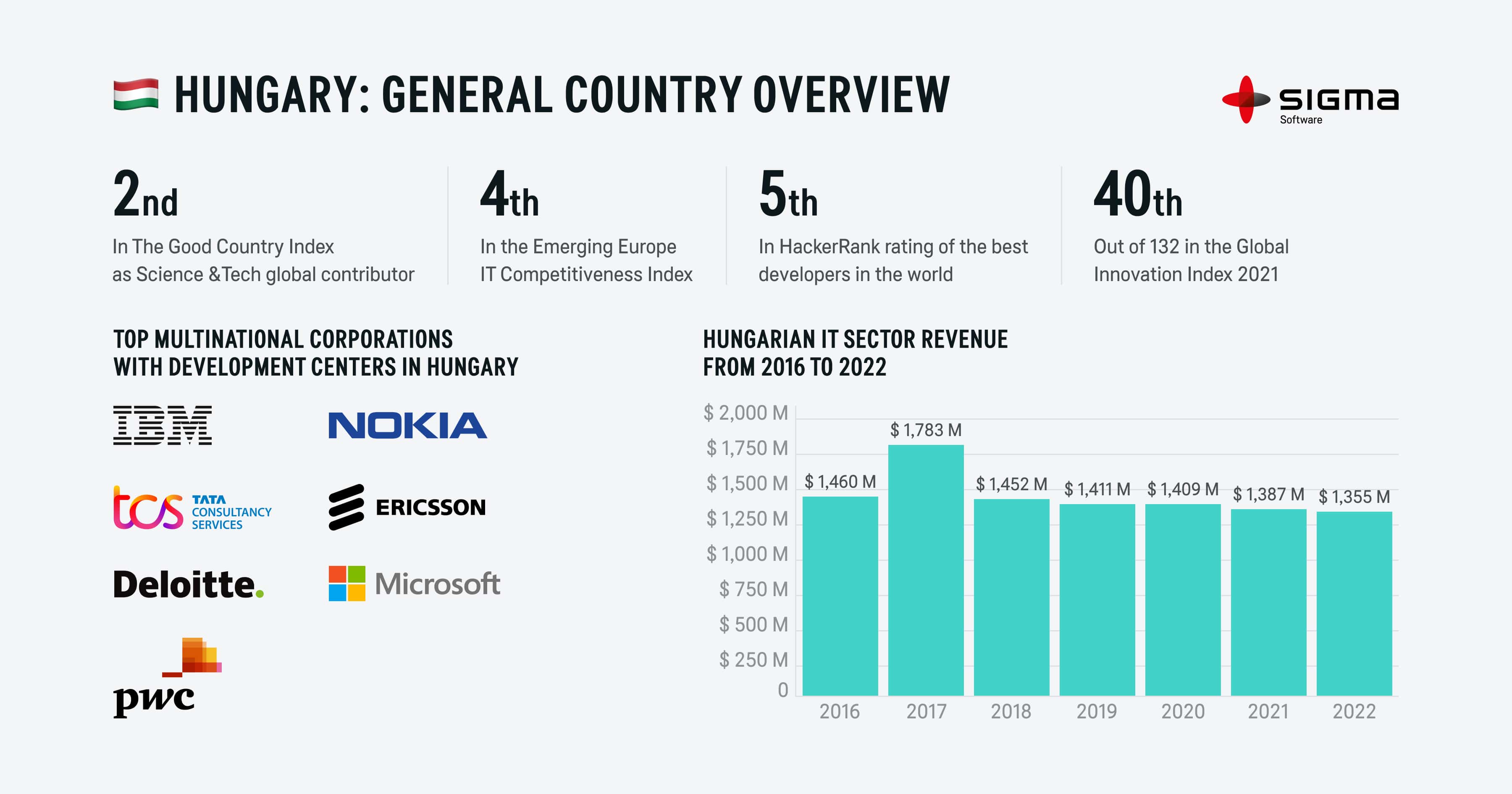 Even though Hungary is not a mainstream destination for outsourcing in Eastern Europe, the country has one of the most dynamic IT sectors in the region. Software development services represent 6% of the country's GDP, and this index is expected to grow over the next couple of years due to the adoption of digital transformation in the public sector and increasing investment in future technologies.
The country's government puts a lot of effort in setting a favorable climate for the development of IT outsourcing in Hungary. They have introduced IT-friendly policies, including tax reliefs and financial support, to encourage local software companies' growth and attract big players to enter the Hungarian market. As a result, a good deal of multinational companies like Siemens, Microsoft, Deloitte, Ericsson, and Nokia have already chosen Hungary as their outsourcing destination.
According to Crunchbase, Hungary now has over 500 IT companies participating in the booming tech industry. The country has a talent pool of 80,000 software engineers, enriching with 3,000 IT graduates every year. And here are some more benefits of this destination:
The software development industry in Hungary is estimated at €1,8 billion and ranked 14th in Europe in 2022.
Hungary scored 18th place in the EF English Proficiency Index rate.
The Hungarian IT outsourcing sector is expected to reach €552,87 billion by 2027.
World-class startups are being nurtured in the favorable Hungarian tech ecosystem and have raised €466 million over the last year.
Romania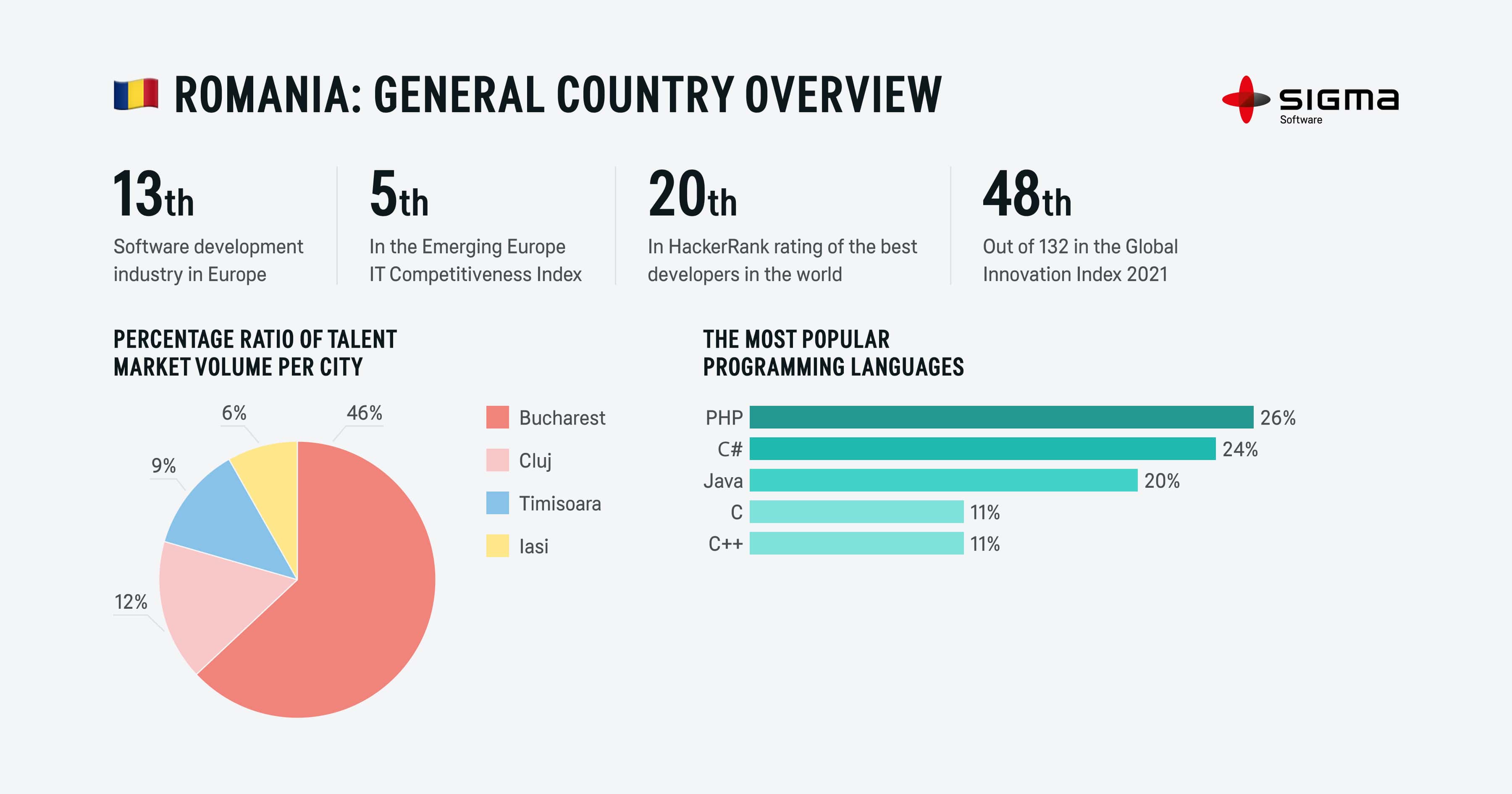 Romania is a popular outsourcing destination in Eastern Europe with a constantly growing local IT market that reached €3,4 billion revenue profit at the end of 2022. The country now has almost 200,000 ICT professionals working in local and global IT companies.
Romania's government introduced favorable tax conditions to encourage investment in technology and to keep pace with other countries in attracting software companies in Europe. The incentive is working, and IT outsourcing to Romania is getting more popular, attracting prominent technology companies such as Microsoft, Oracle, IBM, HP, and Huawei.
Cybersecurity is one of the key IT outsourcing service directions in Romania. In 2021, Bucharest became the home base of the European Cybersecurity Industrial, Technology & Research Competence Center, the EU hub that allocates funds to coordinate cybersecurity research across Europe.
Here're some other highlights:
The software development industry in Romania ranked 13th in Europe in 2022.
According to HackerRank, Romania ranks 20th in the world in terms of the number of skilled developers.
Romanian Universities produce 30,000 specialists annually.
According to the EF English Proficiency Index, Romania is 15th out of 112 countries.
Romania is ranked 32nd in the list of the most favorable global outsourcing destinations according to Kearney Global Service Location Index 2021.
Czech Republic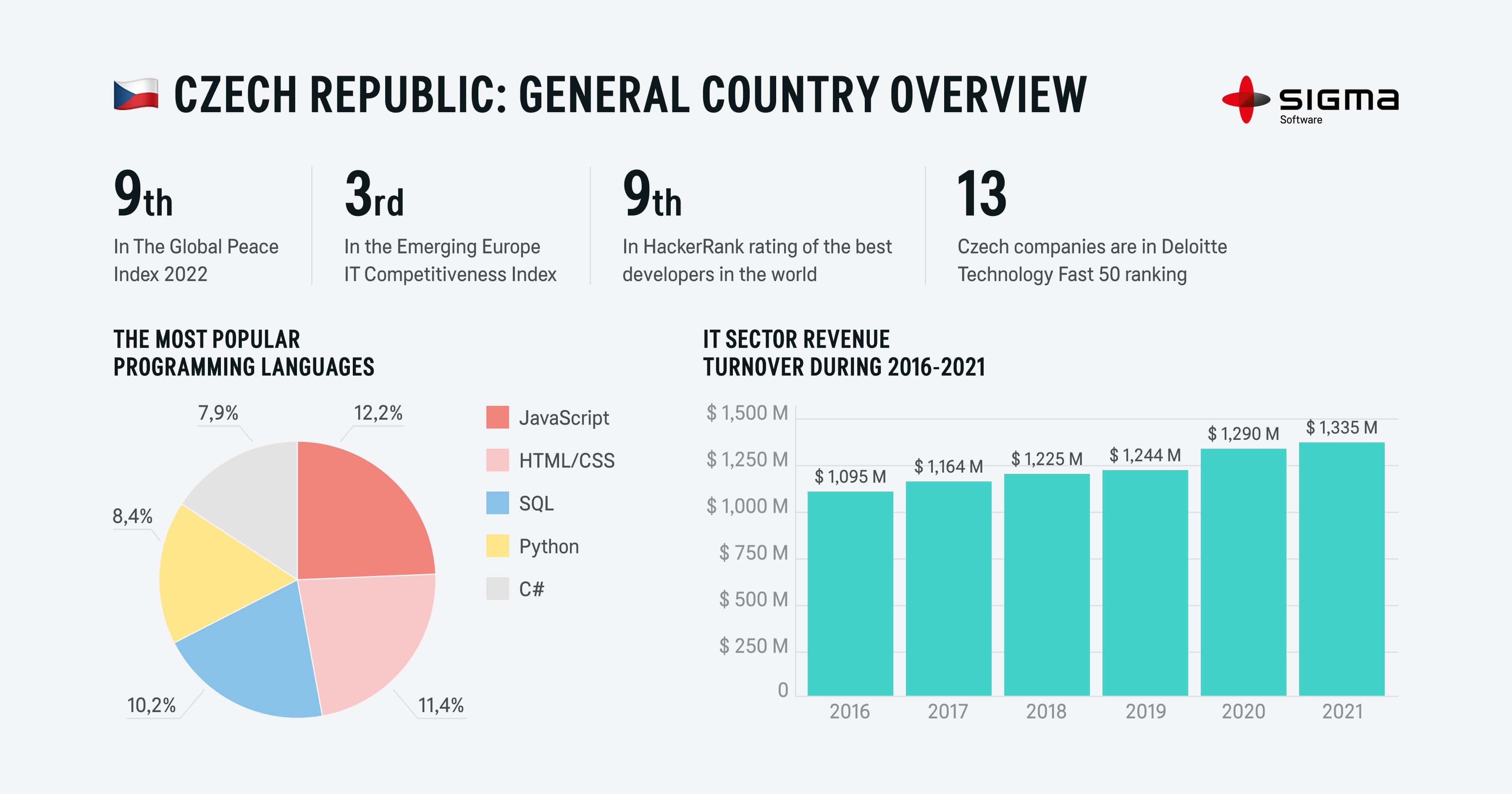 The Czech Republic is a favorite outsourcing destination for many IT companies around the world due to its convenient location, English proficiency, and Western-oriented culture. Today, the Czech talent market has accumulated over 100,000 ICT specialists and is growing by 4000 graduates every year.
Czechia joined the EU in 2004 and has a stable legal environment with favorable business conditions. These factors have attracted leading global tech organizations such as Microsoft, Google, Oracle, Skype, and IBM to choose the country for both direct investment and outsourcing.
In 2021, Deloitte featured 13  Czech Republic software development companies in Technology Fast 50 Central Europe ranking which recognizes the most innovative companies in the region. However, outsourcing software development to the Czech Republic is more expensive than for example, Ukraine or Romania.
Some more statistics:
The local software market reached $1,33 billion in 2021 with an annual growth rate of 4%.
In the Global Innovation Index for 2021, the Czech Republic ranked 24th among the most innovative countries.
According to the SkillValue report, the Czech Republic ranked 6th in the list of countries with the best developers in the world.
Which Eastern European Country Is Best For Software Development?
Based on both our study and feedback from our clients on software development outsourcing in Eastern Europe, here are some core highlights of these destinations:
Criteria
Ukraine
Poland
Bulgaria
Hungary
Romania
Czech Republic
Size of talent pool
285.000
450.000
77.000
80.000
200.000
100.000
EU Membership
Candidate
Member
Member
Member
Member
Member
Major IT Hubs
Kyiv
Lviv
Dnipro
Odesa
Kharkiv
Warsaw
Krakow
Wroclaw
Lodz
Poznan
Sofia
Varna
Plovdiv
Burgas
Budapest
Pécs
Szeged
Debrecen
Bucharest
Cluj-Napoca
Brasov
Timisoara
Iasi
Prague
Brno
Ostrava
Rates correlation
$$
$$$$$
$$$
$$$$
$$
$$$$
Time zone
(GMT+3)
(GMT+2)
(GMT+3)
(GMT+2)
(GMT+3)
(GMT+2)
The driving force and the main competitive advantages of Eastern European countries are the vast talent pool, technical proficiency, and reasonable development costs. Therefore, outsourcing software development to Eastern Europe ensures that you get not only a talent provider, but a reliable technical partner that shares your business culture and cares about the success of your product.
Even though each destination has its pros and cons, the region in general is very strong and inviting. Lately, many of our clients have been looking for outsourcing providers across the entire Eastern European region, regardless of the country.
Moreover, remote work has tangibly changed cooperation with distributed teams, and the Smart-shoring approach, which has been introduced recently, is becoming more popular. We at Sigma Software, actively use this approach as it allows us to build efficient international delivery centers powered by talented people from all over the world to deliver thousands of successful projects.
Today, there is no need to focus on choosing a specific country. Many outsourcing providers expand their presence in the region and globally. This unlocks the opportunity for clients to hire talented people in multiple countries while staying with one reliable partner.
Why choose Sigma Software as an IT outsourcing development company in Eastern Europe?
Sigma Software has been delivering outsourcing services for 20 years and has been included in IAOP Top 100 Outsourcers list for 7 years in a row. We apply a Smart-shoring approach to effectively build and coordinate international distributed teams for our clients all over the world. This allows us to match our clients' needs and expectations, resulting in a 99% client satisfaction rate according to our latest survey.
Sigma Software in numbers:
We are a reliable partner for more than 300 leading global companies, including Volvo, AstraZeneca, AOL, Formpipe, DanAds, etc.
Sigma employs 2,000 software specialists with extensive technical experience in leading technologies, including Java, .NET, Node.JS, React Native, Angular, Golang, Python, iOS, Android, and more.
We have a local presence in 19 countries on 4 continents with 39 offices including Ukraine, Romania, Bulgaria, the Czech Republic, Hungary, and Poland.
Sigma Software expert team can deliver over 40 services, including Product Development, DevOps Consulting, Embedded and IoT, UX/UI design, Machine Learning Development, IT Security Services, Software testing, Blockchain
If you are planning to hire a dedicated team or outsource a project to Eastern Europe, or are hesitating about what country to choose – contact our team, and we will provide a solution tailored to your business needs.
about the author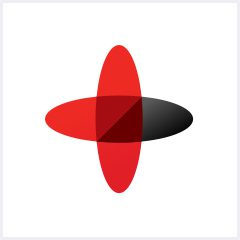 Software Engineering Company
Sigma Software provides IT services to enterprises, software product houses, and startups. Working since 2002, we have build deep domain knowledge in AdTech, automotive, aviation, gaming industry, telecom, e-learning, FinTech, PropTech.We constantly work to enrich our expertise with machine learning, cybersecurity, AR/VR, IoT, and other technologies. Here we share insights into tech news, software engineering tips, business methods, and company life.
Linkedin profile
Related services & solutions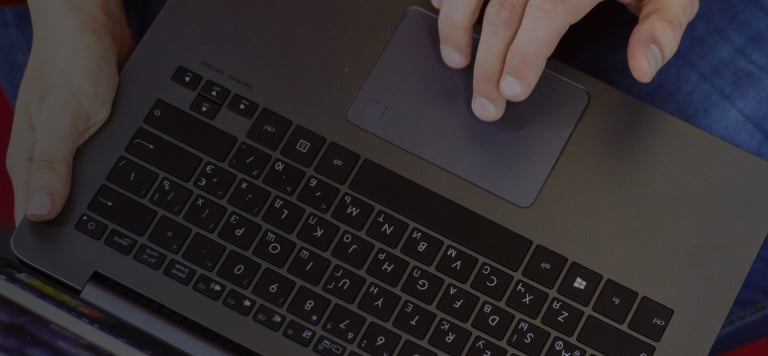 NEED AN INNOVATIVE AND RELIABLE TECH PARTNER?