A story of Sigma Software as told by its founders
A story of our company told by its founders and converted into an interview by cool and innovative MC Today journalists. The article was published in Russian at MC Today website. With their editors' permission, we publish its translation to English.
"Sigma Software is a large Ukrainian IT consulting company, which became a part of the Swedish IT Corporation with the same name in 2006. Ukrainian offices are located in Kharkiv, Kyiv, Odesa, Lviv, Dnipro, Vinnytsia, and Sumy. There are also offices in Sweden, Poland, the USA, Singapore, and Canada.
Today, Sigma Software is included in the TOP-15 IT companies in Ukraine by the number of specialists, as well as in the TOP-100 of the best outsourcers in the world, it has an angel fund that invests in its own startups. Over the almost 18 years of its existence, the company has completed more than 1,000 projects for world-famous brands, such as Google, SAS, Volvo, Toyota, Knorr-Bremse, and Verizon Media. The company has an average annual growth of 25%.
At MC.today, we decided to tell the story of the company and share with readers the approaches that helped Sigma Software to achieve such results.
About the founders
The history of Sigma Software officially began in 2002. It was founded by five friends: four programmers and a lawyer from Kharkiv. They met when they were 20.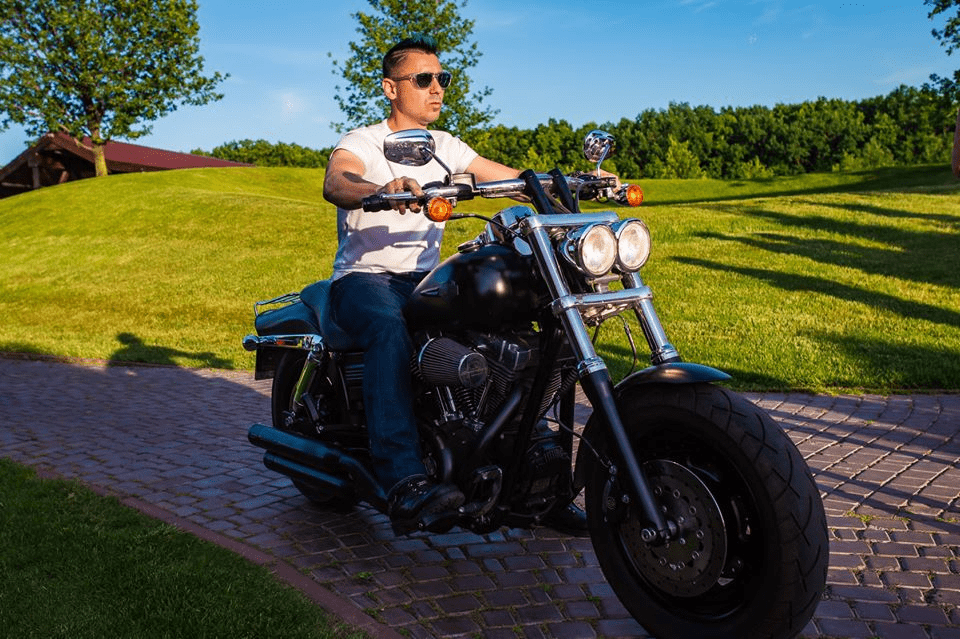 Vlad Beck
The team was gathered by Vladimir Beck. Today, he is a member of the board of directors of the company, heads the innovation laboratory, and is responsible for relations with government agencies. In parallel, Beck is the head of the IT committee of the European Business Association.
With Dmitry Vartanian, who now runs the Kharkiv office and is responsible for financial and legal decisions, Vladimir Beck was familiar from childhood. He met Valery Krasovsky, the current head of the company, Volodymyr Chyrva, and Dmitry Zhuk, when he carried out the first projects for American and European clients.
"Vlad and I worked together at Telesens, one of the first Kharkiv IT companies. I was 22 years old, I came there right after graduation from the institute to the position of a junior developer. Vlad already held the CTO position)," recalls Valery Krasovsky, the current CEO of Sigma Software.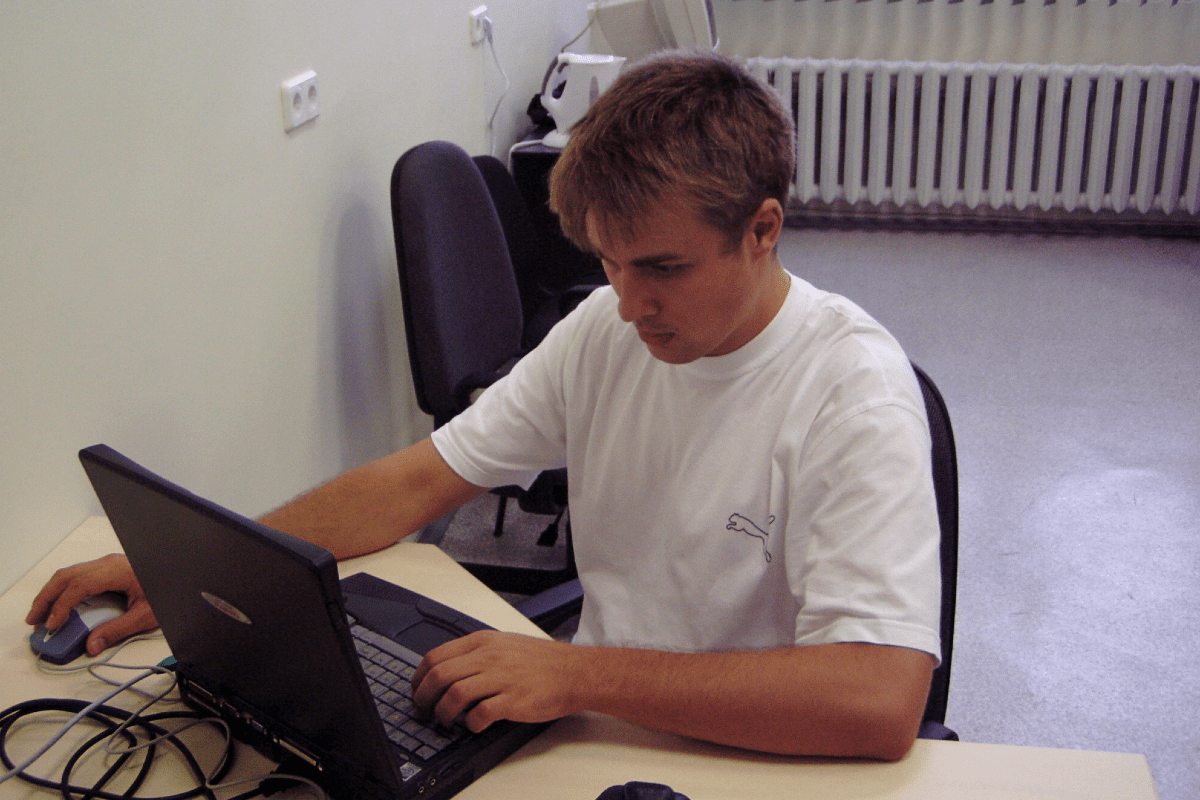 Valery Krasovsky, archive photo
They decided to work together in the early 2000s. "At first, we just took orders, in 2002 we registered the company Eclipse SP," says Vladimir Beck.
For almost 18 years in the common business, the founders have maintained not only mutual understanding in their work, but also friendship.
"There were quarrels, no way without it. Even mobile phones flew around the room, doors were slammed. But we can negotiate. We don't have a dispute for the sake of a dispute," says Valery Krasovsky.
The "business with fun elements" approach helps the partners to maintain trusting relationships.
"Let's open an office in Odesa, there is a sea there. Let's open an office in the States, we'll visit New York more often!" gives examples of "fun" Valery Krasovsky.
At the same time, the founders of Sigma Software call themselves more business partners than friends. "There are times when old friends build a business together. However, this does not always end well for them. In our case, friendship goes after business. Initially, we were just people who felt comfortable working together. We became friends in the process," says Vladimir Beck.
About the company purchase by the Swedes
In 2006, four years after the business had been established, one of the largest Scandinavian IT conglomerates Sigma Group bought a stake in the company. According to the founders, Kharkiv residents did not intentionally seek an investor or a strategic partner. Nevertheless, at that time, Western companies took an active interest in Ukrainian outsourcers.
"We got offers to purchase us from an American company, then a Russian one. We met, discussed, but it didn't go further," Krasovsky recalls.
The meeting with the Swedes happened by chance; they were looking for an outsourcing partner from Ukraine. Future partners were introduced to each other by a common acquaintance, a Danish entrepreneur.
"In this deal, we saw new opportunities for growth. We understood that for a Kharkiv company with 60 employees, the path to working with clients like Volvo would be a very long journey if we went alone," says Valery Krasovsky.
Since then, 60% of the company's shares are owned by the Swedish consulting group Sigma Group, the rest – by the Ukrainian founders. According to Dmitry Vartanian, the Scandinavians bought a controlling stake, because the company was in Ukraine, they did not agree to a smaller share due to legal risks. At the same time, the majority shareholders do not interfere in operational processes at all.
"If they were interested in us as just a workforce to give orders to, maybe then they would take part in the operational management. But they are primarily interested in us as a business, so they left us the opportunity to manage the company on our own," says Vartanian.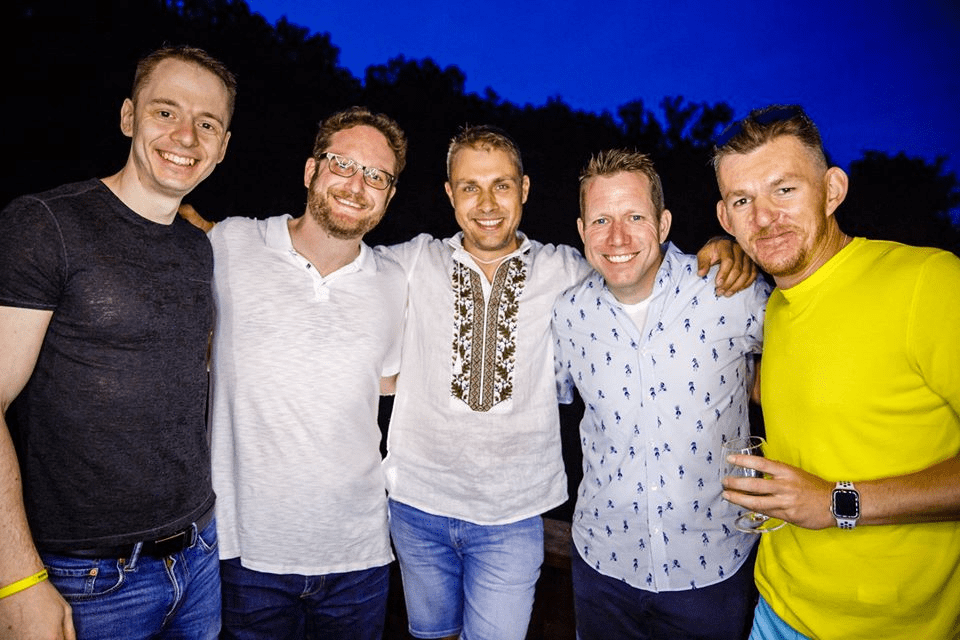 Valery Krasovsky and Dmitry Vartanian with colleagues and partners
The Swedish Sigma Group has six major companies, including the Ukrainian structure. Key decisions at Sigma Software are made by the board of directors, which includes both Swedes and Ukrainians.
The most important markets for a Ukrainian company are the US – 35%, Sweden and Western Europe – 50%, Asia and the Middle East – 15%.
"Part of our sales goes through the companies of the group, but in general 50% of our transactions are those that we attracted ourselves," says Valery Krasovsky.
The average market margin of such business is 10%, depending on the company's business model (how many consulting projects the portfolio includes, and how many – outstaffing projects) and growth aggressiveness (the faster the growth, the more investment it requires with lower marginality).
About a difficult period
One of the most stressful moments in the life of the company coincided with the most difficult period in the history of Ukraine. "The year 2014 was a test for us. But, looking back, we understand that these difficulties only made us stronger," says Valery Krasovsky.
Against the background of what was happening in Ukraine, the company had to keep the team and avoid losing Western customers. The situation was kept under control thanks to correct and frank communication with partners.
"There was a lot of disturbing news about Ukraine that year, but our partners, as smart people, understood that not everything should be trusted. Every week we sent them emails that we wrote personally, and described what really happened, where there were risks and how they could be eliminated," recalls Valery Krasovsky.
As a result, Sigma Software, according to its founders, did not lose a single client and even managed to grow. "While many companies completely left the country, we opened offices in Kyiv, Lviv, Poland," says Krasovsky.
About clients and projects
Over almost 18 years of work, the company has acquired more than 400 customers; more than a thousand projects have been completed. Now there are more than a hundred projects in progress.
Business processes in the company are certified according to the international standard. "We have received international certificates ISO 9000 and ISO 27001 (standards that testify to the high reliability of the company – editor's note)," says Valery Krasovsky.
Every year, the company confirms the quality and safety of processes to international auditors. It is tested for how it handles information, where it stores information, how the company disposes of it, whether there are backup procedures, which mail encryption systems it uses, and much more.
Sigma Software works with clients in the format of IT consulting, outsourcing (software development for the customer within the project – editor's note), develops and sells its own solutions. The company is now practically not engaged in outstaffing (developers do only projects for a specific client, but are registered on the staff of the contracting company – editor's note); there is only one such project in operation.
The company gets an average of 50 new clients per year. Sigma Software builds long-term cooperation for 5-10 years with many customers. For example for Volvo, the company has been fully developing an e-commerce product for 10 years.
"Here we are talking about full responsibility for the client's business – our team does everything in Ukraine, in Sweden today there is not a single programmer dealing with this product," says Krasovsky.
"The secret of how a small outsourcing company grows to the world level is simple: you need to grab onto every potential successful opportunity and work with each client as if it is the only one you have. Even if it's a small customer," says Vladimir Beck.
He recalls how the company fought for important customers in the early 2000s.
"I remember how at the very beginning of our journey we received a request from a potential client who wanted to develop based on a rare and specific technology. We recalled everything that we knew and could do with this technology. We attracted all the forces, despite the fact that the technology was quite niche. We still work this way, although it's already much easier to find customers," says Beck.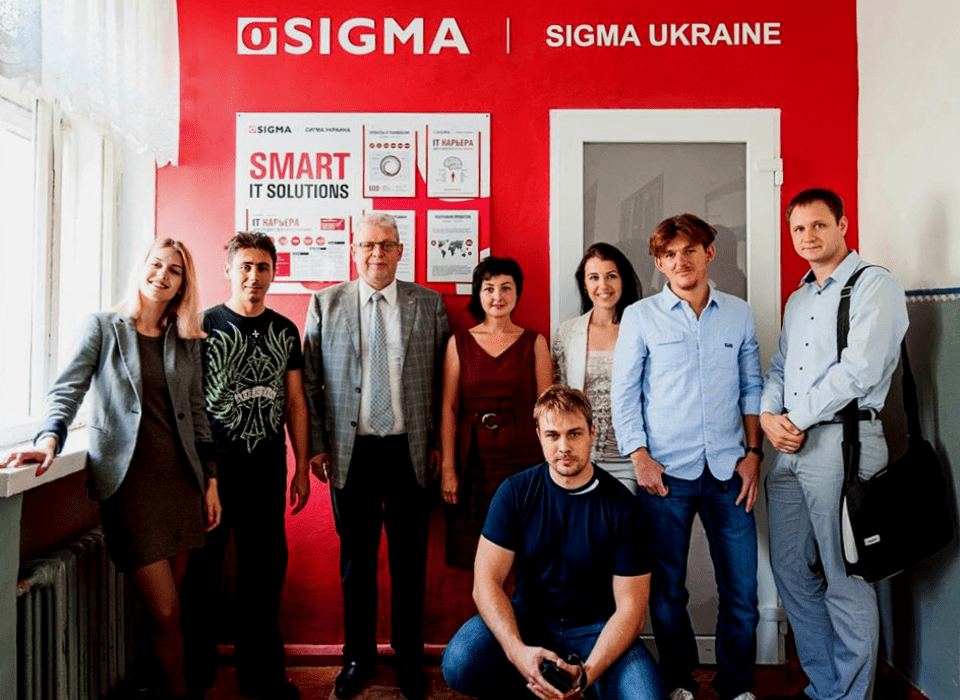 Sigma Software Team with Eduard Rubin, archive photo
Angel fund for startups
One of new directions of work for Sigma Software founders is an angel fund for startups, which invests in development in the field of consulting and outsourcing.
In less than a year, the fund invested in 7 projects, 3 of them were unsuccessful, and three more are actively developing.
One of the most famous projects, the American startup clean.io, is creating a product that blocks annoying pop-up online ads. In May, the startup already raised $ 2.5 million in funding from the Canadian Real Ventures fund. The startup is based in America, the developers are located in the Ukrainian offices of Sigma Software.
Another fund's project is Black Snow Augmented Reality game, created by an American startup Blacksnowgames, Inc. It combines the real world with the game, using the phone's camera.
Sigma Software implements such projects by efforts of its developers, allocates them to individual product companies. Now the angel fund invests in projects that emerge based on the ecosystem for young IT entrepreneurs Sigma Software Labs, though one can also apply for investments from the outside.
Bad experience
Despite impressive experience in both business and development, large companies like Sigma Software also face difficulties.
A few years ago, a small American startup became a client of the company. Sigma Software developers completed the order, but the startup did not manage to reach success, sell the product, and raise money for development. Sigma's US office even got a lawsuit from a contractor company that worked on the same solution with the startup and with which the startup had an agreement on the distribution of profits from sales.
The lawsuit was far-fetched: the contracting company decided that Sigma Software launched sales of the product, after seeing an example of work on their site. The contractor wanted to receive its percentage of sales promised to them by their client. Sigma Software lawyers stood the legal defense, and for the Ukrainian company everything worked out, although it could result in the payment of compensation of a million dollars.
Sigma also had the experience of losing money. In 2003, they agreed to cooperate with a large Italian consulting company. In the process of completing the transaction, the Italians sold their consulting business, greatly decreased in scale, and actually turned into a startup. Sigma Software became the only major investor.
In 2008, the Italians had troubles in business and stopped paying Sigma, owed Ukrainians about €500 thousand. Most of the money was returned only through long-term court proceedings.
About the team
The Sigma Software team includes more than 1,100 professionals today. The company manages to maintain Swedish quality by hiring Ukrainians, according to Valery Krasovsky. He says that this is not a problem, because Ukrainian developers often work much better than European ones.
"Ukrainians and Swedes live in different economic and social conditions. Ukrainians often need to put a lot of effort and perseverance in order to achieve something. This feature is reflected in the quality of work. At the same time, we have something to learn from Swedes. For example, their high-level business culture," says Valery Krasovsky.
Each month, the company has an average of 140 job openings. In addition to the "goodies" typical of IT companies, Sigma Software offers a flexible vacation system, the ability to work remotely and a sick leave without a doctor's certificate, a corporate medical program that covers rare and complex tests, and legal assistance.
In exchange for comfortable conditions, the company requires the team to be fully committed at all levels. Valery Krasovsky briefly describes the personality of a specialist who would be comfortable working at Sigma: this is a person who wants to achieve something and is not afraid to take up responsibility. The right atmosphere in the team is built thanks to a family approach and additional opportunities.
"We try to give each member of the team the opportunity to fulfill their career dreams," says the CEO.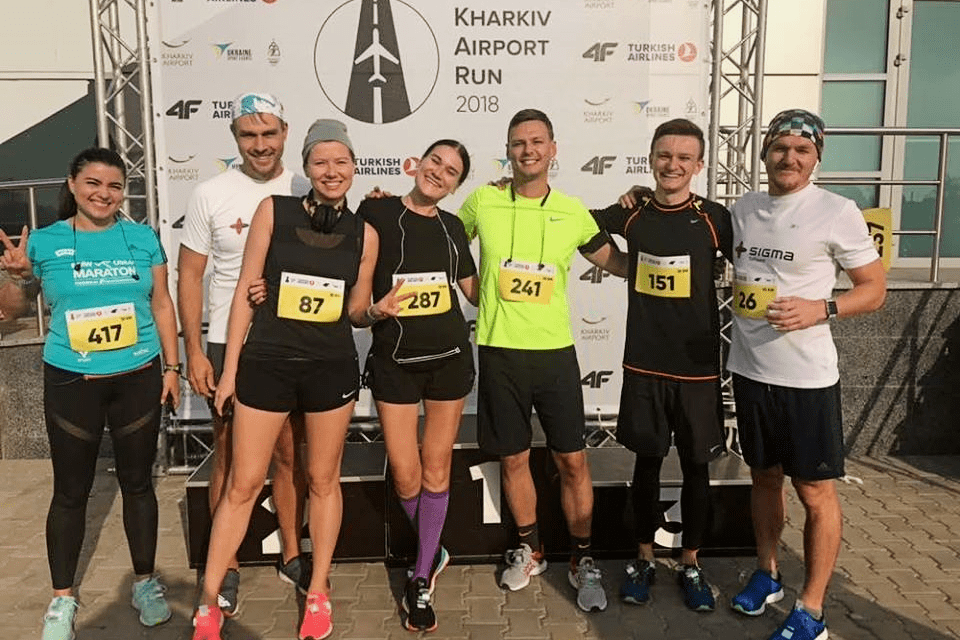 Valery Krasovsky and Dmitry Vartanian with Sigma Software Team
The company provides many opportunities – a capable technical specialist or manager can get a share in the company's internal startups. As a result, he or she will get much more than a standard compensation or salary.
"Opening offices in different cities and countries, we invite our colleagues to manage them. For example, the head of our office in New York receives a salary competitive in the US market, which is much higher than in Ukraine," says Valery Krasovsky.
About company's goals
Valery Krasovsky recalls how, at the very beginning, he and other founders stated the global goals of the company. Since then, he said, they have not changed.
The file that lists the goals is still stored in the computer of Vladimir Beck.
"We strive to become a large innovation hub. We are no longer an outstaffing or outsourcing company. We do not just create software products, but also advise global brands on advanced technologies that we ourselves are developing," says Krasovsky.
In terms of turnover, profit, and the number of specialists, the company grows by 25% annually and plans to maintain this growth rate.
about the author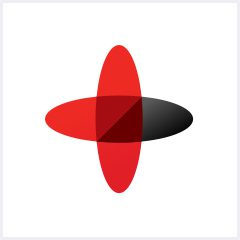 Software Engineering Company
Sigma Software provides IT services to enterprises, software product houses, and startups. Working since 2002, we have build deep domain knowledge in AdTech, automotive, aviation, gaming industry, telecom, e-learning, FinTech, PropTech.We constantly work to enrich our expertise with machine learning, cybersecurity, AR/VR, IoT, and other technologies. Here we share insights into tech news, software engineering tips, business methods, and company life.
Linkedin profile
Related services & solutions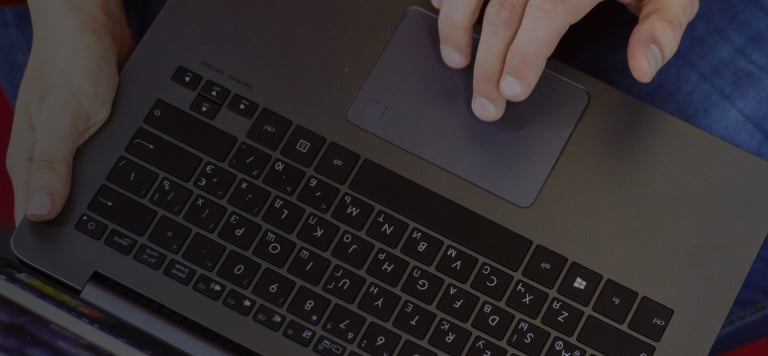 NEED AN INNOVATIVE AND RELIABLE TECH PARTNER?