Takeaways from Web Summit 2019
From 400 visitors in 2009 to a mob of 70,000+ from 170 countries in 2019, Web Summit became the largest tech conference in the world in less than 10 years. This year, the conference has got 200 partners, provided floor to several thousand startups (about 100 from Ukraine) enabling them to meet 1,200 investors.
According to some calculations, Ukrainians were the second nation that had the largest presentation at the event seconding only to Portuguese. Many of our colleagues contributed to this statistics.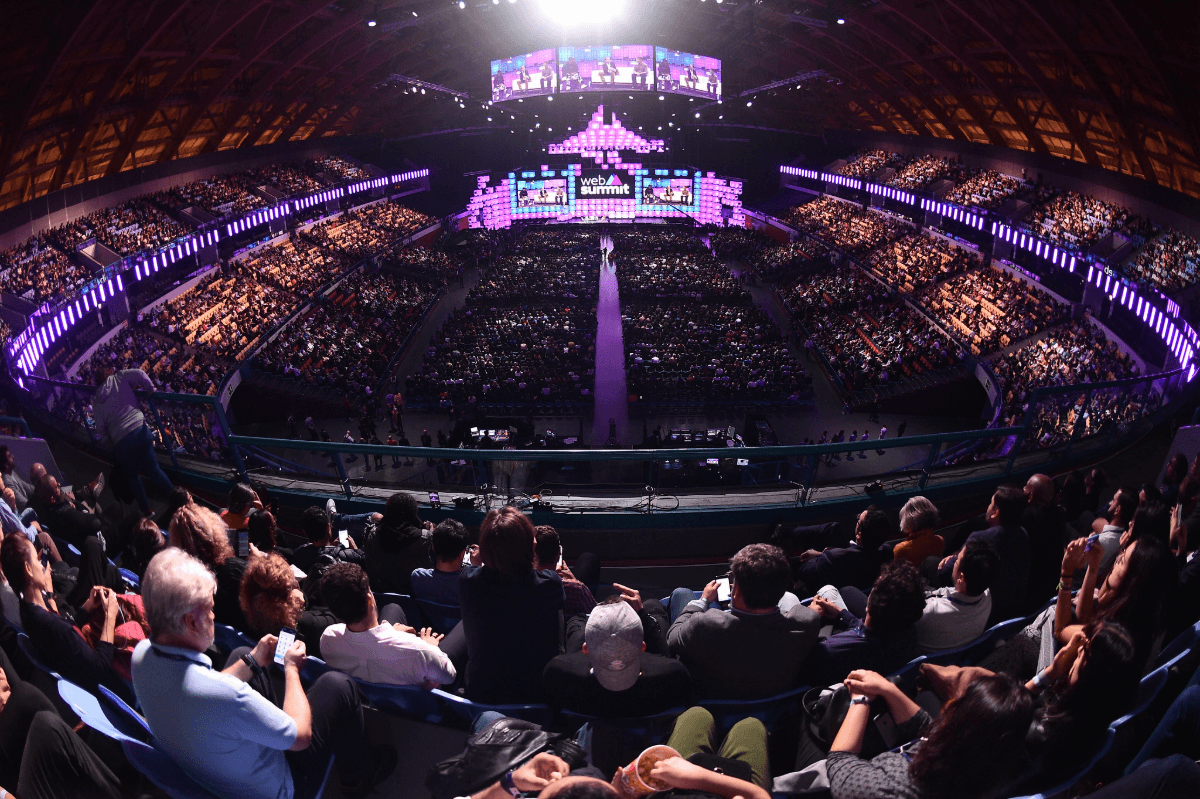 Centre Stage during the opening night of Web Summit 2019 at the Altice Arena in Lisbon, Portugal. Photo by Sam Barnes/Web Summit via Sportsfile
We talked to some of our colleagues, who attended Web Summit this year, to find out what impressed and touched them, what stories they brought from Lisbon.
Natalya Zheltukhina, Head of Growth: Gambling Domain, and Anatoliy Iurkin, Mobile Unit Manager, spent the event days in meetings with outstanding tech leaders and startup owners. They fell a little overwhelmed with all the opportunities and density of creativity per square meter. Natalya and Anatoliy tell:
"The scale of the event boggles the mind. It strikes to see so many startups pursuing their ideas and people, who came to find partners and soak in the latest trends. The atmosphere in the Web Summit pavilions inspires and makes you believe in the future, since so many people try to change it to the better.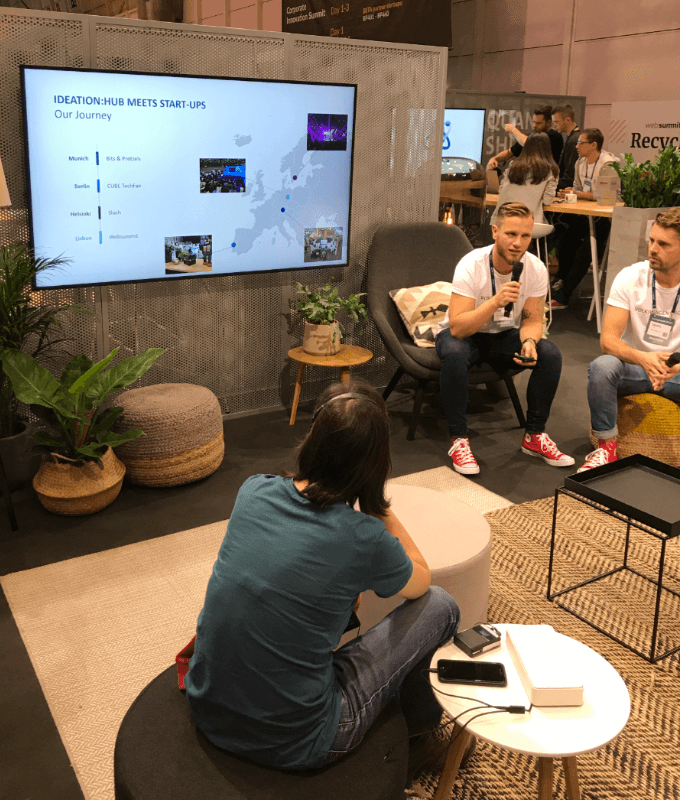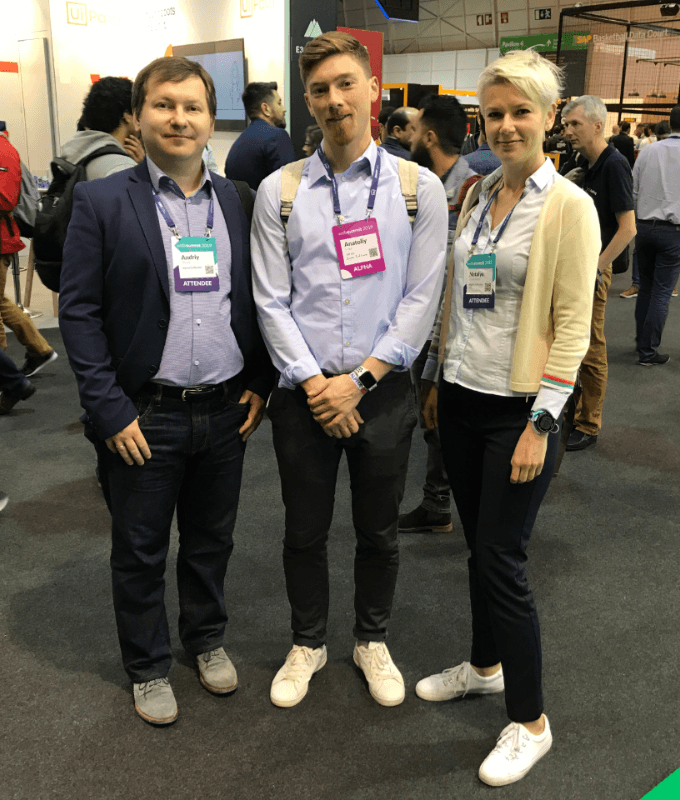 The industries, where you find the most startups also speak volumes, because obviously these are the areas prone to improvements. Buzz words: digitalization, data analysis, AI in transportation, blockchain, mobility, sustainability.
A prominent trend we noticed at Web Summit is enterprises creating ideation or innovation hubs and providing their resources to those who have brilliant ideas. Companies more and more rely on innovation ideas coming from outside and readily invest in such ideas in order to incorporate the results in their products. One of examples of such enterprises is Volkswagen Group gathering around innovative startups and helping them implement their ideas."
Alexandra Govorukha, Head of Growth in the UK and Israel, co-founder of UTEW Tech Tribe, National Network Lead at TechUkraine, had a very important mission at Web Summit. In addition to presenting Sigma Software at the conference and conducting meetings, she was a co-host of Surf Pitch Night a side-event at Web Summit 2019, organized by UTEW Tech Tribe, TechUkraine, Export Promotion Office, USAID, GIZ Ukraine, IT Ukraine Association. We asked Alexandra to tell us about this event, and why it is so important for the Ukrainian tech ecosystem.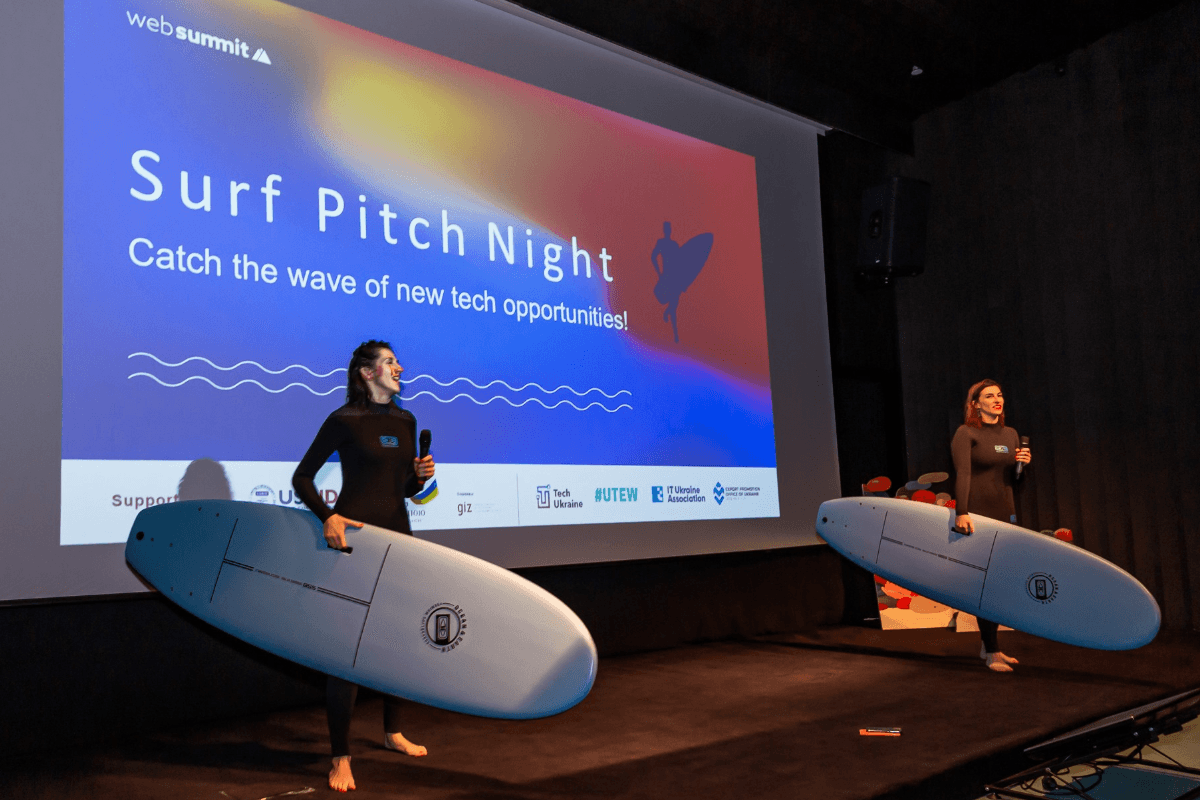 "Ukraine is a powerful tech ecosystem with over 200 thousand tech specialists, cool product houses, and world-known startups. Web Summit in Lisbon that gathered 70 thousand industry professionals is the perfect place to tell the world about Ukraine. My week at Web Summit resulted in 40 meetings and the outstanding Surf Pitch Night event. Why "surf"? Because we were keen to show Ukraine as an ocean, full of tech opportunities, talents, and products. Entrepreneurs are surfers that catch the waves of the ocean in order to succeed.
Surf Pitch Night, where I was a co-organizer, became a huge success. With 115 seats in the venue, we attracted more than 200 people. Our guests were investors, representatives of startup accelerators, enterprises, and angels from Techstars, Startup Lisboa, The Family, Chipolo, Overkill VC, Businessplug.
21 Ukrainian startups pitched to them their innovative ideas and products. A couple of startups just WOWed the audience – Qudi founder (15 y.o) with LED mask showing images and animation. And Nuka founder (18 y.o), who's team invented the eternal stationery and launched a note to the stratosphere.
To organize such event at the distance of 3 thousand kilometers from home was challenging enough. However, with the help of the partners, we did it. I thank the teams of UTEW Tech Tribe, TechUkraine, Export Promotion Office, USAID, GIZ Ukraine, IT Ukraine Association, and Sigma Software Labs for their expertise, trust, and support. I hope that in 2020, we'll rock Web Summit with the Ukrainian booth in addition to a Ukrainian meetup."
Mykola Havryliak, Project Manager at Sigma Software, visits Web Summit for the third time. He tells about his experience:
"On the conference opening, Edward Snowden emphasized the importance of personal data protection, total control over the population, and GDPR drawbacks. In my opinion, we – users of popular services – pay very little attention to the value of our personal data.
Speaking about practical matters, Web Summit is the event, where you can find everything: inspiration for your work, ideas for own projects, partners, investments, clients, friends, new opportunities you had no clue about before the conference. As a platform for communication and experience sharing, Web Summit allows inventing new things in the process of discussions or validate own hypotheses with prospective users.
An interesting fact – Paddy Cosgrave, a founder of the conference, mentioned Ukrainians on the main stage, because we became one of Top 7 countries with the biggest number of visitors."
All visitors of Web Summit had the best time throughout the days of the conference. They attest that all the words about it are true. The networking is "simply legendary," and the future is born there (The Atlantic).
about the author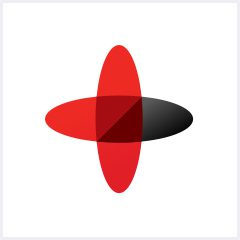 Software Engineering Company
Sigma Software provides IT services to enterprises, software product houses, and startups. Working since 2002, we have build deep domain knowledge in AdTech, automotive, aviation, gaming industry, telecom, e-learning, FinTech, PropTech.We constantly work to enrich our expertise with machine learning, cybersecurity, AR/VR, IoT, and other technologies. Here we share insights into tech news, software engineering tips, business methods, and company life.
Linkedin profile
Related services & solutions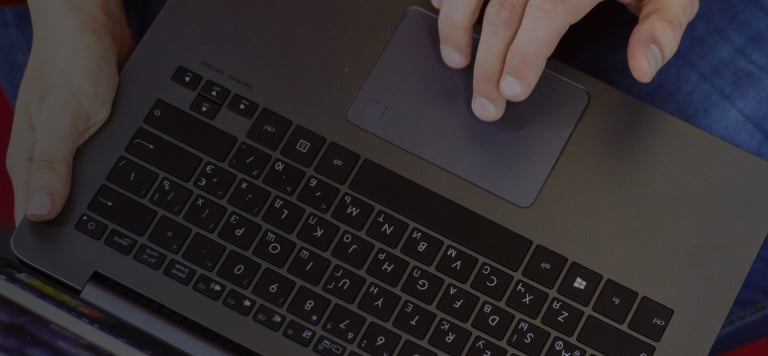 NEED AN INNOVATIVE AND RELIABLE TECH PARTNER?