Ukrainian Days at London Tech Week 2019
London Tech Week - a festival of live events across the city, showcasing and celebrating the best of tech with networking, learning, and business opportunities – has covered in length the Ukrainian tech sector this year.
The Ukrainian Days at London Tech Week 2019 took place during 11-13 of June and included two main activities: British-Ukrainian Tech Night and a booth "Ukraine Tech" at the exhibition TechXLR8. In both of them Sigma Software was actively engaged.
The arrangements took 3 months, the number of emails, chats, and calls counts by hundreds, the concept was created from scratch. It required joined efforts of Embassy of Ukraine to the UK, USAID Ukraine, Export Promotion Office, startup community UTEW Tech Tribe, Kyiv IT Cluster, and Sigma Software as well as support of British communities – Tech London Advocates and Minibarlabs.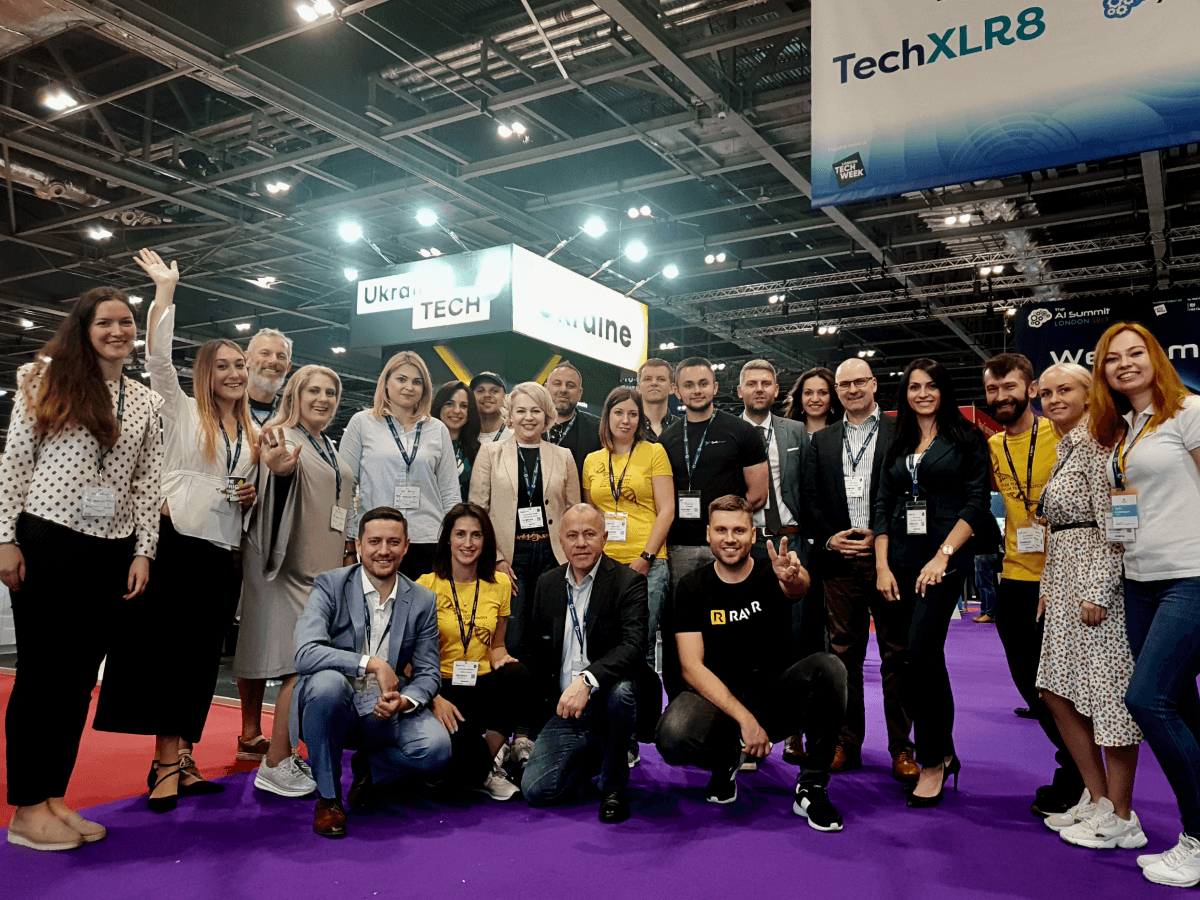 credit: UTEW Tech Tribe
June 11 – British-Ukrainian Tech Night
British-Ukrainian Tech Night gathered around 200 visitors with British startups, corporates, investors, and ecosystem players among them. The speakers presenting Ukraine as Europe's promising tech hub at the event were leaders of successful Ukrainian tech companies and startups – Grammarly, Sigma Software, YouTeam, Competera, Cardiolyse, RAWR, YouControl, Whooshi, UGears, Costless – as well as prominent experts engaged in promotion of Ukrainian tech around the world – Daniel Bilak, Chairman of UkraineInvest, Russ Shaw, Founder of Tech London Advocates, Christian Ahlert, CEO of Minibarlabs.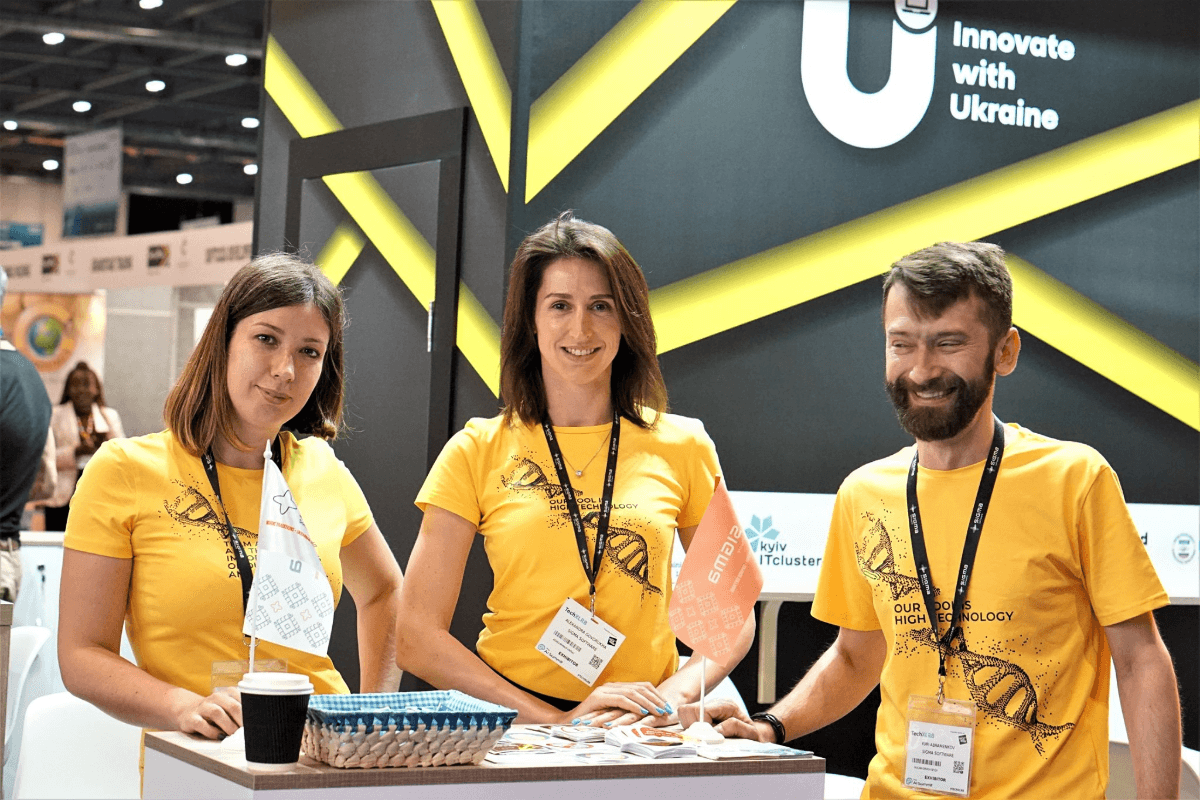 Photo credit: UTEW Tech Tribe
They had a lot to tell about Ukrainian and British tech ecosystems and how to build bridges between them. Regarding Ukraine, Daniel Bilak was talking about our tech talents (200,000 software developers), world-known products Depositphotos, Grammarly, MacPaw, Petcube, People.AI; our experts working in Ukrainian R&D offices of Oracle, Ring, Siemens, Cisco, Samsung, and hundreds of others; successful entrepreneurs with Ukrainian roots: Max Levchin from PayPal, Jan Koum from WhatsApp, Vlad Yatsenko from Revolut, etc., proving that Ukrainians can create a world-class product.
Valery Krasovsky, co-founder and CEO of Sigma Software, told a story of our company, growing from 15 people in 2002 to over a thousand specialists in 2019. The recipe of the constant company growth includes embracing innovations and working with R&D: cybersecurity, AR/VR, blockchain, machine learning, data science, artificial intelligence, and more. As Valery shared, tech services for startups became one of Sigma Software's lines of activities. Startups require a particular approach: carefully choosing optimal technology, validating the concept, minimizing budget. The efficiency of the applied approach is proven by a list of startups that implemented their ideas with the help of Sigma Software, including Zapp360, Vidible (acquired by AOL and then by Verizon Media), DanAds, and many others.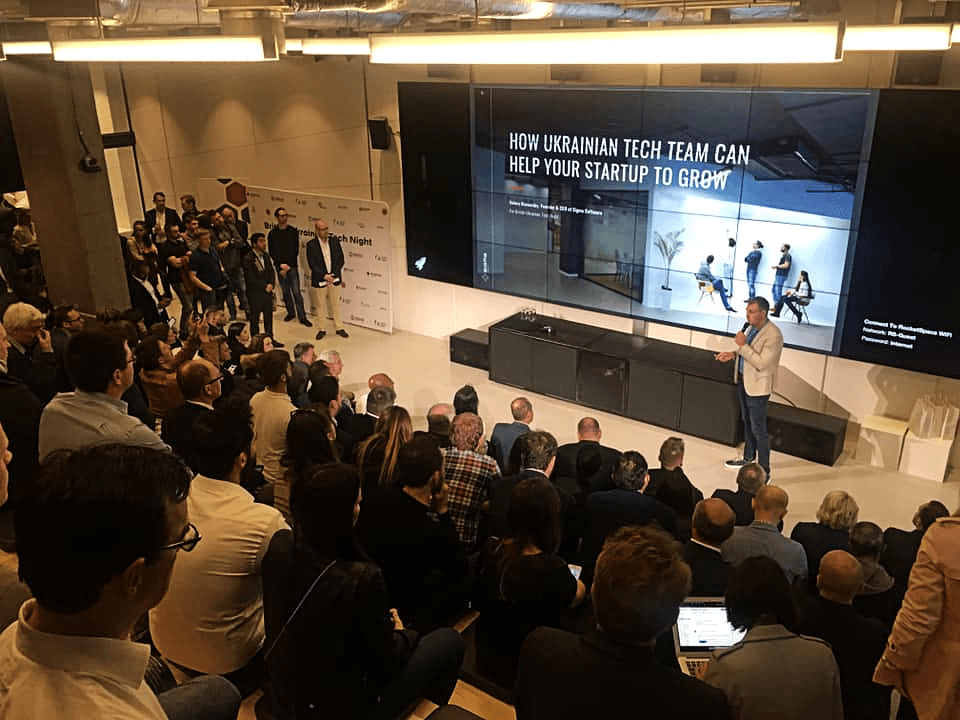 Photo credit: UTEW Tech Tribe
British-Ukrainian Tech night brought many new business connections and interesting conversations for its participants. The guests kept networking over two hours after the event, sharing ideas and discussing opportunities.
June 12-13 – Ukraine Tech Booth at TechXLR8 Exhibition
London Tech Week's flagship event TechXLR8 revolutionizes business by connecting people and technologies driving transformation. Over 300 exhibitors at 2019 exhibition presented the broader tech ecosystem promoting new contacts and opportunities, revealing new tech resources, and fueling the business revolution. The exhibition showcased European tech beyond London, Paris, and Berlin – and Ukraine gained a footing at this map.
Ukraine Tech Booth united representatives of 9 Ukrainian IT companies: Sigma Software, Competera Pricing Platform, Ugears, Grammarly, Sannacode, Unicsoft, TechMagic, AllStars-IT Ukraine, RAWR. The companies presented their innovative ideas, tech products and services; received numerous requests for new and existing products; and attracted the interest of many of 21 thousand visitors of the exhibition.
One of the most beloved characters of TechXLR8 became a yellow dog presenting a GPS pet collar by RAWR.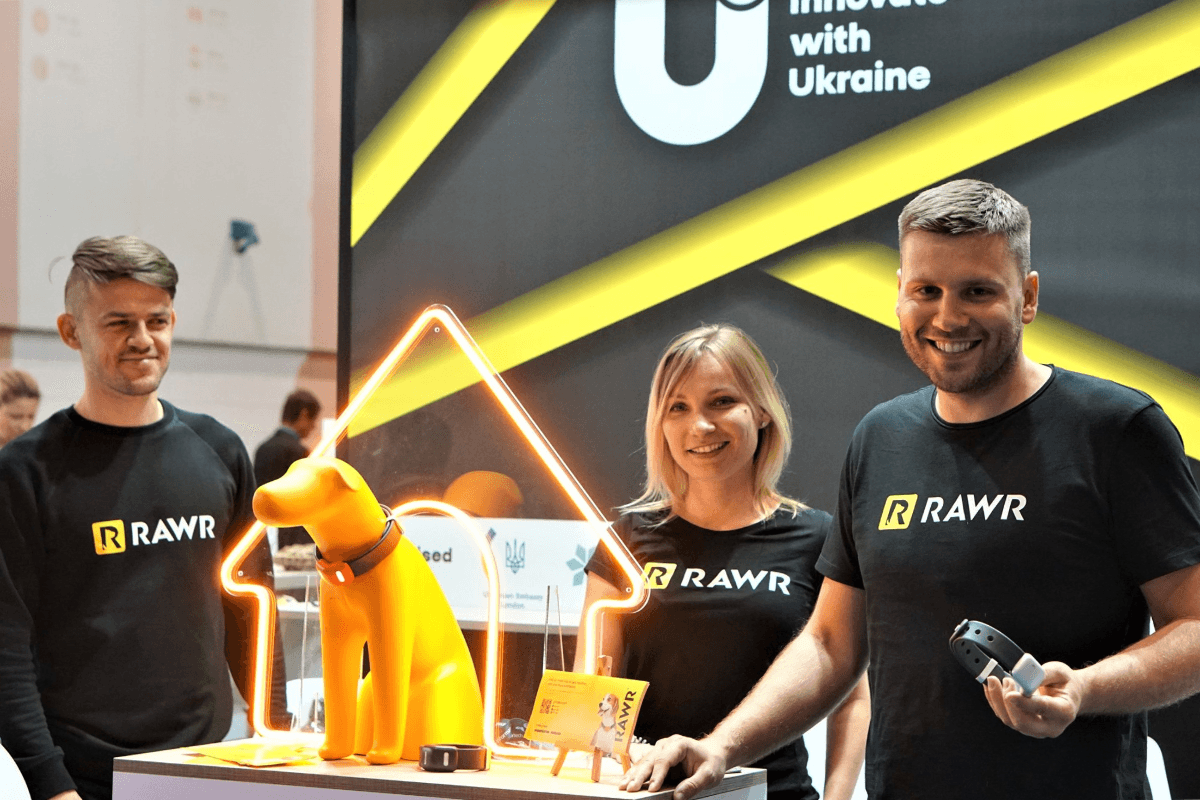 Photo credit: UTEW Tech Tribe
We had a large group of cool experts representing our company at the booth. One of them, Alexandra Govorukha, actively contributes to the development of Ukrainian tech community and promotion of Ukraine as a European tech hub. In Sigma Software, Alexandra holds the position of the Head of Growth in UK and Israel. She advanced Ukrainian Days at London Tech Week both as a community figure and an industry professional and was one of co-organizers.
Alexandra is sure:
"Now Ukraine has good tech expertise and strong talents to offer to British partners, but there's always room to grow. I strongly believe that success is only possible when all the elements of Ukraine's tech ecosystem (IT-service companies, startups, funds, corporates, etc.) interact with each other and with international markets."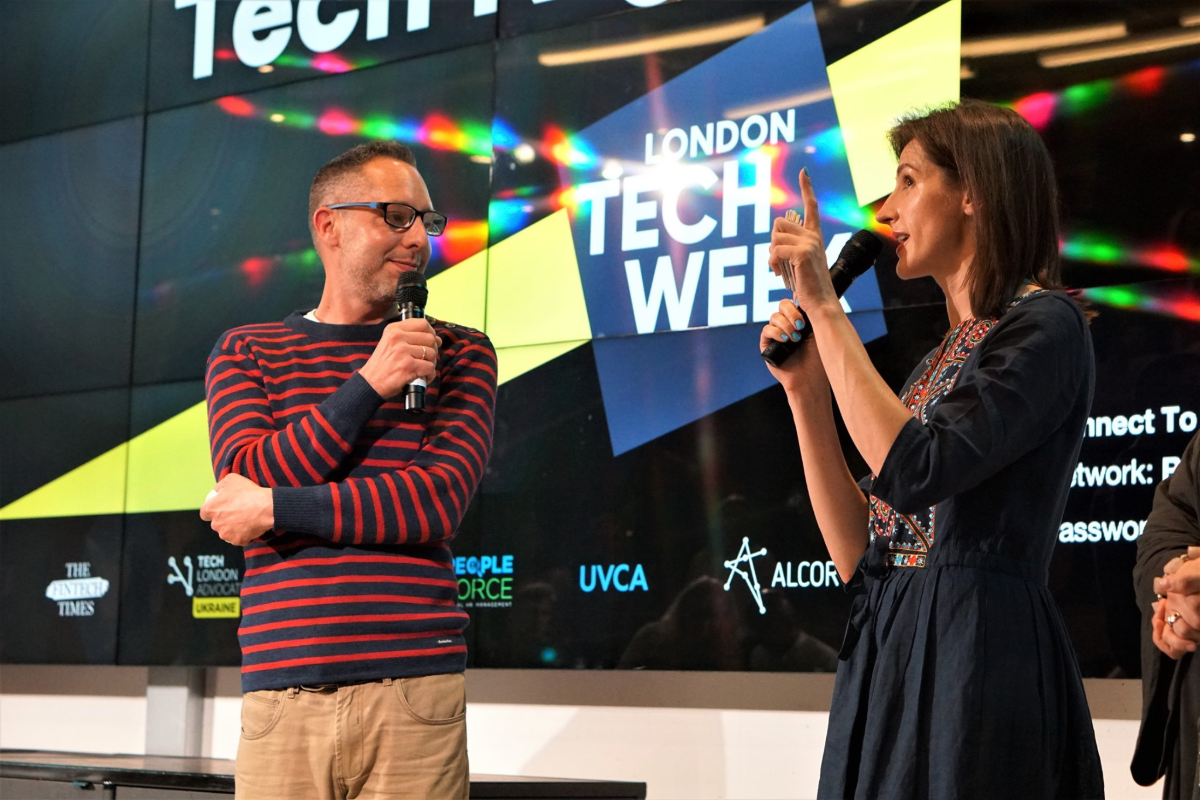 Photo credit: UTEW Tech Tribe
After fantastic two days of tech innovation, working side by side with giants like ABBYY, AWS, Google, IBM, Intel, Microsoft, Oracle, SAP, and Mercedes; we, at Sigma Software, believe that the tech world now has a better understanding of the Ukrainian IT industry and the incredible opportunities it bears.
about the author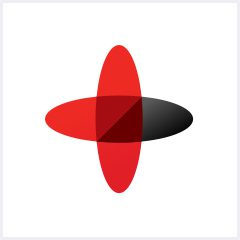 Software Engineering Company
Sigma Software provides IT services to enterprises, software product houses, and startups. Working since 2002, we have build deep domain knowledge in AdTech, automotive, aviation, gaming industry, telecom, e-learning, FinTech, PropTech.We constantly work to enrich our expertise with machine learning, cybersecurity, AR/VR, IoT, and other technologies. Here we share insights into tech news, software engineering tips, business methods, and company life.
Linkedin profile
Related services & solutions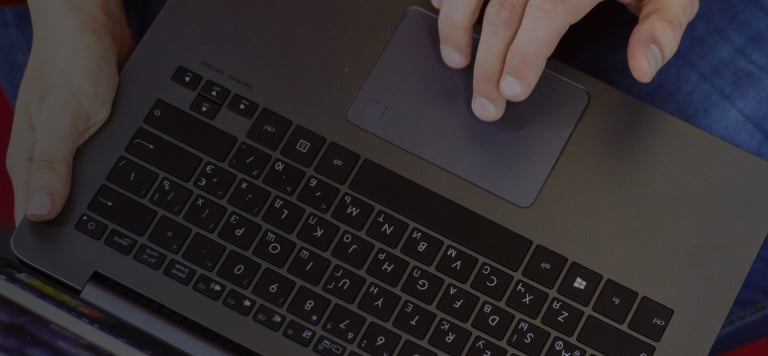 NEED AN INNOVATIVE AND RELIABLE TECH PARTNER?