Webinar #5: Accelerated Change: Fundraising in Uncertain Times
According to the Startup Genome report, approximately $28 billion in startup investment will go missing in 2020 with a huge impact on certain industries. Obviously, venture capitalists won't stop funding, though they are rethinking their strategies on how they should invest in businesses that continue to grow in the current environment.
If you want to find out how the investment landscape has been accelerated by COVID-19, join our free Sigma Software webinar Accelerated Change: Fundraising in Uncertain Times. This is our fifth webinar held in the series of webinars by Sigma Software aiming to inspire businesses to move forward and explore how "the new normal" has impacted various tech industries.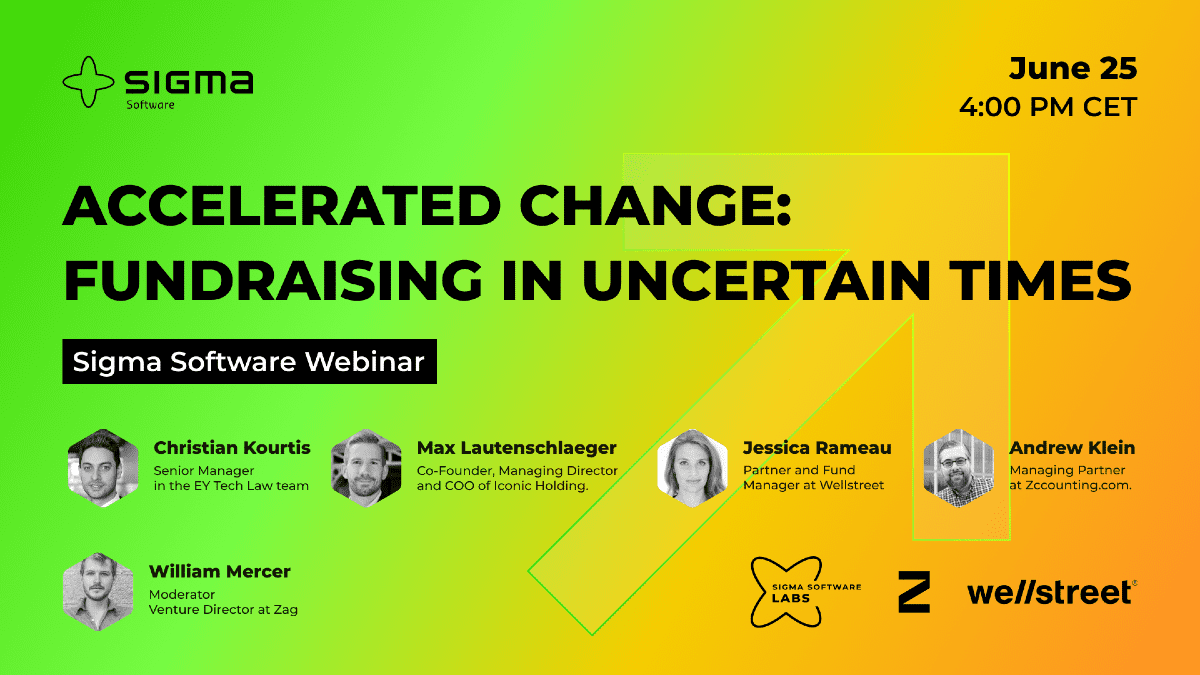 .
On June 25, experienced experts who know how to encourage investment and know which pitfalls to avoid during uncertainty will share their thoughts about fundraising in times of crisis:
The webinar will be compelling for startup founders, CEOs, CTOs, and business development managers.
We will talk about:
Types of investors that entrepreneurs should target at various stages;
Key approaches in evaluating potential investors;
Alternative options if fundraising efforts don't meet expectations;
How the investment landscape has been accelerated by COVID-19.
The webinar will take place online in the format of a pre-moderated live discussion with a Q&A session.
Join the webinar and receive a chance to win a free two-hour session with a Sigma Software tech expert! During the session, our IT specialist will assess your software from a technical perspective and provide valuable tips and insight on how to improve it.
About the speakers:
Christian Kourtis, a Senior Manager in the EY Tech Law team. He is a private M&A and growth capital lawyer with a specialism in transactions in the technology sector. His technology focus has seen Christian advise management teams, corporate groups, and growth capital funds on a number of FinTech, deep tech and data transactions from Europe and the US. Christian is also leading EY Law's approach to crypto-asset and blockchain focusing on the next generation of fundraising and distributed ledger technologies and is a mentor at the Outlier Ventures BaseCamp Decentralised Tech Accelerator. Prior to joining EY's Tech Law practice, he spent over 3 years at Dentons and 3 years at Gowling WLG (previously known as Wragge Lawrence Graham & Co), both global law firms.
Jessica Rameau, Partner and Fund Manager at Wellstreet, a Stockholm-based tech and innovation group that includes an investment company and two venture building programs for startups that are running in collaboration with AWS and Google. Jessica is an investment professional with experience supporting fast-growing businesses. At Wellstreet, Jess heads up early-stage investments, manages the portfolio of over 35 companies, and is responsible for sourcing new investment opportunities.
Max Lautenschlaeger, a Co-Founder, Managing Director, and COO of Iconic Holding. Max started his career as a management consultant, where he advised Fortune 500 companies from the steel, utility, and retail industries on topics like digitalization, project management, and IT integration. He transitioned into Private Equity at an Asset Management group with €40 Billion assets under management. He then joined a fintech company builder, where he raised two digital alternative finance startups from scratch together with a management team. Additionally, Max serves on the supervisory board of MLP, Germany's biggest independent financial advisory group, and has personally invested into 5 startups as a business angel.
Andrew Klein, a Managing Partner at Zccounting. Zccounting works with over 100 venture-backed startups. The company provides a full suite of accounting services preventing startup failure with accounting, bookkeeping, and investor reporting at work. As a Master of Business Administration in Venture Finance, Andrew helps startups create a financial model for investors, budgeting, or inventory review. He specializes in business plan consulting, Angel investment planning, and pitch development/coaching.
Moderator: William Mercer is a Venture Director at Zag, the venture arm of the global creative agency BBH, where he manages an early-stage investment fund that has seen an 8x return in its first 3 years. William specializes in combining commercial strategy with narrative-based storytelling to help founders land investment, close their first customers, and create sustainable businesses. In 2018, Will founded Mission Led, a startup ecosystem consultancy that advised USAID on its $50 million entrepreneur strategy project in Ukraine. He also tabled recommendations for a 64K sq km newly built district of Shanghai and supported the UK's National Advisory Board on Impact Investing to make the UK the global leader in the field.
About the organizer:
Sigma Software is a reliable tech partner that provides top-quality software development, graphic design, testing, and support services. Having advanced skills and ample resources, the company creates large-scale solutions as well as guides startups from idea to profit.
Partners and co-organizers:
Zag is an independent growth consultancy proudly born inside one of the world's biggest creative agencies, BBH. They build breakthrough businesses, delivering top-line growth for ambitious leaders. Zag helps global corporations future-proof their businesses and startups scale their ventures, through four disciplines: growth strategy, innovation, brand experience, venturing.
Wellstreet is a Stockholm-based tech and innovation group that includes an investment company and two venture building programs, in collaboration with AWS and Google for Startups. As a super-active early-stage investor, they have been part of creating successes like Tibber, DanAds, Regily, Scrive, and roughly 30 more. Wellstreet builds sustainable and profitable tech companies for a better tomorrow. By investing in companies that have a net positive impact in their value chain, they drive the development step by step in the right direction.
Sigma Software Labs is a new ecosystem for Ukraine-based startups, small product houses, and service companies where they can be sheltered by a leading technology consulting company Sigma Software and obtain support and surpassing benefits to growing at all stages. Sigma Software Labs provides startups with office space, a network of VC funds, and access to Sigma Software board network of business advisors – serial entrepreneurs around the globe. The project's idea is to help Ukrainian startups show up on the world scene.
Check out the webinar news on the event page on LinkedIn!
Take a look at our upcoming webinars:
July 16: Cybersecurity in the World Switched Online.
Former FBI Director, Robert Mueller, once said: "There are only two types of companies: those that have been hacked, and those that will be." These words are especially relevant now that many businesses are going online. Organizations face an ever-increasing number of cyber threats. According to recent statistics, hacking attacks occur every 39 seconds, which is more frequent and advanced than ever before. Yet, over two-thirds of businesses are not ready to respond to a cyber-attack, despite growing investments in cybersecurity. A reasonable question for companies to ask is: what are the most efficient investments we can make to be protected from cyber-attacks?
Find videos from previous Sigma Software Webinars on YouTube! Stay tuned!
about the author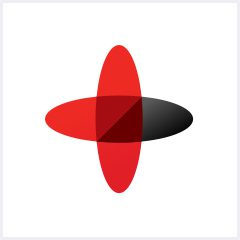 Software Engineering Company
Sigma Software provides IT services to enterprises, software product houses, and startups. Working since 2002, we have build deep domain knowledge in AdTech, automotive, aviation, gaming industry, telecom, e-learning, FinTech, PropTech.We constantly work to enrich our expertise with machine learning, cybersecurity, AR/VR, IoT, and other technologies. Here we share insights into tech news, software engineering tips, business methods, and company life.
Linkedin profile
Related services & solutions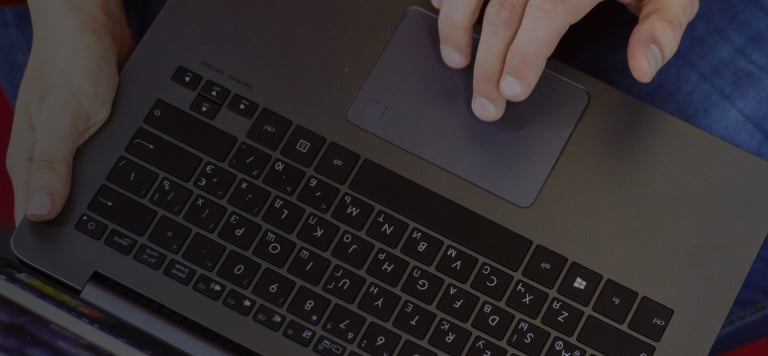 NEED AN INNOVATIVE AND RELIABLE TECH PARTNER?