Advertising and Connected TV: Trends and Strategies
Participating in industry events provides an outlook at industry trends and development course. Two events that passed in the end of March in London centered around strongly connected areas – advertising and connected TV.
Advertising Week Europe and Connected TV World Summit 2019, the events that Sigma Software IT experts decided to visit, featured unique media, marketing, technology, and creative perspectives discussing key business trends and issues that shape today's global industry. They discussed how to act in the conditions of disruptive innovations unfolding both in advertising and television, and how to secure one's place on the future market.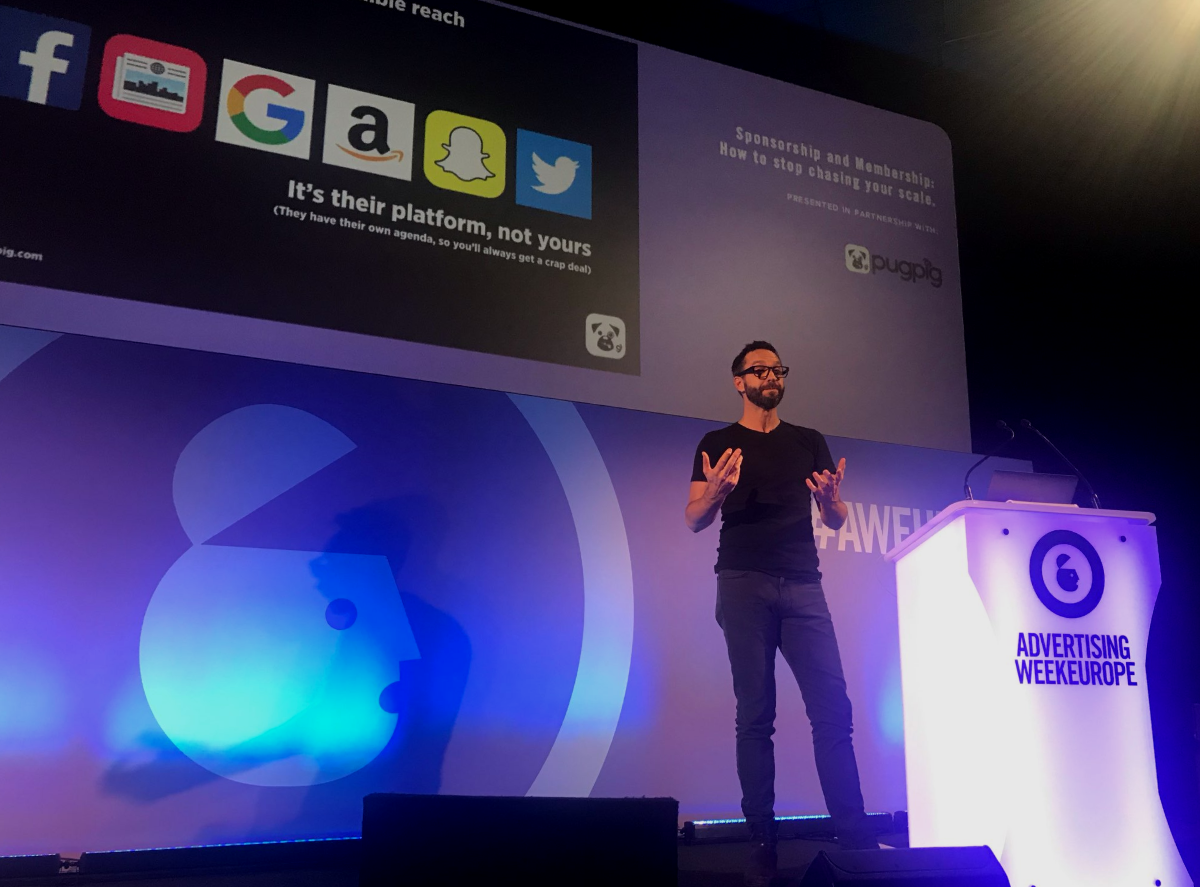 The events drew big crowds: about 35 thousand people in the case of Advertising Week Europe and up to a thousand of experts at Connected TV World Summit 2019. So, the range of ideas presented and discussed was quite wide and encompassed the moods at the market at the moment.
I believe that advertising and connected TV significantly affect each other and essentially work in the same field. That's why, I would like to tell about my take regarding the trends and strategies from the events as a common market drift.
Competing with Giant Players
Giant international content creators and distributors are flooding national markets with high quality and ample content. FAANG members (namely Facebook, Apple, Amazon, Netflix and Alphabet's Google) are denting into the market share of national providers, and the latter need to win it over if they don't want to completely disappear from the content creators' landscape.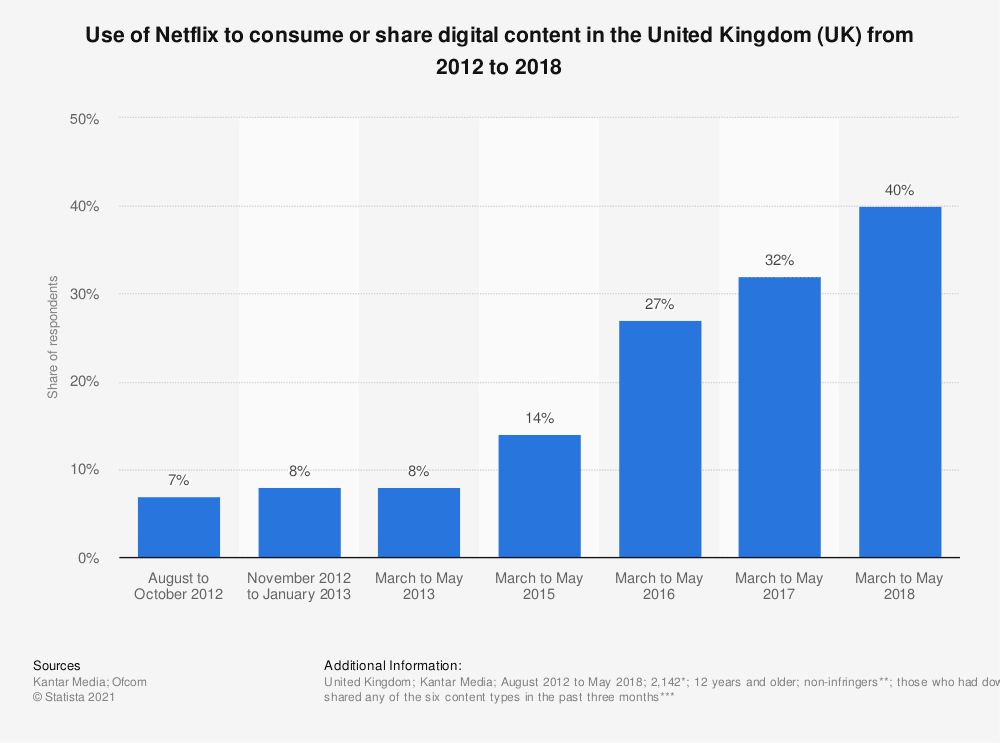 Find more statistics at Statista
Competing with FAANG is not easy with the difference in the budgets. Netflix alone spends billions of dollars to create own content and the numbers grow every year.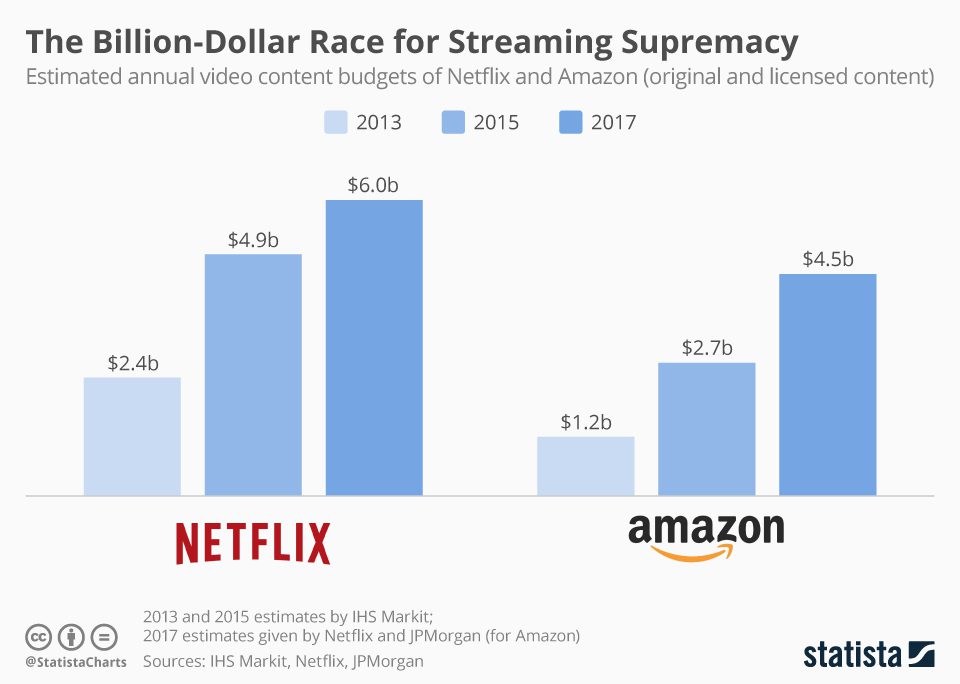 You will find more infographics at Statista
How it compares with the budgets of national providers? Well, all UK providers' budgets combined are lower than Netflix's budget just in one country.
To reverse the trend and retain their subscribers, national providers can unite their resources. However, they could not overcome the perception of fellow-providers as competitors yet. Another sphere to direct the efforts is coining the right proportions of content types in their production and broadcasting.
This is where IT can come to assistance, because the answer to the right content lies in the data gathered by TV providers.
Machine Learning and Data
The abundance of data that is collected and stored by companies opens opportunities for analysis and predictions based on Machine Learning and Artificial Intelligence. Both advertising and TV providers are now trying to extract more value from their data. In addition to understanding who their audience are, they are straggling to make next steps and harness the data to their business needs: understanding what the audience wants, understanding why sales are down, etc.
Modern trends in this area consist in applying Machine Learning and Artificial Intelligence methods and solutions to the data and providing right content to right people. That is, providing recommended content pre-selected based on the audience group, to which you are assigned. Personalization efforts still continue. Granular targeting of advertising and content types has a lot of space for improvement and was only hindered by GDPR and upcoming Brexit for UK.
As an outcrop from AI, multiple digital voice services arise around a TV set integrating it into a smart home system or making a center of one. Both startups and digital corporations (like Amazon and Google) see a lot of potential in voice assistants. So, we can expect extended voice control functions in the increasing number of household appliances as well as even more projects converging voice recognition, NLP, ML, and IoT technologies.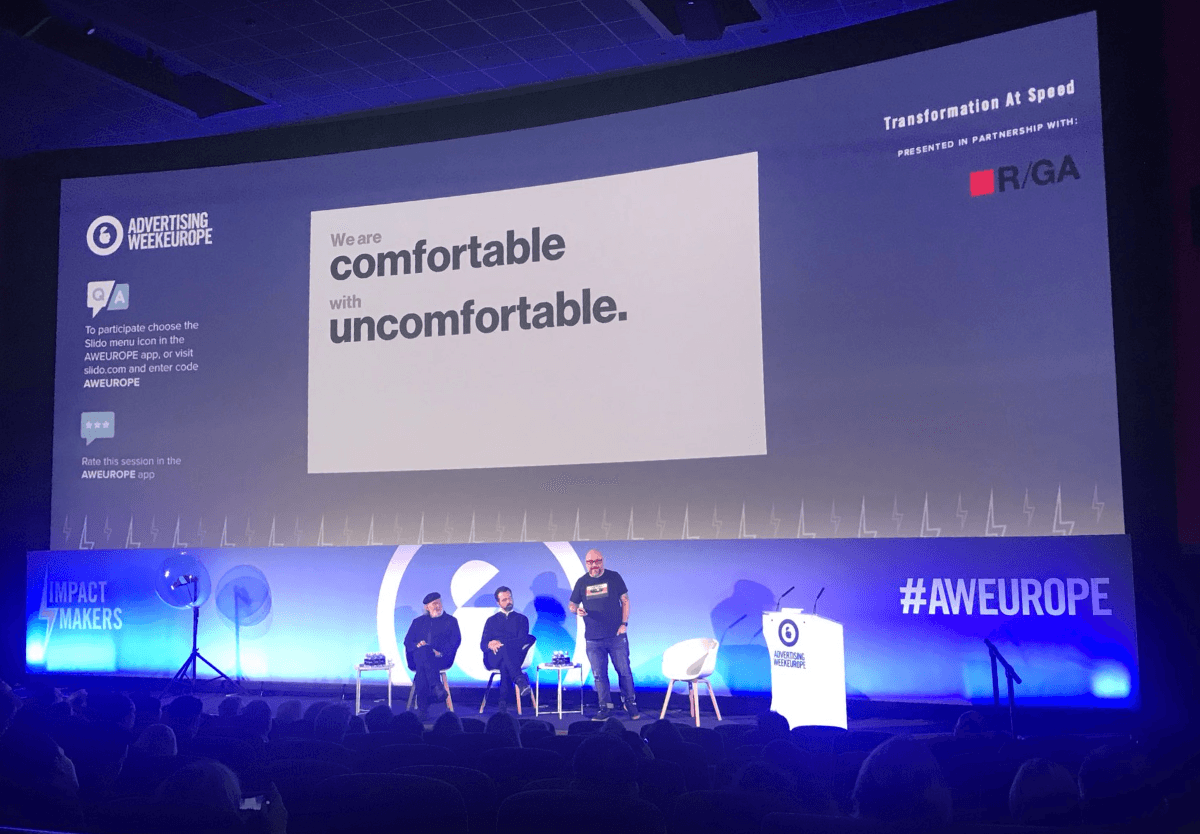 With a professional Data Scientists' team, advertisers and OTT providers can have efficient ML solutions and algorithms built to maintain their relevance with the modern consumer, retain audience focus, and form new revenue streams.
IT to Create New Content Types
IT is just opening up its capabilities in the content production. AR/VR headsets and Unity-based 3D content visualization create a completely new entertainment area that waits for studios skilled in content creation. One of applications for 3D content visualization already attracts viewers to cinemas. It is short side stories for sensational movies demonstrated in 5D cinemas.
With the adoption of AR/VR for personal use, the content market for reality+ devices will grow and require additional software development workforce.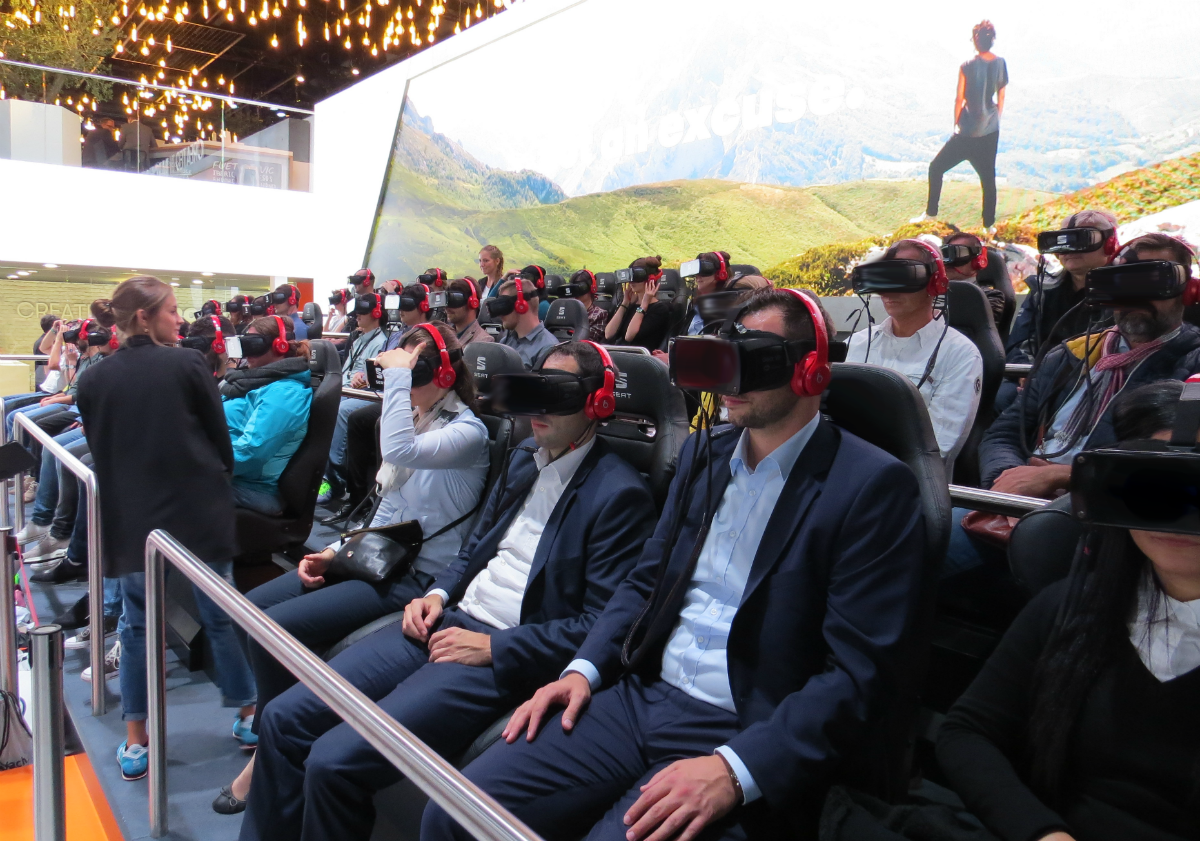 Sigma Software Competence in Multimedia, TV, and Advertising
Sigma Software has been working with multimedia and TV for over 10 years. The unique experience we got over this time includes video assets management, digital media, video management and streaming, multiple screen rich media advertising, and more.
Sigma accompanied numerous media startups from an idea to multimedia exits and keeps working with large media companies in Scandinavia, UK, and US.
Read more about our experience in Media and Advertising case studies.
about the author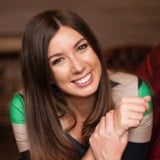 Business Development Manager
Irina has a unique professional experience managing complex projects in the Healthcare and Media domains. With her extensive domain knowledge, Irina works together with our prospective and existing clients to reach their business goals with our help efficiently and timely.
Related services & solutions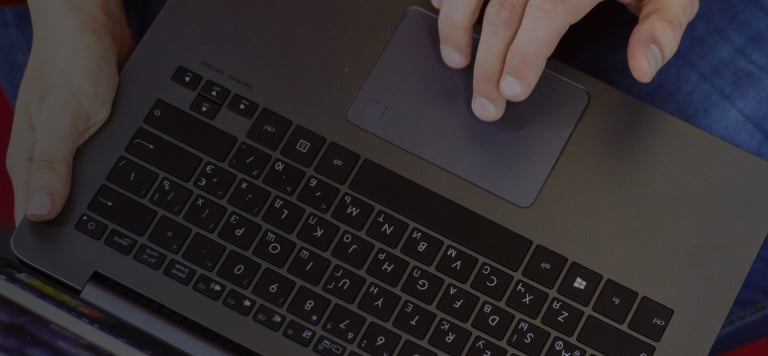 NEED AN INNOVATIVE AND RELIABLE TECH PARTNER?